A Sharing by Professor Michael Bray on Acting and Cinematic Arts

Professor Michael Bray is an experienced acting educator and veteran film director. Hailing from the UK, Prof. Bray started his career as an actor. He then worked in theatre, film and television, including six years at the National Theatre of the UK where he wrote and directed his first two plays, before moving into writing and directing for television and film. One of his films, The Sea Change, was featured at the Sundance Film Festival, the largest independent film festival in the US.


1.
Bachelor of Fine Arts (Honours) in Acting for Global Screen (AGS) Programme is a new programme that was launched in the summer of 2020. As the Programme Director, what is your vision in introducing this programme at HKBU?
I have been teaching screen acting for the last fifteen years, most recently at Central Saint Martins in London. So, I want to bring my experience to this exciting new programme, to ensure that our screen actors are enabled to be the very best actors that they can be and consequently develop exciting careers in the industry. That involves developing and stretching their imaginations so they are able to transform into the characters written in the screenplay into a living breathing, dynamic characters that will entertain an audience. We will give them the full range of methodologies to enable them to create fully rounded, exciting screen performances, and most of all the confidence to enable them to be great screen actors. I also want the AGS programme to become a vital component of the Academy of Film, as we grow and develop, so that the directors, writers, animators, producers at AF, start to involve the actors into their work. It is important for all film makers and actors, especially those who want to be directors, understand how important the creative relationship between actor and director is, to the success of any film project. Also, I want the actors to integrate and explore as much of the other courses offered within AF and HKBU so that they get a fully rounded, undergraduate education that will enhance them as artists.

The programme is multidisciplinary, it demands and stretches the students, giving them much transferable knowledge, such as creative problem solving and the essential confidence to bring their dreams and ambitions to life. On AGS they study many other things besides acting, such as film directing, stage directing, storytelling, script analysis, casting, the whole film production process, from pitch to the final mix down. They will understand every role of a working film and television set, having done the jobs themselves. So as to fully understand the rhythm of film making and how the actor fits within it. They will also develop skills, methodologies that will enhance their careers in the industry that they have chosen. It is incredibly important to make sure that their imaginations and creativity is focused and developed so that they are ready to adapt and thrive as the film industry changes and develops with new technologies.
2.
Having worked in the UK namely Central Saint Martins (CSM), University of the Arts London and HKBU in Hong Kong, what do you think are the major differences or similarities between students in these regions?
I am surprised at how little difference there is. At CSM the courses that I led were all international. I taught students from every region of the world. I also had many students from China join my courses in London, so I was aware of some of the cultural differences. But it would seem that students are students wherever you teach them, and I have the same challenges here as I had in London. The biggest is the level of commitment the individual has given to developing and focusing the artistry within them. To allow themselves to transform, developing a student's imagination is the first and most important task on an acting course and the same problems happen in Hong Kong as they did in London. I found that students at all places share some common characteristics: a reluctance to reveal their inner life, the struggle to free up their imaginations, and the difficulties of searching their own emotional memories for the real emotions to sustain the characters they create.
3.
If you are to recommend a few "Must-see" movies for students who are interested in acting or cinematic arts, what would you recommend?
I can think of many films that those interested in a career in film making should try to see. This is an eclectic list of films that have influenced and helped me as a film maker. There are many films from the early 20th Century which students might be unaware of but will change and hopefully help and enrich their view of film making, storytelling, and working with actors.



1.
The Godfather. Directed by Francis Ford Coppala in 1972, starring Marlon Brando and Al Pacino, James Caan.
A brilliant piece of storytelling, brought to life by a brilliant ensemble of screen actors, at the top of their game. Even Brando, who had become temperamentally unstable at this period, manages to create a character of enormous depth. This was Coppola's greatest film, although many would argue that the sequel, Godfather 2, that he also wrote and directed is better.
2.
Galaxy Quest. Directed by Dean Parisot in 1999. Starring Tim Allen, Sigourney Weaver and the late, great, Alan Rickman, it is a lighthearted comedy around the cast of a science fiction television programme now forced to do special appearances based on their former characters. They are then approached by a group of real aliens who need their help. The hapless band of actors then have to save and fight a real alien menace and save the universe.
3.
"Paths of Glory" "2001" "Lolita" "Dr Strangelove" "Spartacus". All directed by Stanley Kubrick. All very different, but each brilliant in their own way. Kubrick was a consummate film maker who made a classic in each genre of film. A rare distinction and each film explores its subject with incredible detail, creativity, and humour. Each film can be watched multiple times, and each viewing throws up a new insight. Every film maker should watch all of Kubrick's films, each one is a film school in themselves.
4.
"A Trip to the Moon" Directed by George Melies 1902. Probably the first special effects movies and a complete delight. Despite the fact that it was made in 1902 it still has the power to delight and charm, and in many ways has inspired generations of film makers from Martin Scorsese to Terry Gilliam. It shows the power of imagination when creative people first discovered film and is valuable just for that.
5.
"Twelve Angry Men" and "Dog Day Afternoon", both directed by Sydney Lumet. Sydney Lumet was known for his brilliance in getting great performances from actors. In his first feature film, Lumet creates tension and drama out of a simple idea of the jury, in this case twelve men (it was made in 1958 before the feminist movement changed the world) debating the guilt and innocence of the prisoner in the dock. A young black man. It explores in built racism and the casual indifference some people can have to the truth. Worth a watch to see twelve actors, led by Henry Fonda, work as an impressive ensemble. Likewise, "Dog Day" was inspired by the true story of two hapless bank robbers trying to rob a bank to get the money for the leading character, Sonny, (Played by Al Pacino) to pay for the gender reassignment of his gay partner. It is an incredible piece of work with director, and leading actor at the top of their game.



I could go on and on with recommendations, I haven't even touched Asian and Russian film makers, like Kim Ki Duk, Andrie Tarkosky, Sergei Eisenstein, Bong Joon Ho and Ang Lee.

I have just added those who have acted, as a brilliant film school to me, and influenced the way that I tell stories and work with actors. As I look at the list, I see that nearly all the films are driven by exceptional performances from outstanding casts of actors which takes me back to my route and the reason that I wanted to run the Acting for Global Screen Programme. To have the chance to enable a new generation of actors to be the very best that they can be and inspire another generation of film makers to create classic stories that reveal the human condition.
4.
What do you think about Hong Kong? Do you enjoy life in Hong Kong so far?
I love Hong Kong, it is one of the main attractions to the job at HKBU. I had been here thirty years ago and enjoyed my time here. Obviously, it was different then and my experience since arriving in the summer has been affected by the shadow of the pandemic. We just seem to be returning to normal and suddenly we are in partial lock down, working in masks and socially distanced. So, it has been stressful, but I am proud of the fact that we on AGS have managed face to face teaching since the first brilliant cohort of actors arrived on Campus in September. I love taking ferries to the islands, discovering beaches, and taking long hikes in the hills, which is what I do now whenever I should be writing my next book. It's ever changing, very stimulating and full of life. Albeit currently hidden by a face mask, I'm looking forward to the full reveal of Hong Kong's face later this year as we finally beat this pandemic.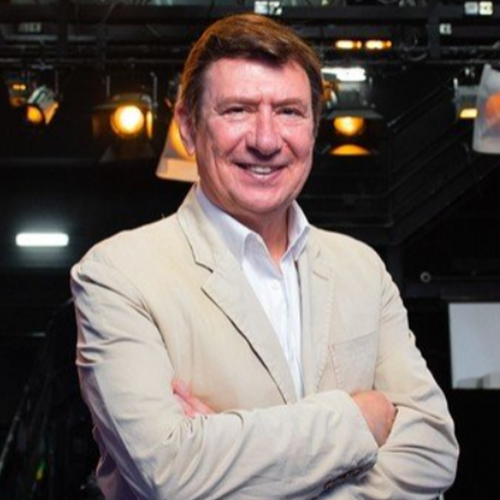 Prof. Michael Bray
Professor of Practice and Director of the Bachelor of Fine Arts (Honours) in Acting for Global Screen Programme, Academy of Film