A CEO Without an Office





An Interview with Alumnus Andrew Wong



Alumnus Andrew Wong (Business Administration) has kindly made arrangements for the interview to take place in a sea-view conference room of his company, instead of his executive suite. As the Chief Executive of Jardine Restaurant Group, he is the first in the Group to promote the concept of open-plan office. He said with a smile that he was also the first one to give up his office too. To convince others to embrace the new initiative of establishing an open-plan office, he has to walk the talk and set a good example. The free-up space with a spectacular sea view in the office was turned into an activity room for yoga exercise and a common room with coffee-brewing facility. Alumnus Wong practices what he preaches, and has always managed the business of his company with due regard to the welfare of his colleagues, manifesting magnanimity seldom found in young executives.

Setting His Mind on Following His Father's Footsteps

Alumnus Wong is a graduate of the Department of Accountancy of HKBU. When being asked why accountancy was selected as his major, he said that he was determined to venture into the business sector since childhood, and believed that if he wanted to do so, he would, as a start, need to understand the accounting concept and master the intricacy of accounting journals and ledgers. Indeed it was years later that he began to appreciate the fact that being knowledgeable in accountancy has helped him build a firm foundation for his career.

Alumnus Wong said that his desire to go into business is very much influenced by his father, a successful merchant who started from scratch. He remembered that when he was only 15 years old, his father began to share with him stories of his business ventures. Notwithstanding his father sold off his business when he retired instead of leaving it to him. Later, Andrew realised that his father had actually made such a decision with the best interest of his son in mind. He recognised that during the process of starting a business, one would garner invaluable experience. Whereas by inheriting a business, one could possibly become just a gatekeeper, and hence would have forever lost the joy of starting a business from ground zero.

In his early college years, alumnus Wong had already joined hands with a few of his friends to set up a private tuition agency. He later set foot in tea trading, although soon he gave the business up. In retrospect, Andrew said that he had gained invaluable experience in these business ventures.

Venturing into the Coffee Business From Ground Zero

When alumnus Wong graduated from HKBU, Hong Kong economy was plunged into recession and many companies were putting hiring on hold. He said that he was then lucky to get an offer from both the Trade Development Council (TDC) and a major accounting firm. In the end, he joined TDC. Though being a fresh graduate, he was assigned to work on a major project which involved the participation of the then Chief Executive of the HKSAR. At that time, he got just a few directives for the preparation work; and there was no precedent to follow. This actually gave him a considerable degree of autonomy in his work. When alumnus Wong reached the management level later, he understood that by allowing his colleagues more room to manoeuvre, they would have a better chance of realising their potential.

After some time, alumnus Wong was being headhunted by Pacific Coffee, to take charge of the company's business in Hong Kong. One of his first tasks was to set up more outlets for the company. Knowing little about the rental market and the catering field, he had to start from the basics and learn all the necessary skills in order to get the job done. As a start, he insisted on reading carefully to the end the hundred-page-thick lease agreement of each of the rental outlets of Pacific Coffee. In the business world, there is never an easy way out, and the devil is always in the details. By taking a short cut, one will surely miss some important information. At that time, when alumnus Wong asked his supervisor which parts of the lease agreement should be kept and which could be negotiable, he was given the reply that "nothing is non-negotiable". To alumnus Wong, it means that we should take nothing for granted. One should never conduct his business merely by following past experiences, all of which would only set constraints in business.

Applying Professional Knowledge in Business

Alumnus Wong revealed that not having any experience in the catering business was not at all bad to his career development. This actually would enable him to make decisions from diverse perspectives. In his view, when colleagues of different backgrounds work together, sparks really fly. That would also mean that the decision-making process will be more dynamic, thus enabling the mixed background team to break new ground.

To alumnus Wong, how to apply professional knowledge in one's career is of paramount importance. He gradually realized the importance of accounting knowledge in business development. "The performance of any company is presented in its financial statements, and the key to success is to understand what the statements tell us about the company. You may have many ideas for business advancement, how to make use of these ideas to generate revenues is what really matters." he said.

Lastly, alumnus Wong had a word of advice for the young alumni: "One should always learn to identify the positive sides of people one comes in contact with, before passing comment or criticism on them." If one always starts judging others in a negative way, one will in the long run lose the appreciation capability, hence become narrow-minded and not receptive to new ideas.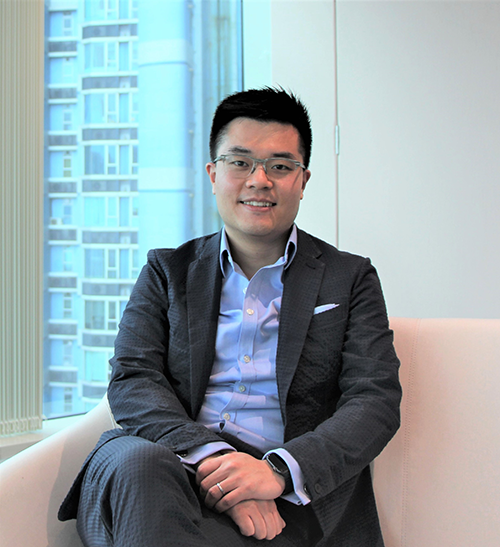 Alumnus Andrew Wong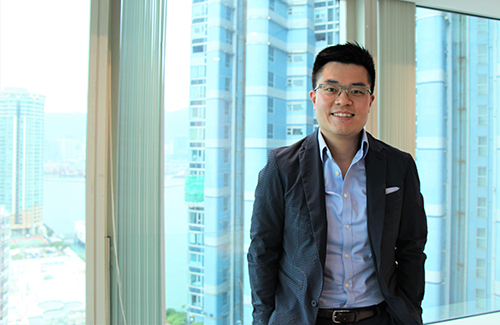 The interview with alumnus Wong takes place in an activity room because he does not have his executive suite at office .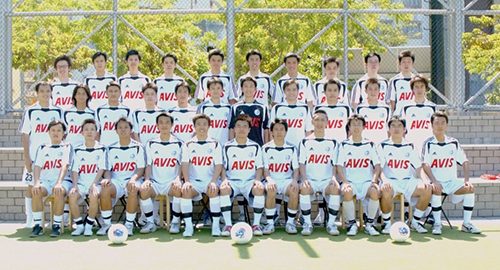 Alumnus Wong(first roll sixth from left) has set up HKBU Accountancy Soccer Association (ASA).