The Sixth Distinguished Alumni Award (DAA) High Table Dinner organised by Alumni Affairs Office was held with great success on 18 June on HKBU Campus. At the dinner, the Award recipients Ms. Amy Cheung (Communication), Mr. Felix Chong (Communication – Film/Video), Prof. Iu Vai-pan (Civil Engineering) and Dr. Cartier Lam (Geography), through a written reply, shared with audiences their valuable experience and insights on how to pursue a successful career.

Living Through the Hard Times

Ms. Amy Cheung, one of the best-known romance novelists with more than 40 novel and essay publications, believed that writers are usually very passionate, but at the same time very ruthless. She elaborated, "When writing a novel or working on other creative projects, the most recent work is usually considered as the favorite work. But afterwards, I always found that there is still imperfection. So it is difficult for me to evaluate which is my favorite one." Amy also cited a quote from the famous novel Of Human Bondage, written by the British novelist William Somerset Maugham, "It is not wealth one asks for, but just enough to preserve one's dignity, to work unhampered, to be generous, frank and independent." Amy believed when people come to different stages of life and look back at their past failures, these obstacles are actually the impetus which propells them to work hard rather than to give up.

Passion for Hong Kong Films

Mr. Felix Chong, a renowned movie director and screenwriter in Hong Kong, shared the fascinating story of his journey in the film industry with the audience. "I was quite confused during the first five years of my career in the industry, but those times have helped me understand myself better and realize the type and theme of films that I would like to produce," Felix explained. He believed the organisation structure of film production team is like a pyramid, some talents sit at the top while other tiers leading down to the bottom team of employees. They are all very passionate about Hong Kong films, that's why they are willing to devote wholeheartedly to the industry. Felix was optimistic about the future of the film industry in Hong Kong, although he admitted that more resources should be allocated to support its development. Taking the new directors alumni Steve Chan and Oliver Chan as examples, who directed Weeds on Fire and Still Human respectively, the industry has cultivated many talents in recent years. He hopes appropriate measures will be implemented to facilitate the sustainable development of the film industry.

Reflection on the Development of Higher Education Sector

Prof. Iu Vai-pan, former Rector of the University of Macau, shared his observations and reflections on the higher education sector. He noticed that some international universities have simply focused on the pursuit of academic rankings, competition for talents or resources. Prof. Iu said the primary purpose of higher education is to enrich students' knowledge, broaden their minds and horizons, as well as cultivating values. Universities should ride on this basic principle and strike a balance between teaching and academic research. In addition, Prof. Iu mentioned that teachers and students are great assets to universities, "University students should cherish the opportunities to acquire knowledge and skills from their teachers and classmates." Prof. Iu concluded his sharing by encouraging young alumni and students, "One may not be able to achieve what he or she wants in the first trial, but this experience is a good opportunity for one to think and explore other options and make necessary adjustment."

Explore Career Options for Personal and Professional Growth

Dr. Cartier Lam, who was unable to attend the dinner, shared his extensive experience in the banking sector and insights about career planning through a written reply. Dr. Lam, majored in Geography at HKBU, said that he joined the Bank of East Asia as an intern by chance, which helped him find his career interest and develop his competencies. Dr. Lam suggested fresh graduates to participate in various internship programmes. "An internship programme with a comprehensive development plan where one can be exposed to the internal operations of different departments within a corporation will help one explore, plan and prepare for the career." He also encouraged students to make good use of their time to unleash their potentials. No matter what obstacles they may face in life, they should not give up hope, learn from experience and create their own wonderful life.

The invaluable insights and wisdom from the four alumni gave much inspiration to the participants. The annual high table dinner ended in another big round of applause.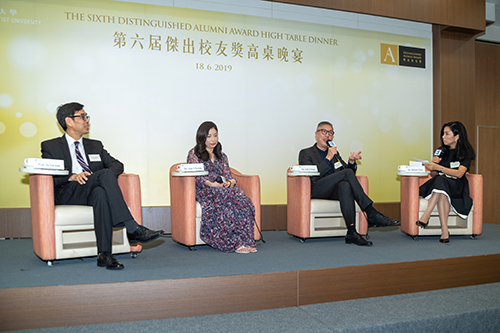 The awardees share their valuable experienceand wisdom with participants.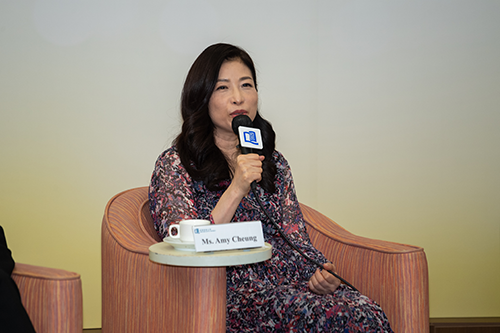 Ms. Amy Cheung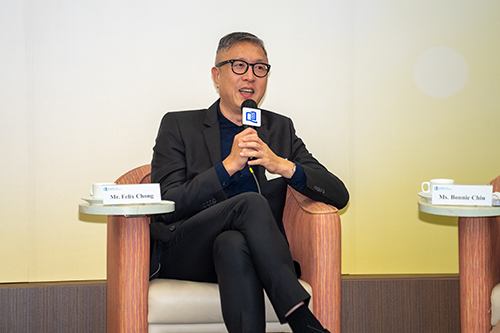 Mr. Felix Chong

Prof. Iu Vai-pan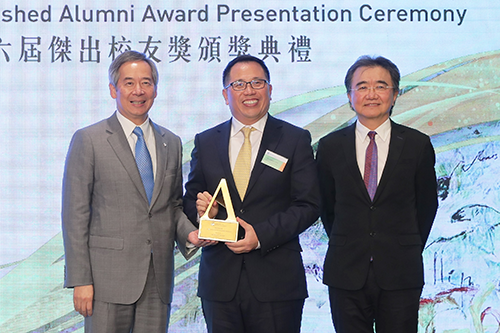 (From left) Chairman of the Council and the Court Dr. Clement Chen, The Sixth Distinguished Alumni Award Recipient alumnus Dr. Cartier Lam and President Prof. Roland Chin. Dr. Cartier Lam (Geography) shares his experience in the banking industry through a written reply.