Organised by Baptist Chemists, the farewell dinner held on 23 June was well attended by more than 140 Chemistry alumni, staff and students who gathered to bid farewell to Prof. Albert Lee Wai-ming, Chair Professor of Chemistry.

The dinner was graced by the presence of Vice-President (Research & Development) Prof. Rick Wong, former Dean of Science Dr. John Chan, former Heads of Chemistry Department Prof. Chan Wing-hon, Prof. Ricky Wong and Prof. Raymond Wong, Associate Head Dr. Shiu Kwok-keung, Distinguished Alumni Award recipient Dr. Eddie Chui (Chemistry/Chinese Medicine) and Honourable Advisor of Baptist Chemists alumna Mok Sin-hing.

During the dinner, Prof. Lee shared his treasured moments over the past 36 years spent at the Department and the University. Chairman of Baptist Chemists (Alumni Association), alumnus Ronald Wong Cheung-shui presented a gift to Prof. Lee to thank him for his contribution to the Department, as well as the support to the Association since it founded 25 years ago.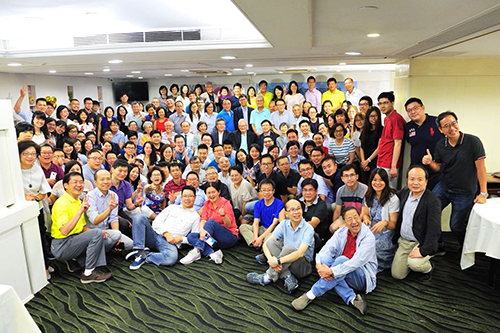 Over 140 Chemistry alumni, staff and students attend the farewell dinner to send their blessings to Prof. Albert Lee.