In response to the imminent launch of the HKSAR Government's Eighth Matching Grant Scheme, alumnus Dr. Eddie Chui (Chemistry/Chinese Medicine) has committed to make further donation HK$0.5 million for Dr. Mok Man Hung Endowed Chair of Chemistry.

The Endowed Chair is established to commemorate the late Dr. Mok, former Vice-President (Administration) and Secretary and Head of Chemistry Department, and to advance research development of the Department of Chemistry and the University through recruiting and retaining the top-notch scholar and financing innovative research projects.

This Endowed Chair of Chemistry has been set up through collective fund-raising efforts of the alumni community and has already raised nearly HK$8 million. Alumni and friends of HKBU are cordially invited to render support for this meaningful project. Your contribution will bring multiple benefits to the University with the matching from the upcoming HKSAR Government's Eighth Matching Grant Scheme. Please click here to learn more about the Campaign or make a donation online.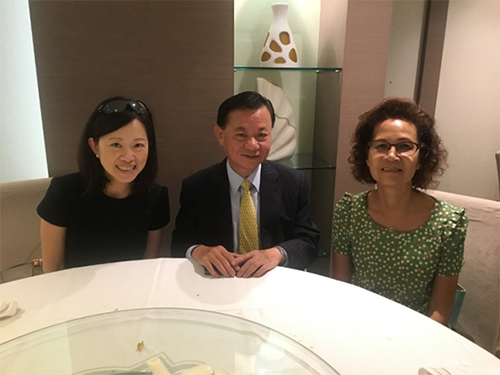 Alumna Mok Sin-hing (right) and Director of Alumni Affairs Dr. Melanie Lee (left) thank alumnus Dr. Eddie Chui (middle) for his generous donation.