The Fifth Distinguished Alumni Award (DAA) High Table Dinner organised by the Alumni Affairs Office was held with great success on 12 June on HKBU Campus. At the dinner, the Award recipients Mr. Ronnie Cheng Kay-yen (Education Studies), Dr. Eddie Chui Shiu-hon (Chemistry/Chinese Medicine), Mr. Patrick Siu Chiu-shun (Geography/Communication) and Ms. Kitty Lun (Communication) shared with audiences their valuable wisdom, experience and insights about how to pursue a successful career.

Enduring Hardship and Getting Through the Toughest to Reap Rewards

Mr. Ronnie Cheng started off the discussion by advising us that a good attitude was the key to success. He recalled that one of the most difficult times in his education career was the period where he had to handle the introduction of national education course in school and the umbrella movement in Hong Kong when he just took up the principalship. Embracing adversity with unwavering commitment to some of his core values, he successfully got this through and overcame the challenges. In addition, he added that proactive attitude was of equal importance to leading for success. He reminded young teachers to go the extra mile and take the initiatives to explore the needs of students. He ended his sharing with a can of Water Displacement. "WD-40" stands for "Water Displacement, 40th formula" which means that the product is a result of the fortieth attempt to get the water displacing formula to work. He encouraged his fellow alumni and students not to be discouraged by a few failures, but to endure hardship in order to reap rewards.

Be Creative to Plot a Path Toward Success

Being a Chinese Medicine practitioner and a chemist, Dr. Chui shared with us the two most important characteristics to be a research scientist. He highlighted the importance of life-long learning, and being creative in order to be successful in career. "Despite the fact that there will always be ups and downs in life; we must be persistent in achieving our goals." He further illustrated the idea with an example. When he was pursuing a doctorate degree in Chinese Medicine, he conducted a clinical study in vascular dementia. This project had to be ceased in the midst of the study because the responsible geriatric consultant had been promoted and no one took over the study. But he did not give up. He approached different aging organisations and finally found the target subjects to continue with his research on anti-aging in Chinese Medicine, and became an expert in this area. He added that apart from being perseverant, being creative and trying to think out of the box were of equal importance. Only in this way could we make our dream come true. He finally encouraged his fellow alumni to stay connected with their alma mater and serve the community.

Make Your Own Path - Accelerating Your Success with Tips from the late Dr. James Wong

Mr. Patrick Siu shared with us his own story of success with guidance from his mentor, the late Dr. James Wong (Uncle James). He was grateful for the opportunities given by HKBU. Being a part-time student helper in Academic Community Hall (AC Hall) was a turning point of his life. Due to his hard work and excellent attitude, he was recommended by Mr. Henry Chan, the then manager of the AC Hall to join the Television Broadcasts Limited (TVB) and started his career in the media. He reminded students not to be too worried about job seeking. "If students are equipped with promising capabilities and sound knowledge, graduation field will not limit their career choices." As a concluding note, he summed up with three tips given by the late Uncle James: (1) Think Big: "Big-picture thinking can benefit any person in any profession." Patrick started a small business initially. Uncle James encouraged him to set a bigger goal by turning it into a listed company. Without the advice of Uncle James, he would no longer be the owner of a listed multi-media company today. (2) Small is beautiful: He reminded us to adopt the simplest way possible in handling complicated issues. (3) No Try, No Gain: Uncle James pointed out that "There is at least a chance of success if we give it a try, but zero chance if we do not give it a try."

Understand the Needs of Target Audiences in the Ever-changing Digital Communication Industry

Ms. Kitty Lun, who was not able to attend the dinner, shared her insights about the new trends of digital communication industry through a pre-recorded video. In response to the rapidly changing digital communication industry, she reminded us that apart from keeping abreast of the latest technological developments, it was crucial to understand the needs of our target audiences. "Innovations are largely driven by the needs of consumers. People desire more personalised communication channels today. Mobile communication is an inseparable part of our lives. Instagram story which combines both advertising and personal sharing has become an effective advertising medium in recent years." To stand out from the crowd, she advised us that it was vital to understand the needs and expectations of consumers. In conclusion, Kitty encouraged students to serve the community and contribute to our society. "Only in this way can we make our existence more meaningful and purposeful!"

The invaluable insights and wisdom from the four alumni gave much inspiration to the participants. The annual high table dinner ended in another big round of applause.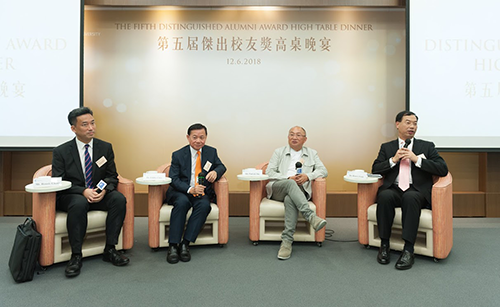 The awardees share their valuable advice and insights with participants.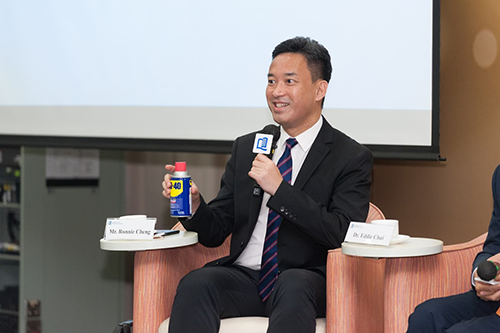 Mr. Ronnie Cheng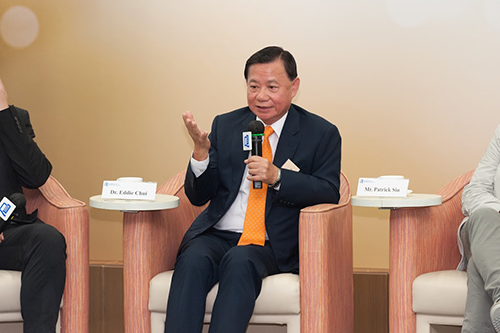 Dr. Eddie Chui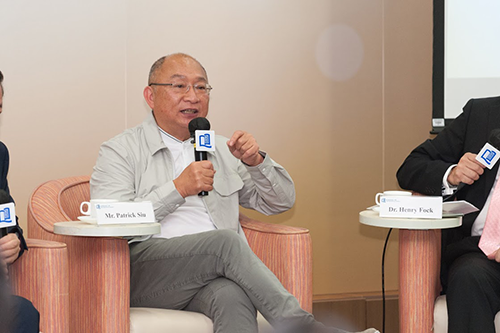 Mr. Patrick Siu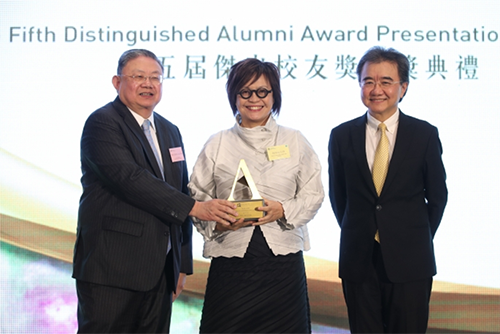 (From left) Chairman of the Council and the Court Mr. Cheng Yan-kee, The Fifth Distinguished Alumni Award Recipient Alumna Ms. Kitty Lun and President Prof. Roland Chin. Ms. Kitty Lun (Communication) shares her insights about the new trends of digital communication industry through a pre-recorded video.