HKBU School of Business Alumni Association (SBAA), HKBU Career Centre and Office of Taiwan Hong Kong Macau Affairs of Nanjing University jointly organised a one-month Jiangsu Summer Internship Programme which started off in May. Led by Chairman of SBAA alumnus Bernard Wu (Accounting), the participating 30 students gained valuable experience by working in renowned enterprises including China Merchants Bank, Deloitte, KPMG, China Zheshang Bank, Huatai Securities and CITIC Securities in Nanjing.

The delegation also learned more about the history and culture of the city, as well as the latest development of the Mainland in a course run by Nanjing University and a talk delivered by the Hong Kong Trade Development Council Nanjing Office. In addition, the students also grasped the opportunity to visit famous attractions in Nanjing and nearby cities such as Shanghai and Suzhou.

Running for its second year, the internship programme was again a great success. It enabled the students not only to learn the culture and development of the Mainland, but also to gain practical experience outside classroom.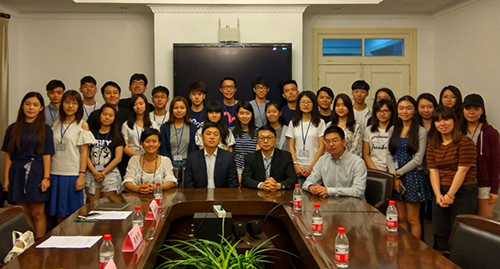 For two consecutive years, Chairman of SBAA alumnus Bernard Wu leads a student delegation to join internship programme in Nanjing.