To commemorate the 150th Anniversary of Canada and the 20th Anniversary of the establishment of Hong Kong Special Administrative Region, Hong Kong Joint Universities Alumni (Ontario) ("HKJU") comprising 9 alumni associations from Hong Kong Baptist University, Chu Hai College of Higher Education, City University of Hong Kong, Hong Kong Shue Yan University, Lingnan University, The Chinese University of Hong Kong, The Hong Kong Polytechnic University, The Hong Kong University of Science and Technology and The University of Hong Kong held a tree planting event at Henry White Park in City of Markham of Ontario on 24 June. Around a hundred of representatives from the institutions attended this meaningful and memorable event.

President of HKBU Alumni Association of Ontario and Chairlady by rotation of HKJU alumna Sophia Chan (Secretarial Management; Business Administration) expressed that the tree planting event not only conveyed environmental-friendly messages to the public, but also denoted the vision of HKJU's member associations in nurturing the next generation by higher education institutions. Special thanks were given to the tree planting group and the government of City of Markham, which have contributed to the success of the event.

Coming next is an official attempt to break the Guinness World Record for the title of "most participants bouncing table tennis balls using table tennis rackets in a single venue". This activity will be held in the afternoon of 15 October (Sunday) at Markham Pan Am Centre. The current world record is 250 participants and HKJU is going to challenge with a number of 400 people. An annual dinner will also be held in the same evening at Casa Victoria. Interested alumni are welcome to contact President Chan for details or registration by phone 1-416-457-0808 or email sophia.chan@rogers.com.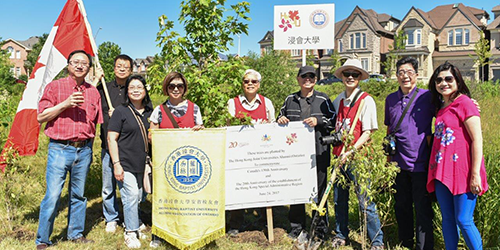 Alumna Sophia Chan, President of HKBUAA of Ontario (4th from left) and the members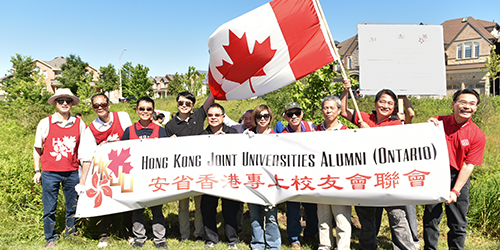 Presidents from 9 institutions pose for a group photo after tree planting.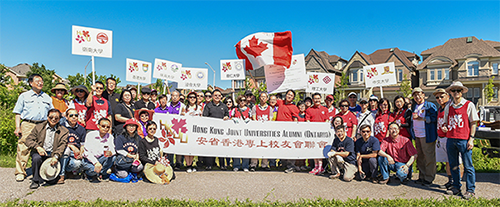 Group photo with all representatives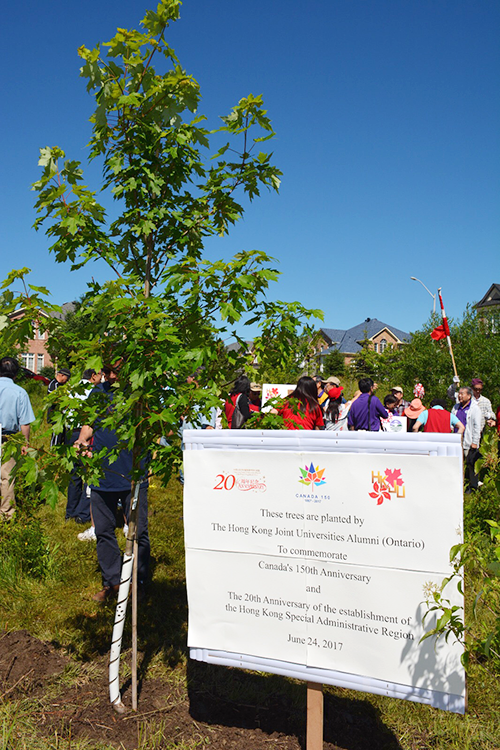 The tree of HKJU