The BUddy Post reporter has interviewed Mr. Poon Chung-hey, an alumnus of Chinese Journalism and the owner of internet cake shop "Patisserie Uriwari", who shared with us his passion for becoming an entrepreneur as well as cake-making experience and many more.

Reporter:  Why would you quit being a news reporter and establish your own cake shop?

Poon:  I graduated from the School of Communication with a major in Chinese Journalism in 2004 at Hong Kong Baptist University. I have been working as a news reporter for various Chinese newspapers for four years. Being a news reporter is an eye-opening experience, but I realised that it was about time to change my career.

Due to my passion in Japanese culture, I flew all the way to Osaka, Japan to pursue my study in Japanese language in 2009 for a year.  Fortunately, I was awarded a scholarship from the Japan Society of Hong Kong to further my study in Japan at a school specialised in cake-making.  Upon my completion, I returned to Hong Kong to work in local chained cake shops for half a year. Having gained some practical experience in the local market, I believe it's about time for me to start my own business.

Reporter:  How do you promote your business? Which are the three best-sellers at your shop?

Poon:  Together with my partner, Mr. David Law, we established our internet cake shop in 2012. We rented a place in Kwai Hing area, and we mostly used Facebook and website as a platform to promote our products and place orders. Our products focus on classy and fancy cakes in Japanese style. We gradually build up our clientele, particularly females aged 20 to 40 through words of mouth and we have gained more exposure in blogs as well as food and leisure magazines. Recently, we have also expanded our joint promotion with a credit card company.

The top three best-sellers of our shop, namely "Nagomi", "Satoshi" and "Kakayaki". The taste and style for these cakes are most popular amongst office ladies.

Reporter:  Could you share some cake-making tips with us?

Poon:  To be honest, there is no fixed recipe for cake-making. The secret to success is to follow the correct method step by step with proper ingredients.

Reporter:  To you, who is the most admirable cake-making chef?

Poon:  The style and taste of cakes made by Mr. Takeshi Shibata is the most amazing.  I admire his creativity in the cake-making industry. His unique style of fusing the French way of making cakes and desserts is very special. He also opens a cake shop "Chez Shibata" in Hong Kong.

Reporter:  Could you share with us the joy and tears of running a cake shop business?

Poon:  I started up my own cake shop because I have a great passion for cake-making. It is not that easy to run a cake shop in Hong Kong because the cake culture in Hong Kong is not as popular as in Japan. Almost every department store in Japan sells cakes and Japanese love to buy them as gifts to friends. In the local market, Hong Kong people purchase cakes mostly for birthdays, farewell parties and celebrating festive seasons.

In fact, running a cake shop requires a lot of commitment and hard work. Both David and I work 7 days a week and more than 10 hours per day.  Most of the time, we need to sacrifice our personal time in order to achieve our goals. In addition, we need to work according to cake orders and ensure safe and timely delivery to our customers. Therefore, having an excellent time management skill is a must. We also need to assure the taste and quality of each cake reaches our standard. We believe that there is still ample room for development. David and I will keep inventing some new styles and taste for cakes.  After all, we have great satisfaction when we create some delicious cakes. On the other hand, rent for commercial premises in Hong Kong is raging. Opening a cake shop in prime location seems to be infeasible at this stage. However, we would consider opening a cake shop in future if we could find a suitable location with affordable rent.

So far, both of us enjoy our cake-making business though we are not making a handsome profit. We are optimistic about the prospects for this industry. We will strive hard to continue our business and produce the best quality cake to our customers. Hopefully, we could open up a cake shop at prime location very soon.

Reporter:  Will you offer any special discount to readers of The BUddy Post?

Poon:  Certainly.  The readers of The BUddy Post can enjoy a 5% discount on all cakes and free delivery service along all major MTR lines. For details, please visit http://uriwari.hk or http://www.facebook.com/uriwari.

Interviewee's Profile:
Graduated from the HKBU School of Communication with a major in Chinese Journalism in 2004, alumnus Poon Chung-hey has established an internet cake shop "Patisserie Uriwari" (http://uriwari.hk) with his partner Mr. David Law since 2012.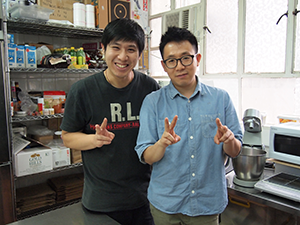 Alumnus Poon Chung-hey(right) and his business partner Mr. David Law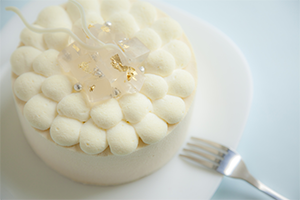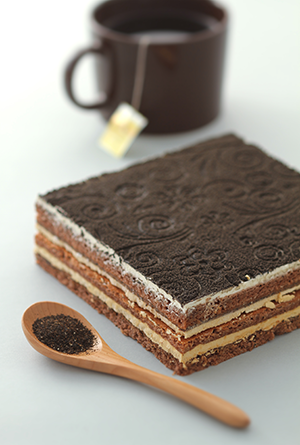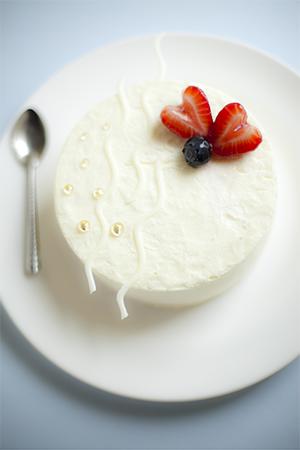 The top three best-sellers: "Nagomi" (Pictured 2), "Satoshi" (Pictured 3) and "Kakayaki" (Pictured 4)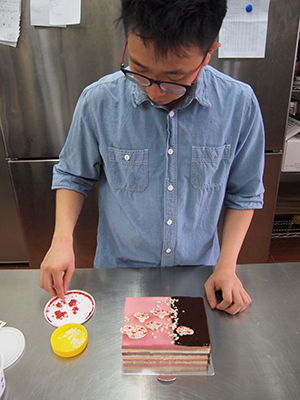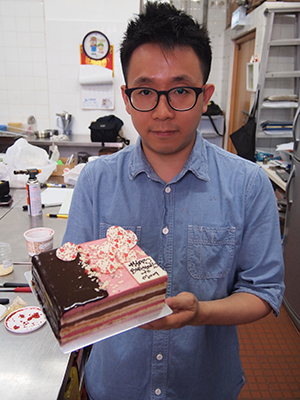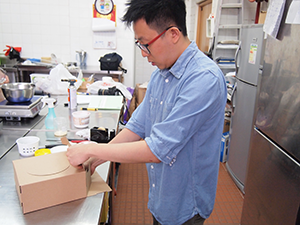 Alumnus Poon spares no effort in baking, decorating and packaging the cakes he made (Pictured 5 -7)