Thinking Outside the Box, Reaching Unreachable Heights
An Interview with Alumna Vikey Chen

How could we break the constraints of tradition, grasp every opportunity that comes by and create a life of spectacular experiences?  Alumna Vikey Chen, a young lady in her early thirties, is going to share with us her astonishing life experiences in the last decade. Not only has she switched jobs five times in 3 years, written a book that provides tips to young people on career advancement and job hopping, got married, and gave birth to a daughter. What's more, she has successfully set up her own business and built a brand for the product she invented.

HKBU - Leading to a Personal Transformational Journey

When she was young, alumna Chen has always yearned for Hong Kong, a place of freedom and opportunities. Upon completion of secondary education in Mainland China, she chose to travel alone to Hong Kong to pursue her undergraduate studies at HKBU. She majored in BBA-Human Resources Management (HRM) and this choice has a monumental impact on her life. Alumna Chen frankly shared that during her studies at HKBU, participating in the Microsoft's Business Manager on Campus Program and joining the student exchange trip to the United States have been most beneficial to her. While participating in the Microsoft Program, Alumna Chen and her teammates adroitly helped raise the sales record of Microsoft's products through giving out to customers the admission tickets of a Hong Kong event attended by Mr. Bill Gates, Chairman of Microsoft Corporation. This project provided Alumna Chen with practical experience in marketing, and convinced her of the importance of creative ideas.  During the exchange period in the States, Alumna Chen would like to make the best use of time during the summer holidays to gain some practical work experience instead of travelling around as most exchange students do.  She therefore actively looked for summer internship opportunities on campus. Whenever a speaker came to the campus for a talk, Alumna Chen would proactively approach the speaker.  In the end, she got an internship opportunity. Alumna Chen said she always takes the initiative of approaching people, and is not afraid of receiving blunt refusals.  Such characteristics leads to a lot of useful learning experiences and opportunities. "HKBU enables me to realise that the world is huge, and studying at HKBU has opened up my horizons and allows me to see far and wide. If I were allowed to choose a second time I would still choose HKBU."

Unique Formula for a Successful Career

Conventionally, everyone working in the HRM field starts from the bottom and stays there for at least five to ten years. Only following this track will it be counted by the profession as having built up a presentable resume. However, alumna Chen revolutionised the career advancement path in the HRM profession in her own way.  In three years after graduation, she had worked for five different big enterprises. Her own experiences exemplify that diverse work experience and backgrounds are good assets to a company. "Quite a number of graduates aspire to becoming a management trainee so that they could be exposed to different positions in a company. However, I think constantly and wisely switching jobs can attain the same result. It broadens someone's skill set, exposes them to different company cultures, expands their network and helps them climb up the career ladder." Alumna Chen even shares her career wisdom in her book: Quit Small Jobs, Make Big Money.

Alumna Chen has taken up various positions in the HR field. "Amongst those, I am most interested in the areas of recruitment." She portrays recruitment work as a business venture. In Alumna Chen's view, attracting talents is like attracting customers. "The decisive factor in recruitment lies in good interpersonal skills and communication techniques.  The job is challenging. In talent hunting, it is also of paramount importance to successfully identify the suitable candidate in the shortest possible time."  When talking about the tricks in recruitment, Alumna Chen said, "With my personal experience as a job applicant over a hundred times of interviews, I have a clear and informed understanding of how interviewees think during the interview. This is of great help to me when communicating with applicants as an interviewer."

On the Road to Entrepreneurship

Amidst her success in the HR field, Alumna Chen resolutely gave up her work to become a full-time mother. She had a busy schedule attending to her baby daughter's daily needs. Driven from the need of her daughter while babysitting, she come up with an idea to design an adjustable food storage container that can keep leftovers fresher longer. Riding on this idea, she amassed a team and began to raise start-up fund through the crowdfunding platform, Kickstarter, for the new product. To the team's pleasant surprise, they successfully raised ten times more than their target budget. With the start-up fund in place, the team set up their company, Botto Design. The setting up of this enterprise involved refining the product design, developing the container mould, collecting market data, and paying due attention to details. Alumna Chen frankly admitted that the entrepreneurship journey was never easy: the most difficult tasks included managing the complex logistics, and fully comprehending the legal terms that might have an impact on production and sales, as well as the accreditation processes of those countries where the product will be sold.  At the beginning, the sale of Botto was based in the United States. It took only about a year for the company to expand its business into 32 countries, all boasting exceptional successes. When being asked about the tips of her success, Alumna Chen modestly admitted that it was mainly due to luck.  Besides luck, she admitted that the appropriate sales and marketing strategy is also very important. She continued, "we have to target on some media channels that could bring positive coverage on the product, and try to get hold of all opportunities available to promote our product in these media. Take Botto as an example: Business Insider, one of the online media, posted a video of Botto's products on its Facebook. And in just three days, the video attracted over 7 million hit rates." Alumna Chen also stated that participating in prestigious international award competitions could help promote our new product. "Botto's food storage container was awarded the Best in Category in Countertop Kitchenware in the 2018 Housewares Design Awards. I was invited to attend the award presentation ceremony in the States. This is a once in a lifetime opportunity and I could make good use of it to promote Botto to my counterparts in the industry."

You Only Live Once, So Dare To Try

The road to building up a business enterprise is long and full of stumbling blocks. Alumna Chen frankly admitted that she had at times considered giving up. Her words of wisdom to young people is that "whether starting a business or chasing your dream, you must have a clear goal, then persevere and never give up. Be willing to try and to take bold action. Dare to look for opportunities in your daily life. You alone cannot successfully start up a business enterprise and get it running. You have to resort to the concept of HRM: put the right man in the right place; and set up a successful team for the task." She further said, "You only live once. There is no right or wrong path in life. So why not just give it a try? Always try thinking out of the box and nurturing creativity!"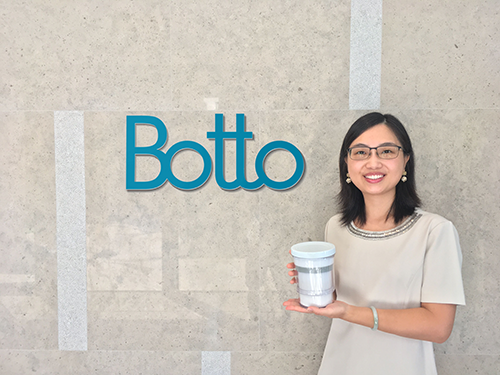 Alumna Vikey Chen and her brand- Botto Design.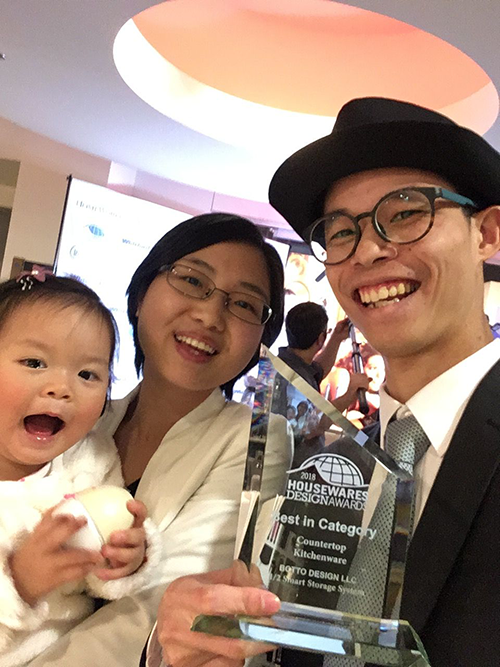 Alumna Chan takes a photo with her family.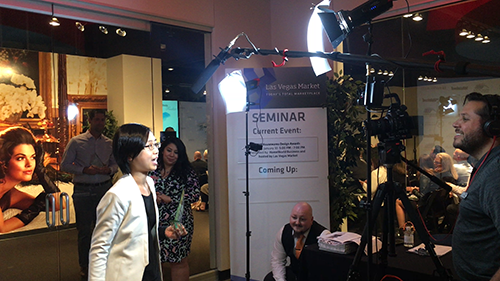 Alumna Chan is interviewed by overseas media after Botto's food storage container is given the Best in Category in Countertop Kitchenware in the 2018 Housewares Design Awards.