Dr. Ko Wing-man, 2018 recipient of Honorary Degree of Doctor of Social Sciences, shared his fascinating story of his career journey at the Public Lecture entitled "A Dialogue with Dr. Ko Wing-man" organised by the Alumni Affairs Office on 27 November. Moderated by the renowned cross-media veteran alumnus Lawrence Cheng, the lecture fully demonstrated Dr. Ko's wisdom and charisma as an eminent leader in public health services in Hong Kong. The Lecture attracted over 920 registrations making it one of the most popular lectures ever held in HKBU.

Fighting a Hard Battle

Dr. Ko began serving in the Hospital Authority (HA) in the early 1990s. With the outbreak of a new infectious disease Severe Acute Respiratory Syndrome (SARS) in 2003, Dr. Ko was appointed Acting Chief Executive when Dr. William Ho, the then Chief Executive of the HA, was infected with SARS. He succeeded in maintaining stability in the healthcare system and the public's confidence by advancing concerted professional efforts to fight the outbreak. Dr. Ko admitted this was the most unforgettable experience in his career journey. He recalled, "In the face of severe outbreak of SARS and panic developed in the community, the medical, nursing and healthcare professionals in the hospitals and clinics are under great pressure. We soldiered on with our duty and worked around the clock with dedication, determined to control the epidemic as soon as possible."

Looking back on his service in the HA, Dr. Ko said that he has done his best to support the development and enhancement of public healthcare services in Hong Kong throughout the years. There was not much to regret.

In the Hot Seat

From 2012 to 2017, Dr. Ko served as the Secretary for Food and Health of the Hong Kong Government. Dr. Ko described it as a blessed career in which he was able to blend his frontline clinical experience as an orthopaedic specialist with public health management experience. He expressed his gratitude to the dedicated healthcare professionals for their efforts in establishing a clear direction for the development of the public and private healthcare systems as well as preventing infectious diseases in Hong Kong.

In recognition of his long and remarkable contributions in the public health sector as well as his contribution in strengthening the cooperation between the medical sectors in Hong Kong and the Mainland, Dr. Ko was awarded the Bronze Bauhinia Star in 2008 and the Gold Bauhinia Star in 2017.

Returning to Clinical Practice

After leaving the government, Dr. Ko chose to return to clinical practice as an orthopaedic specialist. He was also actively involved in promoting the development of Chinese medicine in Hong Kong. From time to time, he was being asked about his views on the integration of Chinese medicine and Western medicine in clinical practice. Dr. Ko believes that Chinese and Western medicine both possess irreplaceable values in the healthcare system. Physicians, regardless of the disciplines in which they were trained, should adopt a patient-centered approach and select the most appropriate treatment for patients.

Dr. Ko said that while he is not perfect and has certain inadequacies, he is always fully committed to accomplish what he has promised to achieve. He encouraged the younger generation to try their best in achieving their goals and not to give up easily. "Making the best out of everything that comes in their way may not necessarily bring good results, but if you have a positive mindset when facing problems, things will work out in the end."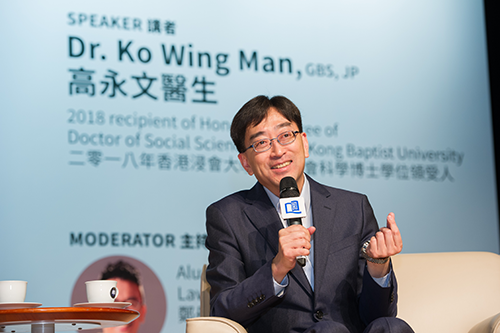 Honorary Doctorate Degree Recipient Dr. Ko Wing-man speaks at the Public Lecture "A Dialogue with Dr. Ko Wing-man".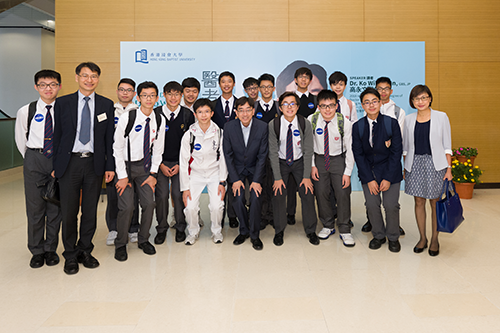 Dr. Ko (front row, middle) poses for a photo with teachers and students of his alma mater, Queen's College, and shares his fascinating career journey at the Public Lecture.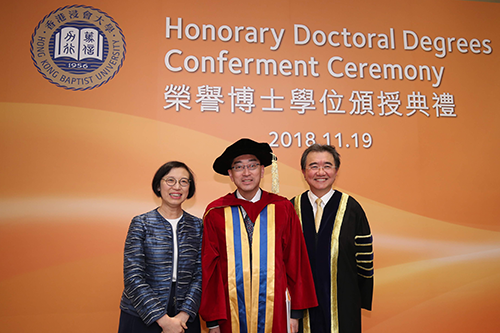 Professor Sophia Chan, Secretary for Food and Health and President Chin (right) congratulates Dr. Ko (middle) at the Honorary Doctoral Degrees Conferment Ceremony.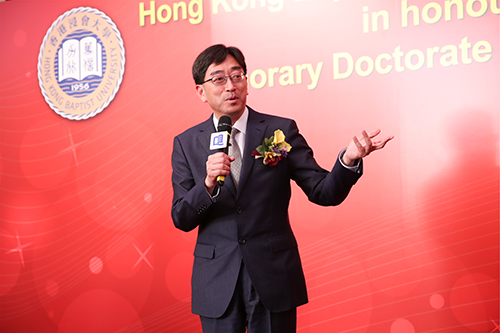 Dr. Ko does a short sharing at the HKBU Council Dinner in honour of Honorary Doctorate Recipients 2018.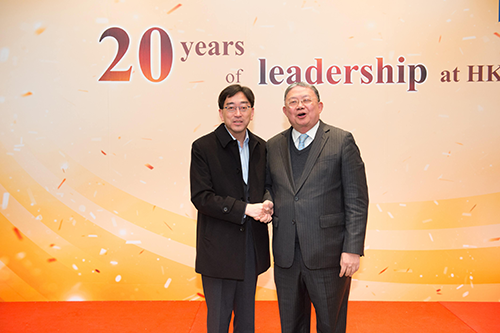 Dr. Ko (left) and the past Chairman of the Council and Court Mr. Cheng Yan-kee (right) pose for a photo at the Farewell Reception in honour of HKBU Council and Court Chairman.