When we choose which university or institution to further our study, our decision may be dependent on the subject we want to study, the resources and facilities of the institution, personal preference, or many other factors. To alumna Cherry Lau, (English Language and Literature; Business Administration), it was the whole person education of the then Hong Kong Baptist College that has fascinated her. "I was brought up in a traditional school. To me, the concept of whole person education was uncommon among the other institutions at that time, and eventually I have had an all-round development in the Baptist College."

Teamwork Makes Things Happen

During the days at the Baptist College, Cherry enjoyed much in joining other activities such as dancing. She was a member of the Dancing Society and performed in AC Hall a number of dance shows with popular songs of the late Michael Jackson, Anita Mui and Leslie Cheung. Cherry recalled that the performance they put up was avant-garde at that time. "We were questioned by the Chaplain about our dance, which involved quite a lot of physical contact. Yet after explaining the concept behind our choreography, Chaplain recognised our work and let us perform. I deeply felt that people at Baptist College were open-minded."

The other thing that Cherry cherished a lot was the affection and team spirit among the students. As students they did not have much resource in putting up shows; yet the passion and enthusiasm of each member enabled them to complete the performance. "Although we came from different departments there was an invisible bond interlocking us. We did not argue nor have conflicts. Each of us contributed what we had and we were creative in making things happen," said Cherry with a smile. "Our campus is not huge, this makes connection among people even closer. Teamwork makes things happen, creativity makes a difference to our work," concluded Cherry.

Creativity Makes a Difference

After graduation, Cherry joined the advertising industry. Throughout the years, she has participated in many different projects and her involvement in a promotion campaign of a tobacco brand has brought her much inspirations. "At that time, the rules on advertising tobacco were very strict and we had to be very creative in producing the adverts." Cherry reckoned, "Perhaps our success owed to the fact that we captured customers' imagination. It was the golden age of advertising. Nothing was impossible, even eccentric ideas worked! Today clients put limited resource in advertising; yet the market has more restrictions, making us less flexible in our creative work."

The seasoned marketer is currently the senior director of a global performance management company. Facing the digital marketing trend, Cherry thought big data and creativity complement each other. She explained, "In the past we lacked data to support our creative ideas. In fact, data validates our marketing strategies and optimises our advertising spending." She continued, "Today online media is very common, and in fact, research reported that spending on online advertising has surpassed traditional media. Yet, there are people who stick to TV and newspapers. Marketers have to be creative to balance the use of traditional and online platforms to effectively reach their audience."

Love Your Work, Show Your Confidence

To Cherry, it is confidence that helps her grow and move up the career ladder. She said, "You have to love what you are doing and this will make you succeed. You have to think out of the box and challenge the status quo. I'm a person who is committed in everything I do. With this mindset, we will be more confident in pursuing what we want to do."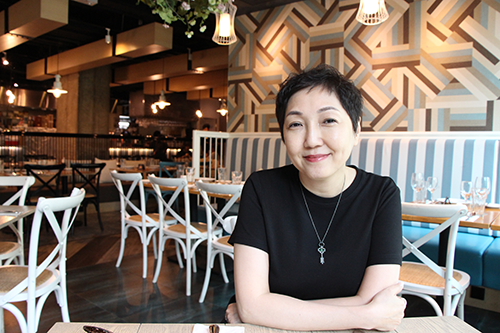 The days in Baptist College, especially the time involved in dancing has brought Cherry fond memories.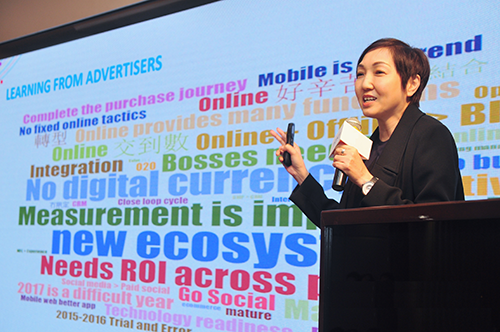 As senior director of a global performance management company, Cherry gives presentations on the new advertising trend in the digital era.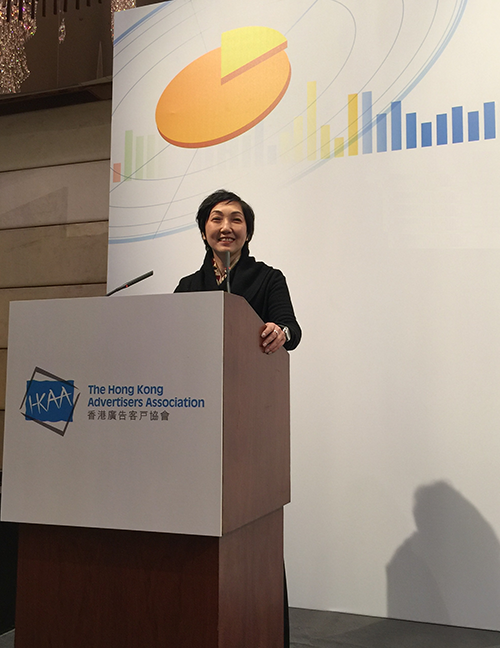 Cherry reckons that big data helps marketers to formulate their promotion plans more cost-effectively.