Alumnus Phila Siu Chi-yui (Journalism), was awarded the Certificate of Merit in Best News Feature at the 7th Chinese University Journalism Award for his work, "A Daughter's Suffering, and a Father's Anguish".

Phila, a 2010 graduate of International Journalism, is currently a journalist with the South China Morning Post. His meritorious work focused on the story of Erwiana, the Indonesian domestic helper physically abused by her employer. Apart from finding out what policies were in place to ensure the protection of domestic workers since the case shocked Hong Kong and the world, Phila's piece also sought answers to two other lines of enquiry: how the abuse has changed the lives of the victim's family, and how the case sparked renewed public concern on labour issues.

The Award aims to promote journalistic professionalism in Hong Kong by recognizing the contributions of distinguished journalists. The presentation ceremony was held on December 11, 2015.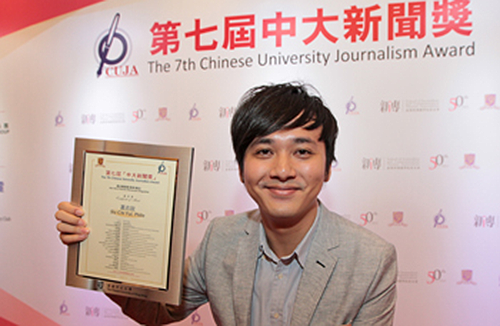 Alumnus Phila Siu receives the Award