To celebrate the 45th Anniversary of its establishment, the Department of Mathematics organised a reunion dinner with HKBU Alumni Association of Department of Mathematics on 5 December 2015. The dinner was well attended by over 200 alumni, guests, faculty members and friends of the Department.

Participated alumni were excited to meet the current Head
Prof. Michael Ng and former Heads of the Department, namely
Mr. Li Men-jan, Prof. Kwong Man-kam, Prof. Frederick John Hickernell, Prof. Fang Kaitai and Prof. Zhu Lixing. They were also invited to share their inspiring stories related to the development of the Department since 1970. Meanwhile, Prof. Ng Ching-fai, former President and Vice-Chancellor of HKBU and former Dean of Science, Prof. Tang Tao, former Dean of Science, Prof. Liu Jiming, Acting Dean of Science, Dr. Tong Chong-sze, former Associate Dean of Science, as well as Prof. Huang Hongci, Prof. Peter Lam, Dr. Xue weimin, Prof. Tang Man-li, Prof. Ma Zhiming, Prof. Sheng Qin, Prof. Jeltsch Rolf and Prof. Steve Liu, were also invited as special guests of the Dinner.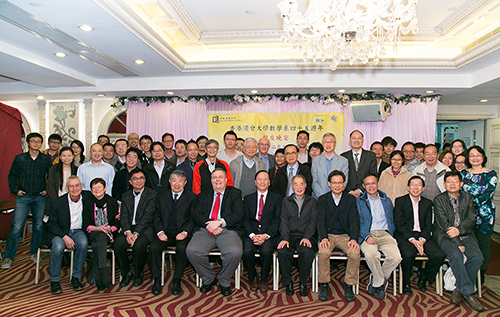 Members of the Department of Mathematics show unity