The 2014 Annual General Meeting of the HKBU Sociology Alumni Association (SOCALU) was held on 6 December 2014 whereby the new Committee members were elected as follows:


| | |
| --- | --- |
| President: | Mr. Alex Chan |
| Vice-President: | Ms. Mei Kung |
| Secretary: | Ms. Alice Wong |
| Treasurer: | Mr. Patrick Wong |
| Membership Director: | Mr. Jan Law |
| Development Directors: | Ms. Natalie Cheung, Ms. Sandra Lui and Ms. Vicki Chan |
| Activities Directors: | Ms. Felix Ng and Mr. Li Hau-chi |

The new Committee received a record-high of 94 votes in the election, including 84 valid proxies as well as the votes from Mr. Cyrus Siu (2014 President), Ms. Teresa Ip (2014 Treasurer), Ms. Edith Law (Former Secretary) and seven candidates. During the election campaign, the new Committee members recruited 70 alumni as new members and garnered support from many former members.

The new Committee focuses on 3 areas: 1) providing services to address the diverse needs of the alumni (Service), 2) planning for long-term development with orientation (Orientation) and 3) establishing a community immersed in HKBU sociology's culture (Community). It becomes the abbreviation of sociology (SOC) when these three foci are integrated. It is hoped that SOCALU can make continuous contributions to the Department and the University.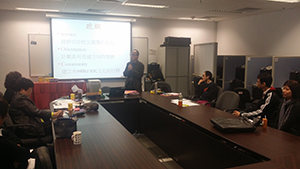 The new SOCALU Committee members share their plans with alumni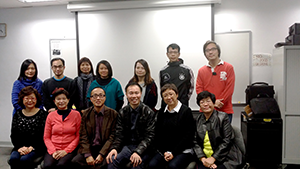 Former and new SOCALU Committee members pose for a group photo
Front row (from left): Ms. Teresa Ip, Dr. Odalia Wong, Mr. Alex Chan, Mr. Cyrus Siu, Dr. Danching Ruan and Ms. Edith Law
Back row (from left): Ms. Felix Ng, Mr. Jan Law, Ms. Mei Kung, Ms. Natalie Cheung, Ms. Vicki Chan, Mr. Patrick Wong and Mr. Li Hau-chi