The Buddy Post has interviewed alumnus Man Shu-sum who is currently Associate Director and Principal Lecturer of Academy of Film. He will share with us his wealth of experience in film and media industry and some of the new initatives of the Academy.

Reporter: Can you share with us your brief background and your expeirence in the media industry of Hong Kong and Singapore?

Man: Upon graduation from of Communication with a major in Journalism, I had worked in a number of TV stations including the then Commercial Television, TVB, Rediffusion Television and RTHK. In the 80's, the Singaporean Government wanted to restructure the development of the media industry and recruited about 150 media professionals from Hong Kong to bring in the sought-after operation and technical expertise and I was among this group of professionals. That's how I started my 33-year career in Singapore which covered creative, training and management. The population of Singapore is made up of 4 ethnic groups, namely Chinese, Malay, Indian and European and I had experience in managing the TV programme contents of all these groups. In terms of media channels, I had taken up management roles in radio stations, TV stations and film companies and was once responsible for opening up a new TV channel. I was also the Director of TV and Film for the Media Development Authority of Singapore. I have also worked for Taiwan Satellite TV and was once the Head of the Asia Headquarters of Hollywood Company.

Reporter: What are the major differences between the Hong Kong and Singapore film and TV industry?

Man: Made of four ethnic groups with a multi-cultural and a multi-lingual background, Singapore does not have as many mainstream movies as Hong Kong. The reason is that it is rather difficult to identify a theme of common appeal to all ethnic groups. Singapore mainstream movies can hardly enter international market. But art film is relatively more active. For example, the film Ilo Ilo won 39 prizes in different film competitions around the world. In Singapore, film is more like a vehicle to connect people than an industry. The same problem happens to TV productions and therefore it is not easy for Singapore's TV programmes to enter international market.

Reporter: You have been in the commercial media industry all along. What motivates you to teach in the alma mater?

Man: I observe that there is an increasing demand for media management courses in Greater China and I think my wealth of experience dovetails with this. In fact, I have taught media management courses in Zhongshan, Shanghai and Beijing before and I had been the Honorary Advisor of Academy of Film for 3 years. My working experience gives me the competitive edge of understanding the current market situation. To me, teaching is more than experience sharing. I hope I can serve as a bridge that links up the University and the market. It is also my wish to finish the last chapter of my career by educating the next generation. Currently, I am teaching On Non-scripted Content in Asia and Master's-level courses in media management and media production.

Reporter: What are some of the new initiatives of Academy of Film that broaden students' horizon?

Man: Thanks to the vision of Associate Vice-President and Dean of School of Communication Prof. Huang Yu, we have launched a new initiative called Studio-i that gives students more practical opportunities. We encourage students to submit film proposals which can be made into films with full support from the Academy including the provision of equipment, manpower and capital. We target to produce a 90-minute feature film and 3 micro films in the next three years. Studio-i welcomes submission from the Academy's current students as well as alumni graduated from 2010 to 2014. Proposals submitted will be assessed by a panel of judges who will pick out the one with highest potential. We will also arrange professional tutors to give guidance throughout the production.

Reporter: What are the career prospects for Film students in Hong Kong?

Man: Today, no matter whether students are studying Film, TV Production or Journalism, what they really need is the ability to tell stories. The biggest challenge therefore, is whether they have such ability with which they can be a director, a script-writer, a producer or a financial controller.

Also, students should be prepared to learn as they do and endure hardship in the process. For a fresh graduate, the starting salary in TV or film industry is usually relatively low and the jobs may look trivial too. Working hard does not promise you a definite success as the industry is working on emotion and sensation of people which may have nothing to do with how hard you work. The first three years may be a hard time for most fresh graduates. My advice to students is, don't rush to get recognition from others. Rather, they should strive for opportunities to cooperate with different teams, to earn trust and to communicate with others. A degree does not promise you to receive recognition from others but it does give you some basic knowledge to get into the field easier and realise your dream step by step.

Interviewee's Profile: Alumnus Man Shu-sum graduated from Communication of the then Hong Kong Baptist College. Currently, he is the Associate Director and Principal Lecturer of Academy of Film of at HKBU. He is a media veteran with 30 years of regional experience with private and government sectors including radio stations, television stations, film investment and production companies and Singapore Media Development Authority and has been actively engaged in creative productions and media management. He was named one of the top 50 Asia Film Leaders by the American entertainment trade magazine VARIETY in 2007.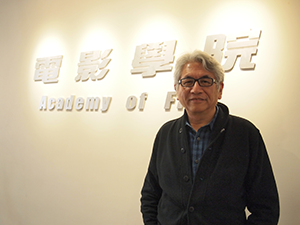 Associate Director and Principal Lecturer of Academy of Film alumnus Man Shu-sum aims to pass his wealth of experience to HKBU students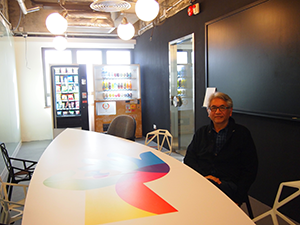 Mr. Man introduces the Academy's new project Studio-i