In view of the latest development of the Novel Coronavirus outbreak, HKBU has stepped up precautionary and control measures against the outbreak, and made special arrangements to safeguard the health and safety of our community. We are grateful to have invited Ms Carolin Fong, Director of Estates, to share with us the various measures adopted by the University with regard to the enhancement of campus hygiene and the health alert system, and the provision of resources to combat the outbreak during this challenging time.

1. Campus Hygiene

The University has stepped up measures to maintain good environmental hygiene on campus, which include:


| | | | |
| --- | --- | --- | --- |
| | • | | increase the frequencies of cleaning and disinfecting public areas like lifts, lobbies, desk surfaces in libraries, classrooms and learning commons, etc.; |
| | • | | carry out campus wide thorough cleansing and disinfecting exercises for major public areas; |
| | • | | provide hand sanitizers at all lift lobbies, major circulation areas, and areas outside toilets for use by the university community and visitors; and |
| | • | | provide sanitized floor mats to all entrances of the campus and buildings. |
2. Health Alert
| | | | |
| --- | --- | --- | --- |
| | • | | All HKBU students and staff are required to fill out an online health declaration form before they return to campus for study or work. The health declaration system is linked up with the campus entrance security system to identify students and staff who should seek medical advice, and hence should be advised not to enter the campus until their medical issue has been properly dealt with. |
| | • | | Logistics support is provided to the Office of Student Affairs to vacate some dormitory rooms for home quarantine of students returning from the Mainland China following the Government policies. |
| | • | | A 24-hour health and safety hotline is provided for all students and staff on issues related to the epidemic. |
| | • | | Emergency support is provided to the university community in response to cases like complaints about unhygienic behaviour of students or staff members, suspected cases of infections, etc. Immediate follow up actions have also been taken in response to suspected cases of infections on campus. |
3. Resources for Disease Control and Prevention
| | | | |
| --- | --- | --- | --- |
| | • | | Despite the tight supply of sanitary items in the market, on-going procurement of surgical masks, hand sanitizers, and personal protection gears, etc. for the university community has been undertaken. |
| | • | | Posters and notices are disseminated throughout the campus to remind staff and students of the importance of maintaining appropriate personal hygiene. |
| | • | | Ongoing actions are being taken to provide hand paper towels in all washrooms, and permanent automatic sanitizer dispensers on the campus. |

Carolin would like to take this opportunity to wish all alumni good health amidst this challenging time.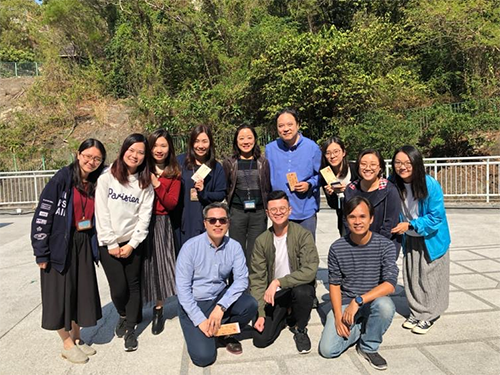 Carolin (back row, middle) poses for a photo with colleagues of the Environmental Health and Safety Section of the Estates Office.