Intuitive Perception of Life as Expressed through Movies
An Interview with Alumna Nicole Chu

To the general public, the term "movies" is a popular entertainment and culture worldwide.  The roles in various classical movies, and the dialogues exchanged by the leading roles of these movies, are knitted into the fabric of our everlasting collective memory.  To Alumna Nicole Chu (Film, Television and Digital Media), "movies" is a medium of expression.  In the short film 3 Generations 3 Days produced by Nicole, she tried to portray the kinship and bonding of three generations: grandmother, mother and granddaughter; while at the same time sketch the intangible impact and interaction amongst these family members.

Even though the 20-minute movie 3 Generations 3 Days looks short, it is not to be overlooked.  Since it was released in June 2019, it has been showered with accolades, achieving exceptional success.  Among the awards (up till January 2020) received are: the Best Director Award in the 13th Fresh Wave International Short Film Festival; the Best Short Film (Fiction) Award in the 2019 South Taiwan Film Festival; and the Best Live Action Short Film at the 56th Golden Horse Film Festival and Awards, all of which emphatically saluted the creative work and efforts of Alumna Nicole Chu.

Film Making Dream that Originated at HKBU

When asked about why she chose film making as her profession, Nicole started off by sharing with us her career path, which was quite different from most film students.  Nicole majored in Music.  After graduation in 2011 from the Chinese University of Hong Kong, she enrolled in the Master of Fine Arts programme in Film, Television and Digital Media offered by the Hong Kong Baptist University.  Her reason for the decision then was: "I was trying to figure out my way forward, and I wish that my choice could be 'career-oriented', not just solely because of interest.  Also at that time, I happened to come across a documentary on music, which led me into thinking that the world of movies is even more boundless.  Film making as a profession also allows me greater to express my views."  Thus, Nicole has chosen film making as her career.

During the three-year master's programme, Nicole had also gone through some adjustments and challenges, including getting to know about the film and television industries and learning theories and techniques of film making, etc.  Through the practicums of film and television productions during the programme, she gradually discovered her interest in documentaries.  When she was taking a course related to documentaries in Year 2, she produced a documentary entitled "Disappearing in Central" as one of her assignments. This documentary later brought her the Outstanding Documentary Award in the 11th Global Chinese Universities Student Film and Television Festival hosted by HKBU Academy of Film (Academy).  The award indeed boosted her confidence in making documentaries.  Nicole expressed her gratitude to her teachers in the Academy, including amongst them a visiting lecturer, Ms. Angelina Chen, who is a producer and screenwriter.  Besides imparting knowledge to her students, Ms. Chen also referred job opportunities to graduates of the Academy.  For example, when Ms. Chen was directing a documentary film I've Got Blues in 2017, she asked Nicole and some other graduates of the Academy to join the film crew so that they could get hands-on experience in film making.

Attending Film Making Workshops and Courses around the World

After completing her master's programme in 2014, Nicole tried not to miss any opportunity for attending film making workshops and courses in various parts of the world, so as to widen her vision in the profession.  She shared "To me, film making is not just about technique, but also the thoughts and beliefs underlying with a film; and what they mean to the creator of that film.  While participating in these workshops and courses, I was able to exchange ideas with various mentors and fellow students, and I found these encounters very enlightening."  The workshops and courses Nicole attended include, among others, a course offered by the Asian Film Academy and hosted by the Busan International Film Festival in 2016.  In 2019, she was awarded a full scholarship to complete a course offered by the International Film Business Academy and hosted by the Busan Asian Film School.  In the same year, she also became a student member of the Golden Horse Film Academy during the Taiwan Golden Horse Film Festival.  In February 2020, Nicole will go to Germany to attend the Berlinale Talents, a programme specially organised by the Berlin International Film Festival for avant-garde film makers.  There will be over 250 participants coming from 86 countries in this programme which allows participants to reflect on their own work, connect with other emerging creative talents, and benefit from the knowledge and expertise of distinguished film professionals from the region and beyond. The most memorable experience to Nicole in participating in the overseas workshops was the chance to meet Mr. Tsai Ming-Liang, an eminent film director of Taiwan, at the Asian Film Academy in 2016.  Mr Tsai's inspiring advice has a profound impact on Nicole's career pursuit.  She related Mr Tsai's words of wisdom: "You can't really learn all about cinematic arts, the scope of which is boundless.  Some people regard film making as some sort of industry, while others regard it as a platform to showcase oneself to the world.  You should spend every day thinking about what "movie" actually means to you!  And what sort of a person you are?"  To Nicole, Mr. Tsai has inspired her by showing her the direction for, and thoughts on, film production, which are: be insistent on what you think; and assume responsibilities for what you have produced."

A Word of Wisdom for Fellow Students: Reaching Out to The World

In recent years, graduates of the Academy of Film of HKBU were repeatedly honoured at various award ceremonies or film festivals.  Not only did Nicole's production of 3 Generations 3 Days garner a number of awards, her close friend from the same Academy, Alumna Norris Wong (Film, Television and Digital Media) had also won, with her film My Prince Edward, the 2019 NETPAC (Network for the Promotion of Asian Cinema) Award, which was co-presented by the Taipei Golden Horse Film Festival and the NETPAC. Besides feeling happy about the achievement of her friend, Nicole hopes that all new entrants to the film industry including she herself could do more for the industry.  Nicole acknowledges that the joint efforts of both the government and the film industry in nurturing talents and rendering assistance to them in recent years indeed help novice film makers.  These endeavours include the Fresh Wave International Short Film Festival, and the CreateHK organised by the Commerce and Economic Development Bureau, etc.  Nicole feels that these platforms and competitions will ultimately raise the quality and techniques of film production, and provide fresh impetus to the industry.

Last but not least, Nicole reminds new entrants to film production and students pursuing studies in the field that they should cast their eyes on film markets far and wide, and grasp every opportunity to participate in film workshops and international film festivals for collaborations and exchanges with mentors and peers.  She encouraged her fellow students of the Academy of Film, "there is no guarantee that a film will be successful.  Producing a film is like conducting an experiment.  You need to have the guts to fail, but at the same time the guts to realise your dream.  Only by so doing can you push yourself beyond your limits and keep on trying.  In such a way, you are able to pursue your dreams and achieve your goals."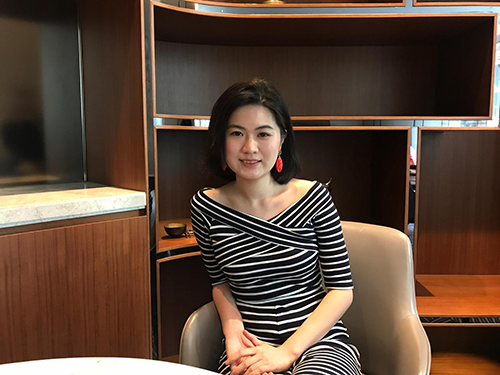 Alumna Nicole Chu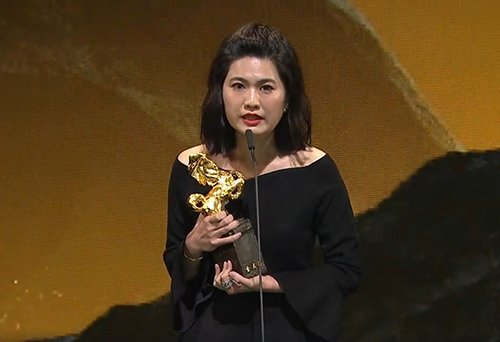 The short film "3 Generations 3 Days", directed by Nicole, won the award for "Best Live Action Short Film" at the 56th Golden Horse Awards Ceremony.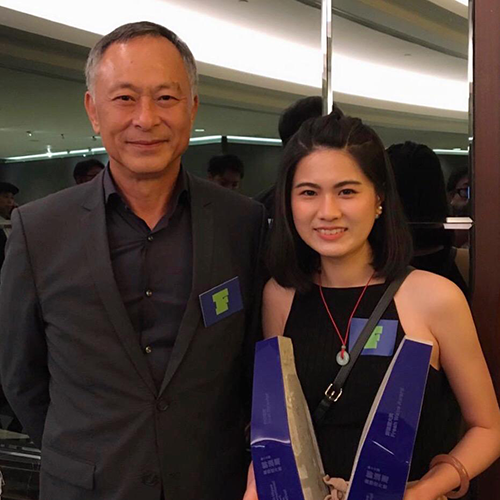 Nicole (right) poses for a photo with the founder and chairman of Fresh Wave International Short Film Festival, Mr. Johnnie To, MH (left), after receiving awards at the 13th Fresh Wave International Short Film Festival.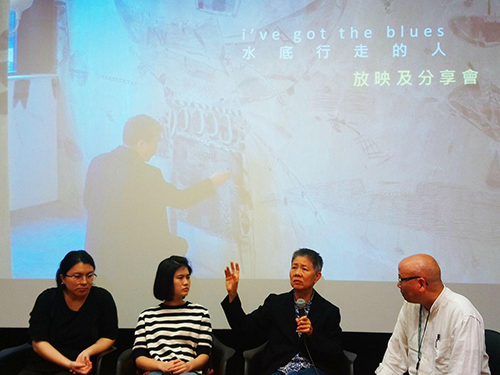 Nicole (second from left), involves in the filming and editing of the documentary film "I've got the blues" as invited by the Film Director Ms. Angelina Chen (second from right).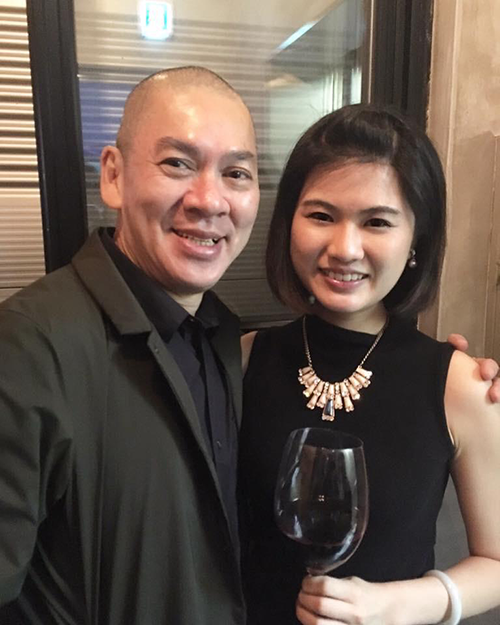 Nicole poses for a photo with Mr. Tsai Ming-Liang, one of the eminent film director in Taiwan.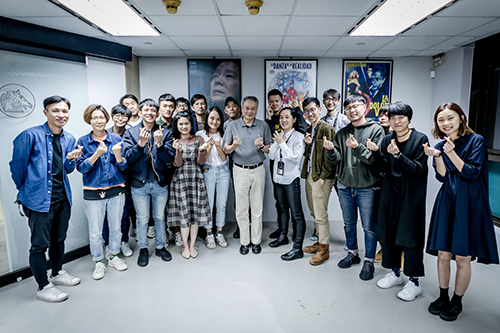 Mr. Ang Lee (middle), the world-renowned and award-winning film director, instructs and inspires Nicole (front row, fifth from left) and other talents at the Golden Horse Film Academy. (Photo Credit: Taipei Golden Horse Film Festival Executive Committee)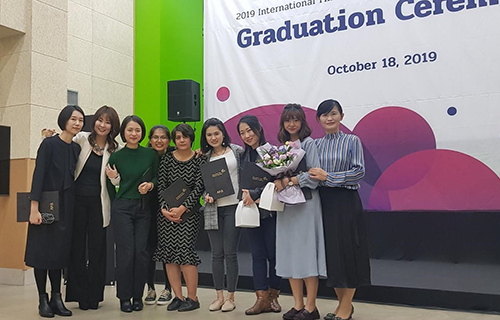 Nicole (fourth from right) and other talents, attends the Graduation Ceremony of 2019 International Film Business Academy hosted by Busan Asian Film School.