As the saying goes, "knowledge changes fate." Education is one of the strongest instruments for reducing poverty. It enables children to equip with the necessary knowledge and skills to earn a better living and improve their life quality. In the eyes of alumna Angel Cheng (Communication), Founder of B.A.M.S. – Build A Music School, education has a more fundamental meaning – to help children learn the ethics for life and moral principles, hence become a good person. She believes that the value of each individual should not be defined by one's social background or living environment. Alumna Cheng hopes, by establishing the first music school in Kengtung, eastern part of Myanmar, to encourage local children to use their knowledge and skills to change their destiny.

Strong Bonding with Myanmar

Being a Christian, alumna Cheng's first encounter with Kengtung was a short-term mission trip and voluntary experience in 2009. At that time, she has already graduated from the School of Communication and got her dream job in the public relations field. Contrary to the hustle and bustle of Hong Kong, Kengtung is an area that has long been associated with drug problems. Witnessing the rampant influence of drugs on the local youngsters, she decided to build a school in Kengtung to help change the children's fate with music education.

She visited orphanages in the Golden Triangle area of Myanmar to teach children English and music. In 2015, she resigned from her job when she was about to be promoted to Public Relations Director and devoted her time and effort to the "Build A Music School" project. Alumna Cheng elaborated, "Music is a universal language. With music, we can express our feelings and communicate across cultural and linguistic boundaries." Through offering music education in a school environment, alumna Cheng hopes to protect the children from being easily exposed to drugs and encourage them to develop their interest and pursue their dreams, eventually open up more possibilities for their future.

Dare to Dream

With the joint effort of the orphanages and volunteers, alumna Cheng's dream has gradually taken shape. She bought a piece of land in the mountain area of Kengtung and worked out a fundraising plan to support the construction of school premises, road construction, power and water installation, to name but a few. After more than two years of hard work and dedication, phase one of the construction work finally started in November 2018 in which a treehouse and a music hall will be constructed. Alumna Cheng explained, "Our project is not simply to build a school to offer music education for underprivileged children, but also to connect the 700 families nearby, build infrastructure and eventually, a community." At present, alumna Cheng and her team are actively raising funds to support the second and third phases of the construction work where classrooms, dormitory, library and office will be built. From time to time, alumna Cheng organises voluntary teaching tours for HKBU and other university students in Hong Kong to teach and experience life in Myanmar. They also welcome people to donate second hand musical instruments for the children there.

Chasing Dream and Public Relations Work in Parallel

Alumna Cheng travels frequently between Hong Kong and Myanmar in recent years. In addition to attending sharing sessions and publicity events for B.A.M.S., she also returned to the public relations field and worked as the General Manager in a consulting agency. She said, "I have learnt a lot of project management and leadership skills from my job and my fellow colleagues. I hope this can help me and the B.A.M.S. team to better prepare for the fundraising campaign and publicity work in future." With the implementation of the B.A.M.S. project, alumna Cheng hopes more people will support the children in Kengtung in pursuing their dreams in music, hence bring hope and changes to their lives. "Bringing changes in lives is valuable. It is more valuable than anything else because it can affect more different lives."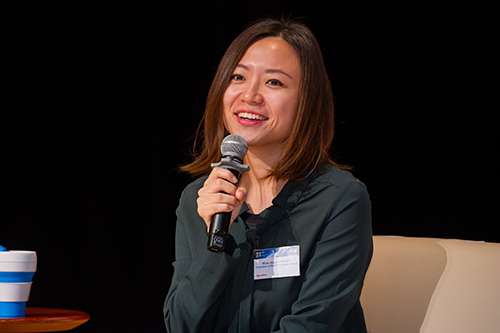 Alumna Cheng shares her views on educational issues at the "Secondary School Principals' Day 2019" hosted by HKBU.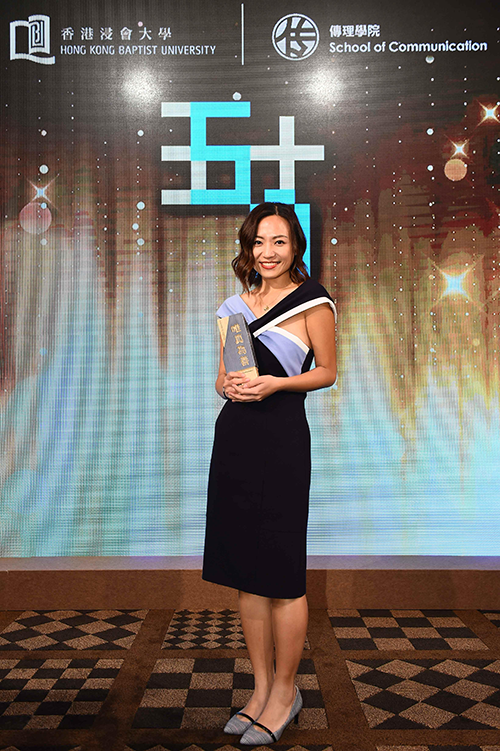 Alumna Cheng receives Distinguished Communication Alumni Award presented by HKBU School of Communication on 30 November 2018.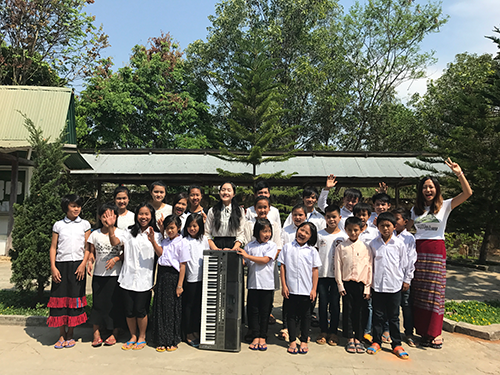 Alumna Cheng (right) poses for a photo with the children in Myanmar.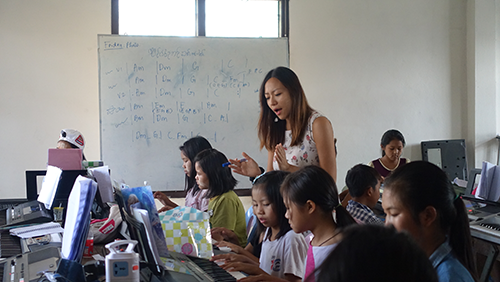 Alumna Cheng teaches children to play electronic keyboard.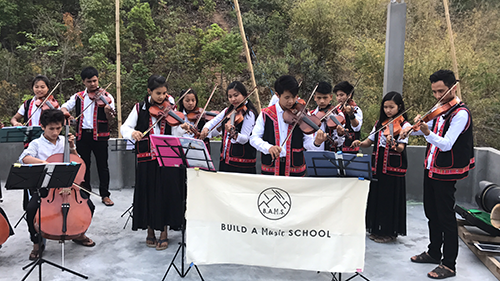 Musical performance by a group of students in Myanmar.