To celebrate the establishment of the Hong Kong Baptist University Early Childhood Education Alumni Association (HKBUECEAA) in January 2018, an Inauguration Ceremony and Homecoming Dinner was held on 26 January on campus.

At the Homecoming Dinner, Dr. Albert Chau, Vice-President (Teaching and Learning), congratulated alumni for the set-up of the HKBUECEAA and wished the Association great success in its endeavours.

Since 1994 HKBU has started to offer training for early childhood practitioners and in 1999, the University launched a Bachelor Degree programme in early childhood education which was the first of its kind in Hong Kong. At present a range of academic programmes offering on both full-time and part-time basis are in place at HKBU with graduates of over 8,500 in the early childhood education discipline. In view of this, the HKBUECEAA is established to foster a sense of belonging and closer bonding among alumni.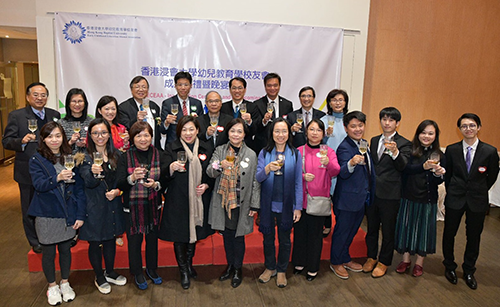 (Back row from left) President of HKBU Alumni Association alumnus Alex Leung, member of the Early Childhood and Elementary Education Division Advisory Committee Ms. Anita Lee, Director of Alumni Affairs Dr. Melanie Lee, Chaplain Dr. Ip King-tak, Vice-President (Teaching and Learning) Dr. Albert Chau, Associate Vice-President (Teaching & Learning) cum Academic Registrar Prof. Ricky Wong, members of the Early Childhood and Elementary Education Division Advisory Committee Mr. Francis Chau and Mr. Patrick Lam, Director of Finance Mr. Edmund Li, Acting Associate Dean of School of Continuing Education and Head of Early Childhood and Elementary Education Dr. Amelia Lee.
(Front row from left) Members of the HKBUECEAA Organizing Committee Ms. Wong Kate and Ms. Leung Sau-ting, Advisors of the HKBUECEAA Organizing Committee Ms. Siu Lin-ying and Ms. Chan Hang, Chairperson of the HKBUECEAA Organizing Committee Ms. Kwan Siu-kau, members of the HKBUECEAA Organizing Committee Ms. Josephine Ho, Ms. Law Wai-me, Mr. Cheng Kai-yin and Mr. Bruno Chiu, Lecturer of Early Childhood and Elementary Education Division Ms. Kate Yun, and member of the HKBUECEAA Organizing Committee Mr. Kwan Man-ning