"Life is challenged by our dreams, examined by risks and failures," Thomas Bubendorfer, an Austrian solo climber and specialist in extreme mountaineering, once said. Alumnus Wilson Cheung (Physical Education and Recreation Management), the only Chinese Arctic expedition tour guide leader in the world has experienced it by himself. Working at the extreme lands on the Poles, embracing glaciers, penguins, and polar bears each day - things that are far beyond the reach of us, has allowed Wilson to explore the mysteries of the world and the meaning of life.

For the past seven years, Wilson has been working as an international mountain guide, South Pole ski guide and expedition leader at the extreme points of the Earth, the Arctic and the Antarctic. "My job is to guide visitors to observe the wildlife, visit glaciers and climb mountains in the Polar regions," explained Wilson. On one hand, he introduces visitors to the incredible beauty of our nature, on the other he is also dedicated to the promotion of environmental protection, arousing public's awareness of global warming and climate changes. Seeing that the glaciers in the Polar regions are melting away on an unprecedented scale, Wilson's determination to environmental preservation is stronger than ever.

The Transformational Journey Starts from HKBU

Wilson's passion for exploration took root since university days. He has received 11 scholarships and bursaries which offered him the chance to go abroad as exchange student, broadening his horizons. "I am deeply grateful for the opportunities given by HKBU and the guidance from my teacher Prof. Chow Bik-chu, without which I would not have been able to fulfill my dreams, exploring the extreme parts of the world," said Wilson. When asked if any people had influenced him the most, without hesitation he replied, "Dr. Rebecca Lee," the famous Hong Kong explorer. He recalled that in 2007, he wanted to participate in a South Pole expedition organised by the California-based environmental group 2041. He therefore boldly contacted Dr. Rebecca Lee, the world's first female explorer to reach the "four poles" of the world, and requested her to be his referee. With Dr. Lee's endorsement, Wilson was selected from over two thousand applicants to get the ticket joining this expedition.

While that experience has given Wilson a good start to pursue his aspiration in Polar explorations, it has not made his path easy. Despite the fact that he graduated with first-class honours, he was unable to find a job six months after graduation. He then went to Switzerland to look for work opportunities. Initially he has taken some cooking and cleaning jobs only until he received an offer from a company in the neighourhood and became an expedition leader a year after.

Stay Calm When Confronting Risks

Every year, Wilson spends over four months working in the Antarctic continent and peninsula region. He usually travels light with a tiny tent and sleeping bag only. "Simple is the best," he explained. "I have learnt to reduce my equipment to a minimum, so that with every step on the snow I could fully explore my potential."

Exploration is inevitably associated with uncertainties. Wilson's journey is not an exception. He recalled one exciting yet parlous incident: "Our ship was once trapped by icebergs. Due to adverse weather conditions, we couldn't go further until the icebergs have been melted. There's nothing we could do at that time, so I just read to kill time, for a month though!" So, what makes Wilson stay calm when his life is at risk? His answer is simple. "Fear doesn't help at all. Going through tough times is part of our lives. Just stay calm," concluded by Wilson with a smile.

Don't Stay Within Your Comfort Zone!

To Wilson, it is fear that pushes him to go beyond his limits. He explained further with a German word "Entscheidung": "The word means decision. It also embeds with a meaning that implies departing from what you are familiar with. Only with this mindset, you dare to experience new things."

Keep going and forging ahead is the advice given by Wilson to young people. "Never stop advancing yourself, both mentally and physically. Only if you take up new missions could you gain more experience and grow," said Wilson with a calm tone. To him, embracing challenges with courage and calmness is not only an action, but an attitude which we should all take when facing adversities.

If you would like to learn more about life in extreme lands from Wilson, here comes the chance. Alumnus Wilson Cheung and Dr. Rebecca Lee will deliver a public lecture "An Xtreme Life" on 15 March 2018 at 4:30 - 6:30 pm at Tsang Chan Sik Yue Auditorium (AAB201), 2/F, Academic and Administration Building, Hong Kong Baptist University.

Don't miss the opportunity! Please click here to register now.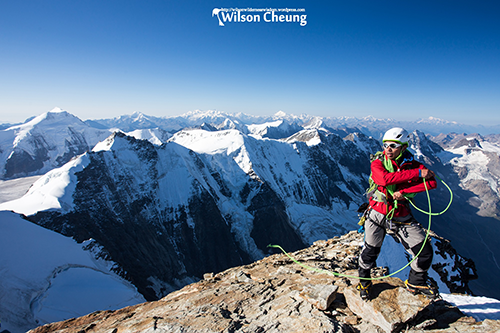 Wilson has spent over seven years working as an expedition leader in Polar regions.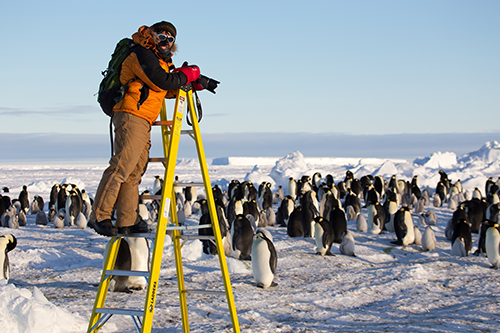 Wilson enjoys capturing pictures of the adorable penguins.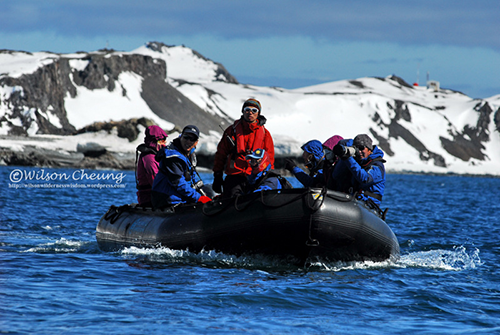 Guiding visitors to explore the beauty of the Poles is part of Wilson's work.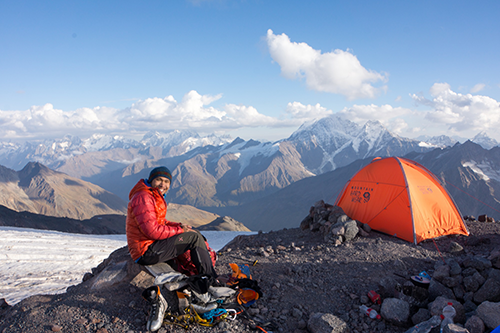 While staying in the Poles, Wilson travels light. A tiny tent and sleeping bag are simply what he carries along.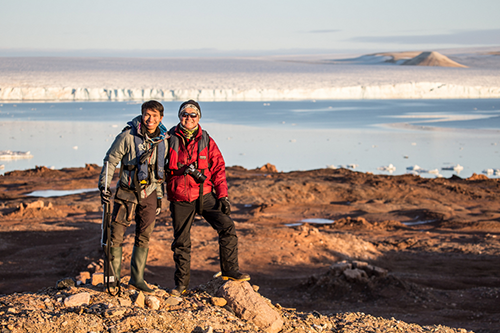 President Chin (right) joined the expedition tour in Polar Regions led by Wilson (left) in 2017.