The results of the Fourth HKBU Distinguished Alumni Award (DAA) have been announced. This year, the Award will be presented to Ms. Delia Chan (Secretarial Management / Chinese Medicine), Dr. Poon Po-chiu (Chinese Language and Literature), Mr. Philip Tsai (Accounting) and Mr. Sunny Wong (Business Management).

The Selection Committee members of DAA met with the Award recipients at a luncheon held on 13 February at HKBU Lounge. Chairman of the Council and the Court, Chairman of the Selection Committee Mr. Cheng Yan-kee, members of the Committee President Roland Chin, Chief Corporate Development Officer of CLP Power Hong Kong Limited Ms. Quince Chong, Executive Director of PuraPharm Corporation Limited Ms. Viola Man, Chairman and Group CEO of Shun Hing Group Dr. David Mong, Director of Alumni Affairs, Executive Secretary of the Committee Dr. Melanie Lee, and four Award recipients attended the luncheon.

At the luncheon, the Award recipients received congratulations on their conferment and Chairman Cheng thanked the Committee members for their valuable time and advice. The recipients also exchanged views on career development, community services and education for the new generation. They all look forward to the Award Presentation Ceremony on 10 March and the High Table Dinner with students and young alumni on 13 June.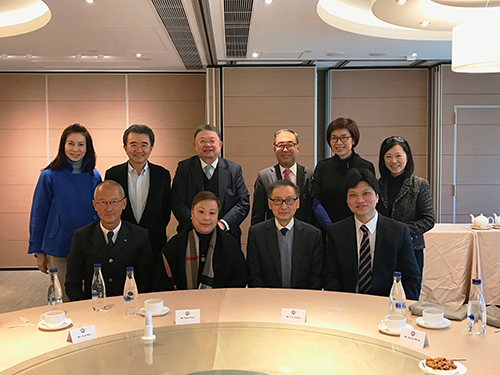 Selection Committee members and DAA recipients pose for a group photo at the luncheon
(First row from left) Mr. Philip Tsai, Ms. Delia Chan, Mr. Sunny Wong, Dr. Poon Po-chiu
(Back row from left) Ms. Viola Man, President Roland Chin, Chairman Cheng Yan-kee, Dr. David Mong, Ms. Quince Chong and Dr. Melanie Lee