HKBU Alumni Association of Ontario held the Annual General Meeting cum dinner gathering in celebration of its 25th anniversary on 30 November 2014, which attracted 100 guests including honourable guest Deputy Director of Hong Kong Economic and Trade Office (Toronto) Mr. Nick Choi, as well as representatives from the alumni associations of The University of Hong Kong, The Chinese University of Hong Kong, Hong Kong Polytechnic University, Lingnan University and Zhu Hai College.

President and Vice-Chancellor Prof. Albert S.C. Chan conveyed his congratulations to the Association and provided an update on the University's recent development through a pre-recorded video. As a surprise to the guests, a telephone conversation with Emeritus President Dr. Daniel Tse from Macau was arranged. Dr. Tse congratulated the Association for achieving such a remarkable milestone and shared with the guests the memories of his visit to Toronto whereby he attended the inauguration ceremony of the Association 25 years ago.

A talk show run by the Association has won the 1st runner up in the recent Talent Show competition organised by Hong Kong Joint University Alumni Associations of Ontario. At the dinner gathering, the talk show was re-run for all guests to review the excellent performance. The dinner ended with a cake-cutting ceremony. All guests enjoyed a fun-filled night with lots of laugh.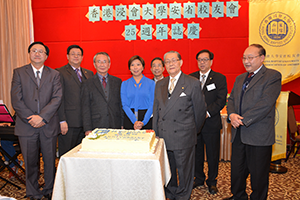 Major office bearers of HKBUAA of Ontario pose for a group photo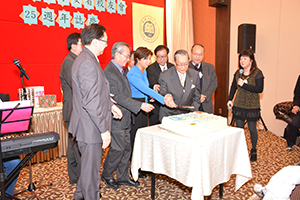 Cake-cutting ceremony as the dinner finale