HKBUnity Starts with Class Representatives!
"HKBU Class Representative Scheme" was an initiative kicked off by the Alumni Affairs Office in 2012 with the aim of maintaining close connection with alumni-to-be and getting them involved in future activities of the University. Each year, final year students of different academic programmes, chairpersons of academic societies, and executive members of Student Union will be invited to join as Class Representatives.
To welcome the newly appointed Class Representatives of the academic year 2013-14, a lunch gathering will be held on 20 March 2014 at AAB301-303, Academic and Administration Building, HKBU. During the gathering, President and Vice-Chancellor Prof. Albert S.C. Chan, Associate Vice-President Prof. Frank Fu and Director of Alumni Affairs Office Dr. Melanie Lee will meet with the Class Representatives, whereby they could get to know one another and mingle with colleagues of the Alumni Affairs Office.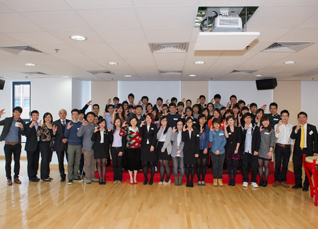 (1st row) Prof. Albert S. C. Chan (1st from right) and Prof. Frank Fu (4th from left) led Class Representatives of 2012-13 for a pledging ceremony last year