After 20 years of service at HKBU, Chairman Cheng Yan-kee will step down as Chairman of the Council and Court of Hong Kong Baptist University (HKBU) by the end of this year. He has served as Council member of HKBU since 1999 and was appointed the Chairman of the Council and Court of HKBU in 2013. Chairman Cheng departs HKBU with a promise: "I'll be right here for you."

Where It All Begins

"Destiny must have brought HKBU and I together." Chairman Cheng joined HKBU by chance. Being a practicing civil and structural engineer by profession, "I never thought that I could be able to serve the higher education sector." Yet, we are delighted to hear from Chairman Cheng that the past 20 years with HKBU has been a wonderful experience: "It has been exhilarating, humbling, in truth occasionally frustrating, but always fascinating."

As a "King of Public Service", Chairman admitted that time management had always been a big challenge. In addition to being the Chairman of the Court and Council of HKBU, Chairman Cheng was a past President of the U.K. Institute of Structural Engineers and has served on various organizations, just to name but a few, the ICAC, Housing Authority, Link REIT, Town Planning Board, Youth Development Commission.

Leading HKBU's Transformation

20 years represents nearly one fourth of HKBU's history. Over the years, Chairman has not only witnessed the growth and amazing transformation of the University but has also played a leadership role in most of its major policies and initiatives. Chairman Cheng left his distinct marks in the history of our University. With the Chairman at the helm, the School of Chinese Medicine was established and new campuses both within the city and cross the border, including the Academic and Administration Building at the Kowloon Tong Campus, Kai Tak Campus, Shek Mun Campus as well as the United International College in Zhuhai which is the University's foothold on the Mainland, were built. He also expands our campus by developing a new hostel and academic building complex (HABC) which will provide a total of 1,700 hostel places and 6,900 sq.m. of academic space at the current Lee Wai Lee site. We all owe him a deep measure of gratitude for his dedication and leadership. Looking ahead, Chairman hopes that the University would be able to win the right to operate Hong Kong's first Chinese Medicine hospital in Tseung Kwan O.

Having achieved so much during his tenure with the University, Chairman is humble, as always, and refuses to take all the credits for the success. "HKBU is a brilliant University and it has been my honor to be part of it. I have been fortunate to work with highly capable staff and a team of brilliant and committed Council and Court members who are devoted and loyal to the University." He further added, "I am truly indebted to all HKBU members who have lent me their relentless support."

The Building Blocks for Our Continue Success

To Chairman, the caring characteristic embraced by HKBU community is the most cherished culture of HKBU. "Our University is great because of its people"- a comment made by Chairman at least twice in an hourlong interview. This is perhaps the main reason that draws him here for two decades. "The key to good governance is its people." "What has impressed me most about this University is its clear vision and strong commitment in providing whole person education, while preserving our fine tradition and rich heritage," Chairman Cheng once told us in his Council Dinner remarks in 2013. "The crux underlying the development of any higher education institution is its people capacity. To scale new heights, the University should intensify its "Talent 100" initiative, strengthen our capacity and focus on developing the 3 research clusters," elaborated by Chairman. He also reaffirmed the University's strategy plan in expanding its global reach as laid down in its 10-year Institutional Strategic Plan.

A Final Note of Optimism

As a final note, Chairman reminds alumni to return home more often and contribute towards the success of their alma mater in one way or another and join hands with the University to create our future. "Our alumni have so much to offer and we are grateful for the strong connection built between alumni, students, and faculty members."

"With the talent we have, the value we share, and a commitment to working closely together, I am convinced that the best of HKBU has yet to come," he concluded. To many of us, the inspiring speeches delivered in perfect British English as well as his great sense of humour will always stay and connect deeply with us. Chairman, all the best!


Note of Appreciation from Alumni

"I have the honor and privilege to associate with YK in the last 7 years in serving HKBU Alumni Association. He is a friend, a role model and a good leader. I am sure YK will continue to support HKBU in the years to come."

Alumnus Alex Leung (Business Management),
President of HKBU Alumni Association

"We are grateful for the visionary leadership of Chairman, without which many of the important developments we have witnessed at HKBU would not have been possible. I wish to give my special thanks to Chairman Cheng on behalf of the Century Club."

Alumnus Kent Tsui (Communication),
President of HKBU Century Club

"It has been an enjoyable journey working with Chairman Cheng since I was appointed Chairman of the Alumni Committee under the Foundation. Though it is just a short period of time, his people-oriented management style has deeply impressed me. I wish him all the best in the days to come."

Alumnus Sunny Wong (Business Management),
Chairman of the Alumni Committee of HKBU Foundation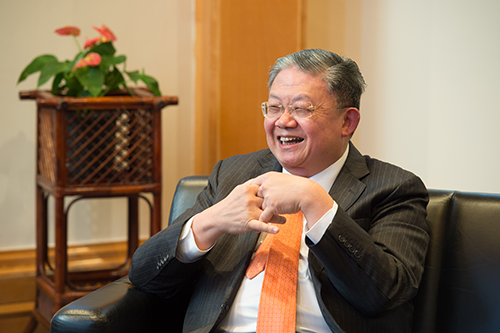 Chairman Cheng has a wonderful experience at HKBU in the past 20 years.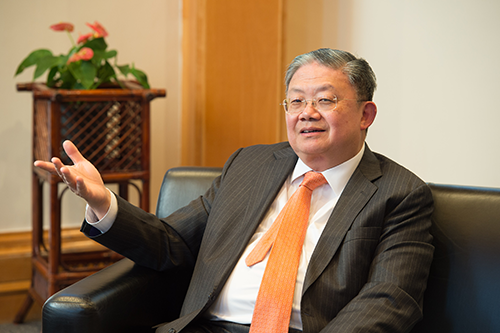 Chairman Cheng believes that HKBU will reach new heights as a leading liberal arts University in Asia for the world.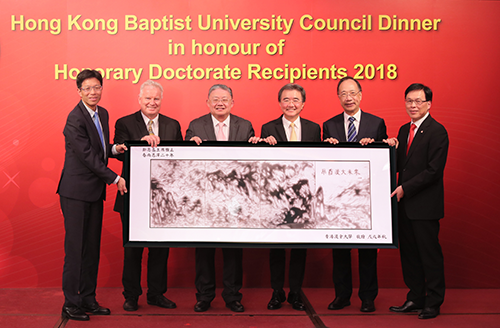 HKBU Management presents a photo painting as memento to Chairman Cheng (third from left) at the Council Dinner in honour of Honorary Doctorate Recipients 2018.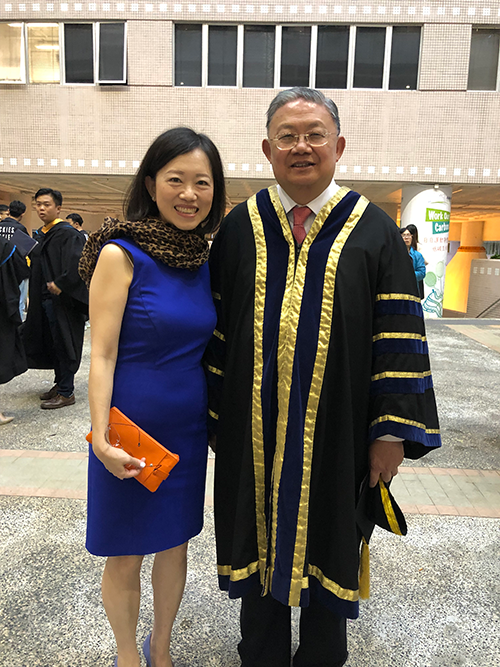 Director of Alumni Affairs Dr. Melanie Lee (left) and Chairman Cheng (right) at the Tea Reception of United International College (UIC) 2018.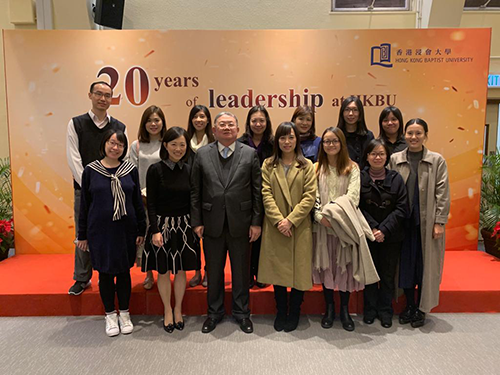 Chairman Cheng (front row, third from left) poses for a group photo with Alumni Affairs Office (AAO) colleagues at his Farewell Reception hosted by the University.