HKBU Alumni Association - The Civil Engineering Graduates Association (The Association) Annual General Meeting cum Annual Dinner attracted 86 alumni and guests on 26 October 2014 at City View Hotel.

The Association was honoured to have the presence of Dean of Science Prof. Tang Tao; Chairman of Steering Committee on Alumni Relations of the Faculty alumnus Leung Ka-wing; former lecturers Prof. Ko Jan-ming, Dr. Lau Sai-ling and Ir Siu Kong-lam; distinguished guest Ir Dr. Raymond Ho Chung-tai as well as some overseas alumni including Mr. and Mrs. Liu Chai-bo, Mr. Cheng Wun-kin and Mr. Chan Hing-fung from Canada; Ms. Emily Tang Ngan-ha from the USA and Dr. Shuen Ka-hung from Macau.

Prof. Tang conveyed his warmest regards to the Civil Engineering alumni and appreciated the networking opportunity. He also invited these alumni to get connected with the University and share their invaluable experiences with the younger alumni.

Alumnus Leung Ka-wing also introduced to the attendees the Steering Committee on Alumni Relations established by the Faculty in 2013 with the mission of uniting alumni and enhancing alumni development.

Held annually for the past 10 years, the Annual Dinner was a treasured platform for alumni to reconnect with one another and learn about the latest development of the University.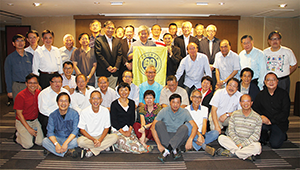 The gathering attracts 86 alumni and guests