The open forum on "The Worst of Time of Hong Kong Media?", co-organised by the School of Communication and HKBU Communication Alumni Association, was held on 25 October 2014. Four alumni including Chris Yeung, Ip Ka-po, Lo Bing-chung and Bill Yip graduated from the late 1970's to early 1980's were invited to speak at the forum.

Alumnus Chris Yeung is currently an independent columnist and was the Deputy Chief Editor of the Hong Kong Economic Journal; alumnus Ip Ka-po is the Executive Director of Asia Television Limited; alumnus Lo Bing-chung is the Director of Corporate Communications and External Relations of The Link; and alumnus Bill Yip is a veteran film and advertising director.

Nearly 100 students and alumni were attracted to the forum. Having had more than 20 years of experience working in the fields of journalism, public relations/corporate communication, advertising, TV and film, these alumni speakers shared not only their invaluable experience, but also their insights into the current and future development of the local media. Students were also encouraged to equip themselves in order to enhance their competitiveness for their future careers.

HKBU Communication Alumni Association held its Annual General Meeting on the same date. The President of the Association alumna Dr. Amen Ng Man-yee shared the activities and projects which had been launched over the past year. She thanked other board members of the Association and the School of Communication for their continued support throughout the year.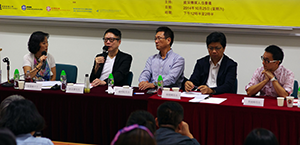 (From left) The forum is moderated by alumna Dr. Amen Ng and 4 alumni Ip Ka-po, Lo Bing-chung, Chris Yeung and Bill Yip share their insights into the development of the local media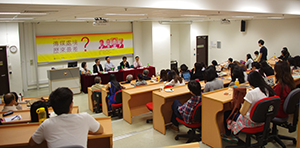 The forum attracts nearly 100 students and alumni