The BUddy Post has interviewed a young Chinese medicine practitioner alumnus Alan Koo who will share with us his passion in pursuing excellence in Chinese medicine and the key to success in managing his own clinics.

Reporter: Why would you choose to become a Chinese medicine practitioner?

Alan: I have been suffering from asthma and allergic rhinitis since I was little. Therefore, I was a frequent visitor of specialist clinics and Chinese medicine practitioners. It so happens my cousin-in-law is a Chinese medicine practitioner and I was exposed to glimpses of Chinese medicine when I was young. On the other hand, my mother suffered from lymphoma and she was cured through Chinese medical treatment. Ever since then, I have developed my keen interests in Chinese medicine and would like to pursue this subject as my major of study so that I could help my family members and myself.

Reporter: Why would you like to be an entrepreneur and establish your own chains of Chinese medicine clinics? What is your management philosophy?

Alan: It comes quite natural to me to become a Chinese medicine practitioner after graduating from the School of Chinese Medicine. I don't see myself as an entrepreneur at all. I believe that the ultimate objective of a Chinese medicine practitioner is about healing people, not about making profits. The cost for establishing a clinic can be low; however, it is rather difficult to expand the business without finding a suitable Chinese medicine practitioner to engage in the business.

I graduated from the Hong Kong Baptist University in 2008 with a double major in Chinese Medicine and Biomedical Science. I was awarded the British Chevening Scholarship and had the opportunity to study abroad at the University of Cambridge in the UK to attain my Master's degree in Bioscience Enterprise. Upon my graduation, I returned to Hong Kong and worked in Pfizer, a leading biopharmaceutical company of which I have gained some invaluable management experience. I was very impressed and deeply inspired by its management philosophy. In November 2011, I decided to establish our own clinic named "River Cam Chinese Medicine & Acupuncture Clinic" with my wife who is also a Chinese medicine practitioner. Up till now, we have already expanded to 3 clinic branches in Kowloon East, Shau Kei Wan and Siu Sai Wan.

I have a hands-on management style and I am very committed to overseeing the business development of our clinics including promotions and publicity, IT and technical management, taking care of patients and R&D for new Chinese medicine etc. We have gradually built up our clientele through promotion in different channels including social media, advertising, seminars, talks and media interviews. I have been invited by the Hong Kong Trade Development Council and Brand's to shoot some promotional videos. Also, I have delivered health seminars to local community and corporate companies including MTR, Standard Chartered Bank, British Council and AIA etc.

For management, I strongly believe that apart from the daily operation in the clinics, central office management is crucial to the success of the overall operation. On the one hand, the central office could enhance the office's quality and service, provide professional training for nurses and ensure smooth procurement process. On the other hand, IT-based knowledge management would definitely contribute to enhancing the efficiency of the overall office administration and internal communication.

Reporter: Could you share with us some of your plans in the future?

Alan: My wife and son have a strong influence on charting the development of my clinics. I have become more interested in investigating clinical cases relating to gynaecology and paediatrics.

We are offering a one-stop service from prenatal to postnatal care. We will follow through during the prenatal stage till after birth. Then, we will deliver Chinese medicine sachets and medicinal soup packages to the homes of the patients after pregnancy. Recently, more female patients have come to my clinics during prenatal stage as some of them are suffering from miscarriages or infertility due to stress from work place. I follow up thoroughly with them over the phone whenever needed and take special care of their health condition. These patients will visit us again for postnatal service and even when their kids get sick.

In addition, our clinics provide outreach service to serve immobile patients such as the elderly, patients with cancers or strokes, postnatal women and those who live in remote area. It is important for doctors to treat their patients like their own children. As a Chinese medicine practitioner, I believe that it is crucial to have empathy with a caring and loving heart for the patients, considering their needs and making accurate diagnosis.

Reporter: What are the prospects of Chinese medicine industry in Hong Kong?

Alan: To a certain extent, the Chinese medicine industry in Hong Kong is flourishing. Yet, we are facing keen competition in the market as the number of graduates from Hong Kong and the Mainland China is increasing every year. I advise Chinese medicine students and young graduates that running your own business is not as easy as you think it is. Establishing your own clinic is only one of the career paths. One should equip oneself with different skill sets so as to enhance your marketability. Keeping a close eye on the market and the economy and do not establish a clinic for the sake of face-saving.

Reporter: What would you do if you were sick?

Alan: It is very true that the doctor can cure patients but not himself. If I am sick, I usually ask my wife or my colleagues at my clinics to make a diagnosis for me. I may be biased towards certain prescriptions if I were to prescribe them myself.

Reporter: What is your favourite pastime?

Alan: I enjoy writing a lot. When I was studying at Cambridge, I used to write columns for the educational section of Chinese newspaper. Recently, I have been invited by Hong Kong Economic Times to publish a book. I also enjoy writing blogs to share my thoughts and tips on health and child-caring issues. In addition, I enjoy cooking and travelling during my spare time. I reminisce about the joy of my backpack travelling with my wife before we get married.

Reporter: Can you share with us some special food or soup for fall and winter?

Alan: As I mentioned in my blog, fall and winter are the best time for the body to restore energy and rejuvenate. You may try making a soup with cordyceps, silky fowl and some Chinese medicinal herbs such as rehmannia glutinosa, codonopsis pilosula and wolfberries. This soup is supposed to be good for your kidney and spleen, help your body to regain strength as well as calm you down and help you sleep at night.

Interviewee's Biography:
Alumnus Alan Koo Hoi-lun is currently a registered Chinese medicine practitioner. He graduated from Hong Kong Baptist University in 2008 with first-class honours in Chinese Medicine and Biomedical Science. He was awarded a British Chevening Scholarship funded by the Cambridge Overseas Trust and Foreign and Commonwealth Office to pursue his Master's degree in Bioscience Enterprise at the University of Cambridge. He is the first Chinese Medicine student from Hong Kong and Macau to win this scholarship. In 2011, he founded the "River Cam Chinese Medicine & Acupuncture Clinic". He is now a Council Member of Modernised Chinese Medicine International Association and a part-time instructor for Chinese medicine skin care course at the School of Continuing and Professional Studies, The Chinese University of Hong Kong. Recently, he has been invited by various organisations and corporate companies to give health seminars and attend media interviews.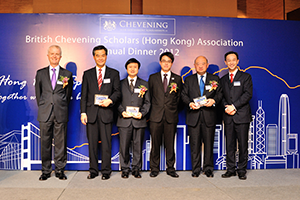 Alumnus Alan Koo(3rd from right) actively supports the British Chevening Scholars (Hong Kong) Association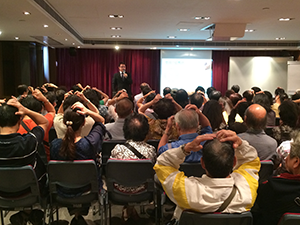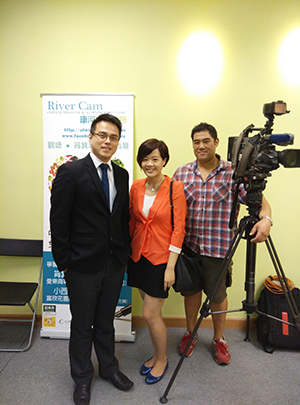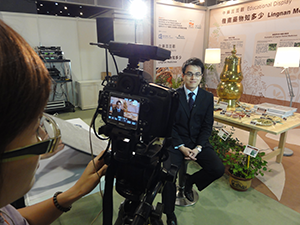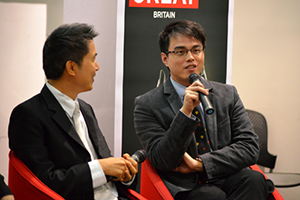 (Pictured 2 to 5)Alan has been invited by various organisations to give health seminars and attend media interviews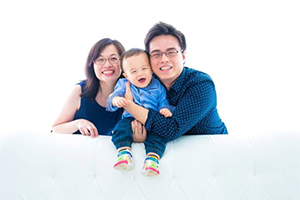 Alan's wife and son have strong influence on charting the development of his clinics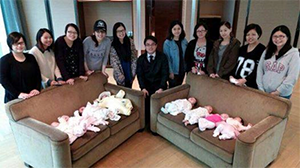 His clinics are providing a one-stop service for prenatal and postnatal care