"The Future Development of the TV Industry" Forum by the School of Communication and Communication Alumni Association
HKBU School of Communication and Communication Alumni Association (HKBUCAA) co-organised a public forum "The Future Development of the TV Industry" on 22 Nov 2013. Moderated by alumna and veteran radio broadcaster Dr. Amen Ng, the forum was attended by more than 100 alumni, students and local media practitioners.
At the forum, guest speakers Prof. Cheuk Pak-tong, Director, Academy of Film, HKBU; Mr. Lam Yuk-wah, Vice-President of Hong Kong Televisioner Association; Mr. Lau Tin-chi, veteran media professional; Hon Claudia Mo, LegCo member of Panel on Information, Technology and Broadcasting and Mr. Chow Yuk-ming, veteran script writer shared their views on issues related to free TV licenses, production quality of local TV and the development of TV industry.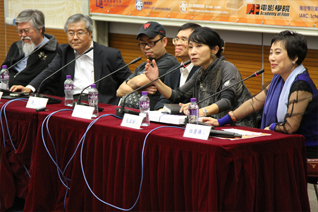 The forum is moderated by alumna Dr. Amen Ng (1st from right), guest speakers include (2nd from right) Hon Claudia Mo, Prof. Cheuk Pak-tong, Mr. Chow Yuk-ming, Mr. Lam Yuk-wah and Mr. Lau Tin-chi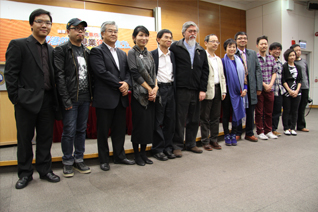 A group photo of guest speakers with representatives from the School of Communication and HKBUCAA
Celebration of 20th Anniversary of HKBU Baptist Chemists
To celebrate the 20th Anniversary of HKBU Baptist Chemists, a reunion dinner was held on 2 November 2013 at The Cityview Hotel which was attended by over 160 academic staff and alumni of the Department of Chemistry.Participants expressed gratitude to Vice-President Emeritus Dr. Mok Man-hung, Prof. Chan Wing-hong and Prof. Albert Lee Wai-ming for their unwavering contributions to the Chemistry Department over the years.
The dinner was graced with the presence of over 10 serving academic staff and two retired professors, namely Prof. Leung Suet-yee who joined the Department of Chemistry in 1960s and Dr. John Chan who served as Head of Department from 1972 to 1974.It was also a valuable opportunity for alumni who graduated in 1970-2012 to gather and shared their fond memories as members of the Baptist Chemists family.
The cohesion of Baptist Chemists was well-demonstrated through the reunion of academics and alumni from different generations spanning over 50 years. Long-lost friends were delighted to meet with one another at the gathering and their long-lasting friendships went beyond time. These alumni promised to keep in touch and looked forward to having a chance to reunite in the future.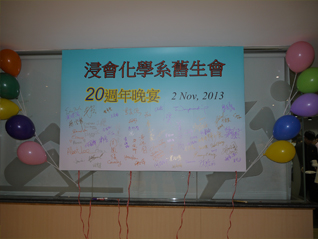 Participating alumni and guests sign on the event banner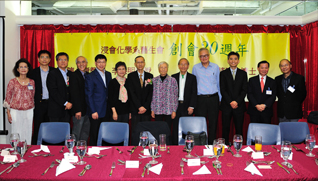 Special guests including Vice-President (Research & Development)Prof. Rick Wong (5th from left) and Associate Vice-President (Acting)and Associate Dean of Faculty of Science Prof. Ricky Wong (1st from right) pose for a group photo before the dinner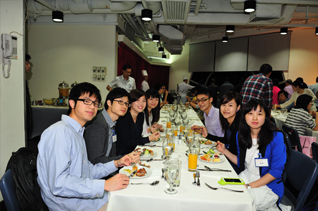 Young graduates enjoy the opportunity to mingle with one another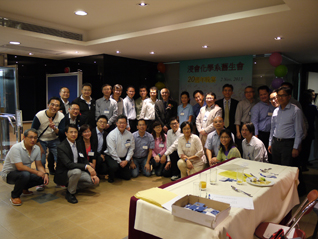 The 1980s alumni were delighted to meet with Prof.Chan Wing-hong(back row, 8th from left) of Chemistry Department
HKBU Rowing Club Alumni Association Jointly Organises Inter-Universities Rowing Competition
Jointly organised by Hong Kong Baptist University Rowing Club Alumni Association and Hong Kong Polytechnic University Alumni Rowing Club, the 5th Inter-Universities Alumni Invitation Regatta was fruitfully concluded in Shing Mun River, Sha Tin on 27 October 2013. The Regatta is not only a competition, but also provides an opportunity for alumni to display their team spirit and recall their good old days together.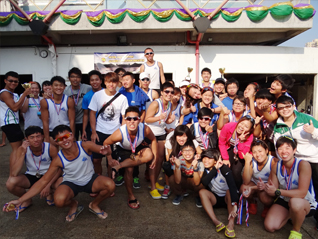 Over 60 rowers participate in this year's Regatta
HKBU School of Business Alumni Association – Financial Analyst Training and Cocktail Gathering
A seminar and a Bloomberg training session for financial analysts organised by HKBU School of Business Alumni Association (SBAA) were successfully held and well-attended by over 50 students.
In the seminar on 11 October 2013, alumnus Henry Wan shared with students the difference between "buy-side" and "sell-side" analysts, how Bloomberg terminal can provide assistance in analysing real-time financial market data and the requirements for being a financial analyst. In order for students to better understand Bloomberg terminal, a training session was conducted on 24 October 2013. Experienced trainer from Bloomberg was invited to provide hands-on training on the application of Bloomberg terminal to the students.
On the other hand, SBAA also organised a cocktail reception on 12 Nov 2013 which attracted more than 100 alumni and students. Guest speaker Mr. Martin Wong, of Citigroup, was invited to explain market outlook in the derivatives market and the latest development of the financial regulation framework. He also analysed various finance products and instruments. In addition, alumni and students took this opportunity to share and exchange views on their work experience.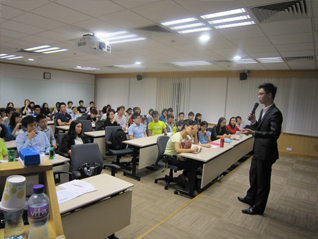 Alumnus Henry Wan sharesh is invaluable experience as a financial analyst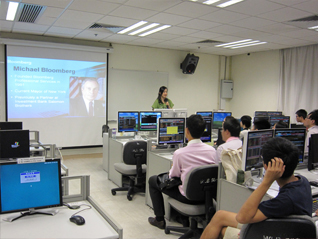 Trainer from Bloomberg explains the application of Bloomberg terminal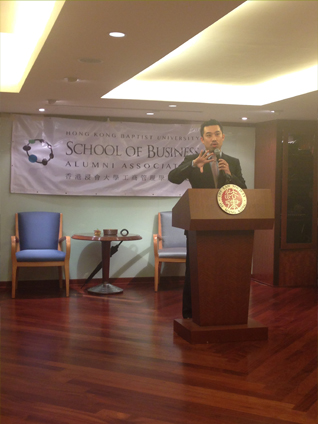 Mr. Martin Wong of Citigroup explains the latest development of the derivatives market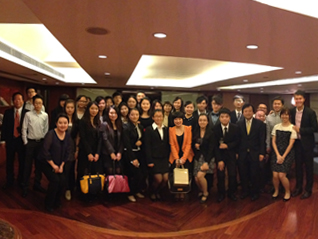 Alumni and students share their work experience at the reception