Photography Makes Life Splendorous





An Interview with Alumnus Kelvin Yuen



No one could foresee that a tiny place like Hong Kong, would capture the eyes of a young photographer and helped him pave his way to landscape photography. Among over the 3,800 entries in the "2020 International Landscape Photographer of the Year Award" competition, the championship fell into the hands of alumnus Kelvin Yuen (Applied Biology), the first Chinese ever to have won the Award! To alumnus Yuen, photography is his life. The very first day when he picked up his camera, he threw himself into photography, devoting himself wholeheartedly.

Irrevocable Bonding with Nature

Kelvin loves nature more than anything else. In secondary school, he has already developed his interest in biology and geography, and hence he chose to study Applied Biology at Hong Kong Baptist University (HKBU). When reminiscing about how he became fond of taking pictures of nature, he said, "About six years ago after I completed the HKDSE, I tried to explore my interest during the break. One day, I took a walk on Lion Rock with my camera and occasionally captured its night scenery, the gorgeous image deeply impressed me. Since then, I felt being inspired by nature, and capturing the beauty of nature has filled me with vitality. I have never had such a miraculous feeling before." Subsequently, Kelvin has embarked on landscape photography.

Photography is More than Anything Else

In his pursuit of landscape photography, Kelvin developed the skills by himself through infinite practices. He emphasised that hands-on experience is of the utmost importance when one wants to capture breathtaking photos. To begin with, one has to conduct a recurring site inspection, in order to observe and record changes in sceneries in all four seasons. Only then would one be able to find out the most suitable weather for each site, so as to capture the best picture. In Kelvin's opinion, these techniques cannot be acquired in the classroom, therefore he'd rather spend several years exploring the scenery of both Sai Kung and Lantau Island, in order to brush up on his skills.

While polishing techniques in photography, Kelvin also needed to manage his studies at HKBU. He shared that in order to take pictures of both sunrise and sunset scenes, he had to do his class revision before he set off to take photos. In his memory, he had the experiences of rushing back to the campus for lectures or examinations soon after he finished his sunrise photo-taking. Although he often gave up both his mealtime and sleep time for photo-shooting, Kelvin thinks it was all worthwhile. "When I am taking scenery photos, I could immerse myself in it, and I would not even concern about time cost in order to strike for the best!" Even at times when he has fallen sick, his enthusiasm for photo-taking still gets the better of him. He shares, "going up to the mountains to take pictures especially during overseas trips is always a strenuous and tiring journey. I could get sick easily during the trip due to inadequate rest. Nevertheless, I insist on going up to the mountains to capture my long-cherished sceneries, despite all kinds of hardship."

Unexpected Reward

Upon graduation, Kelvin has thrown himself completely into landscape photography, seizing every opportunity of taking photos overseas so as to uplift his skills. He strives to demonstrate his personal style in his photos. He entered the "2020 International Landscape Photographer of the Year Award" competition mainly for testing his level as he takes photos for self-satisfaction, not for pleasing others. It is totally out of his expectation to win the competition. When talking about his winning works, Kelvin mentioned that not all his works are planned beforehand. One of his photographs was taken on a trip in the United States. During the trip, he discovered some really spectacular scenery with which the weather then was a perfect match. To Kelvin, it was a golden opportunity which should not be missed, therefore he immediately snapped a picture of the breathtaking scenery. Another photo that brought him worldwide acclaim was taken while he was stranded in Britain during a trip. On the spur of a moment, he set off for the mountainous areas of Scotland. Once there, he started an inspection of the landscape. The next day, Kelvin patiently waited under a storm till sunshine reappeared, so he was able to capture the moment of stunning beauty, which unexpectedly won him the honour of the world championship.

Photography is Life

Landscape photography is the one and only interest of Kelvin. His love for photography makes him invest all his time and energy. "I am willing to devote my whole life to photography which I love." When talking about the next target, he said he is not aiming at getting another award. "I wish to visit the snow mountains, such as those in Greenland. I hope to capture unprecedented images." Although Kelvin has explored the frontiers of photography on his own, he is thankful to his family who has never pressured him, as they give him freedom to develop his potential. "My family give me their staunch support in photo-taking." Last but not least, he has some advice for alumni who are interested in photography. "Set a clear target for yourself. If photography is something you truly love, you must follow your heart. Don't get yourself lost trying to please others. When your work displays your individuality, you will definitely gain the admiration of those who appreciate your talent."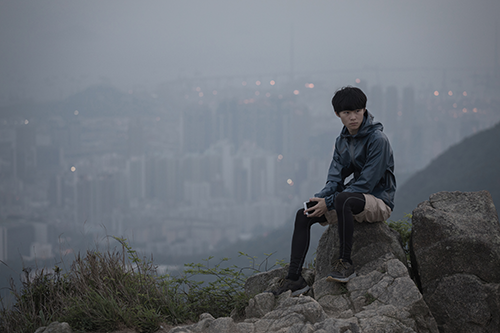 Alumnus Kelvin Yuen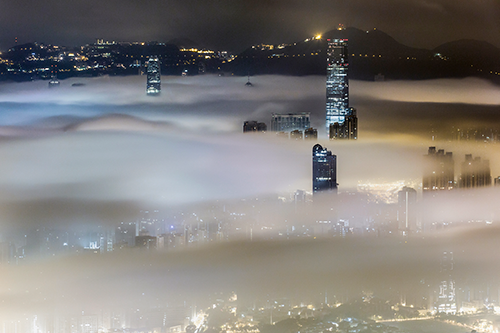 Alumnus Yuen was attracted by the night scenery of Lion Rock six years ago, which eventually led him to the road of landscape photography.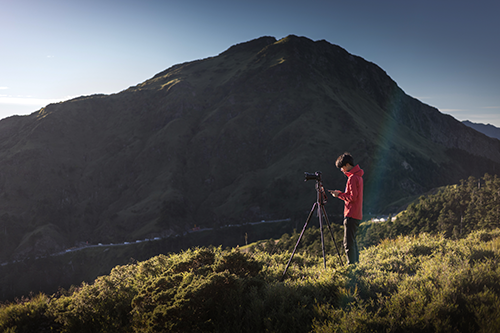 To Kelvin, going up to the mountains recurrently to capture images is the only way to improve photo-taking skills.


Alumnus Yuen wins the "2020 International Landscape Photographer of the Year Award" competition with breathtaking shots. He discovered gorgeous scenery and captured the precious moment during his trip in the United States (first from left) and Scotland (second from right).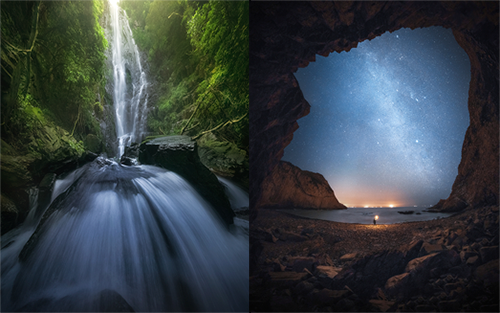 The Sai Kung night scenery under Kelvin's camera