On 25 July, the University launched the Village CARE Campaign to encourage alumni and members of the public to donate to HKBU to support needy students, including first-generation students, ethnic minority students and students with special educational needs. The University will express its gratitude by naming a room in Village CARE (Village Creative Arena for Residential Education) after the donor if the donation amount reaches HK$200,000 or HK$300,000.

In his welcoming speech at the Kick-off Ceremony, President Chin mentioned that Village CARE, situated at the northern portion of the former campus of the Hong Kong Institute of Vocational Education (Lee Wai Lee) at Renfrew Road, Kowloon Tong, is the first project in Hong Kong to seamlessly integrate teaching, learning and student residential space through the construction of a large-scale building which combines various facilities related to teaching and learning, creation and daily living. Village CARE aims to promote students' personal development as well as cross-cultural and sectoral exchanges. It will also encourage students to think differently and nurture leaders fit for the demands of the 21st century.

Over 70 alumni and guests attended the ceremony and learn how the Campaign would offer life-changing opportunities for HKBU students from the sharing by HKBU Distinguished Alumni Award recipient alumnus Dr. Justin Chiu, and first-generation university students Cherub Wong (Visual Arts, Year 4) and Noel Cheng (Applied Biology, Year 4).

Two promotional videos under the theme "Your Name · Their Stories" were shown at the Ceremony. The two HKBU Distinguished Alumni Award recipients alumni Amy Cheung and Dr. Justin Chiu shared their stories in the videos and encouraged members of the community to support the Village CARE Campaign.

For more details of the Campaign, please click here.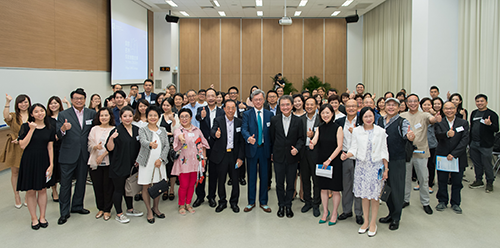 Alumni, guests and senior management of the University attend the Kick-off Ceremony of the Village CARE Campaign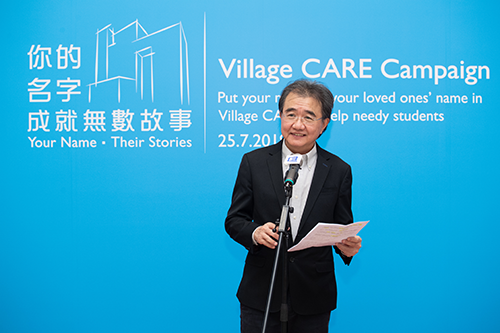 President Chin expresses that Village CARE will create an innovative learning experience for students.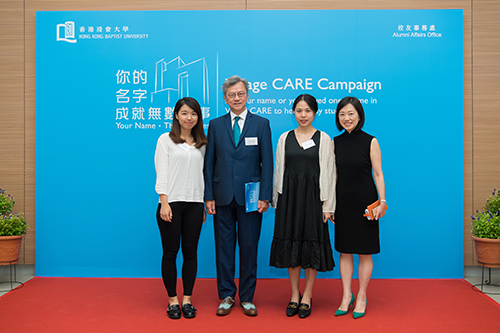 (From left) Student Noel Cheng, alumnus Dr. Justin Chiu, student Cherub Wong and Director of Alumni Affairs Dr. Melanie Lee