On 23 July, the School of Business, Alumni Affairs Office and MBA (China) Alumni Association co-organised a reunion dinner at Guangzhou Yihe Hotel. More than 300 honourable guests, faculty members and MBA China alumni from Hong Kong, Guangzhou, Shenzhen, Zhuhai, Foshan and Shanghai, celebrated the diamond jubilee of HKBU at the dinner.

In his speech, President Roland Chin shared his vision for the University. He remarked that HKBU is committed to becoming the world's leading research-based "Liberal Arts" university. He also noted that in the increasingly "flat" world, it is important to broaden students' global vision, and HKBU endeavors to offer them international experiences and exposure. President Chin expressed his thanks to different generations of MBA (China) alumni for their ardent support and called for their continued support, especially to HKBU students through the provision of mentoring and internship opportunities.

In celebration of HKBU's 60th birthday, various Chapters and partners of the Alumni Association presented special gifts to President Chin, who received them on behalf of the University. Another highlight of the dinner was the flag presentation ceremony witnessed by Associate Vice-President Prof. Frank Fu. Representatives from each graduated class came on stage with their flags to represent the passing on of virtues and spirit of whole person education. The final programme was a group discussion session on "Globalisation challenges of Chinese enterprises".

President Chin was interviewed by several media organizations before the function to introduce the development plan of HKBU.

Please click here to view more photos of the reunion dinner and click here for video.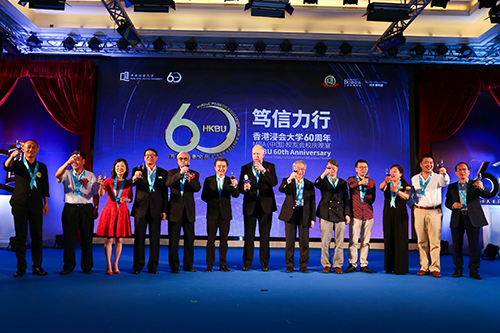 President Chin (sixth from left), Dean of the School of Business Prof. Edward Snape (centre) and other honourable guests make a toast at the gala dinner.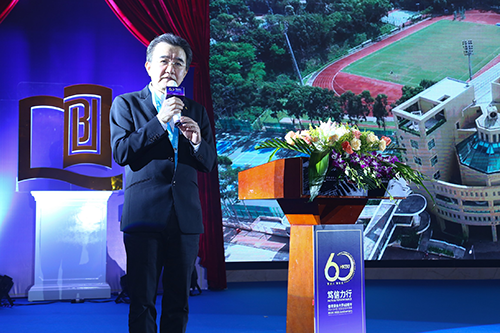 President Chin presents the development plan and recent achievements of the University.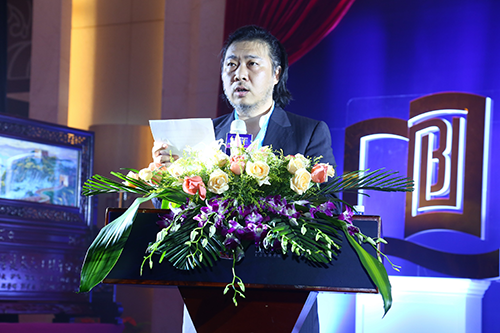 Chairman of MBA (China) Alumni Association Alumnus Zhao Yongshuang gives his welcome speech.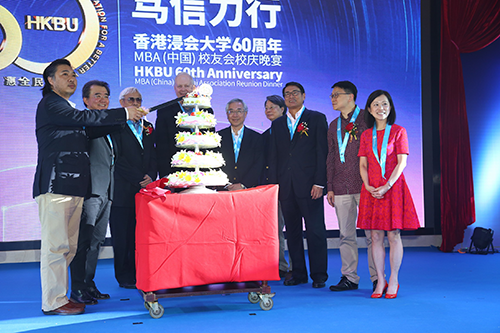 Chairman Zhao (1st from left), President Chin (2nd from left) and other honourable guests host the cake-cutting ceremony.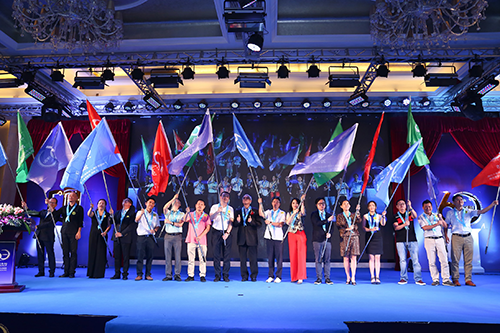 Witnessed by Prof. Fu (centre), MBA alumni join the flag presentation ceremony.