The Buddy Post has interviewed alumnus Edward Chow Ho-fai (Humanities), President of HKBU Humanities Alumni Association to share his interesting work experience as a Senior Purser in a world-renowned airline company and upcoming activities of the Association.

Reporter: What drives you to choose flight attendant as your career? And what are the required personal qualities?

Edward: Upon graduation from HKBU, I had worked as an editor for a while. But the job nature was a bit too quiet and passive for me. That's why I made a move and joined my present company in 2001 and have been working "in the air" since then. If you wish to become a flight attendant, you have to be at least 208cm in height, be presentable, friendly and most important of all, like to work with people.

Reporter: What kinds of training do flight attendants receive before they actually work on the plane?

Edward: It will take almost a month from the date one gets employed to being well-trained to serve passengers on the plane. And it will actually take almost a year to be fully trained to work for all the different aircraft types and classes. The trainings we receive are multi-faceted including first-aid, survival skills, safety and security, etiquette and even the use of appropriate language when serving customers. For example, we would use "certainly" instead of "sure" when responding to customers' requests because the latter is less polite. And when serving passengers from the royalty, we need to address them with "The Honourable". We are also taught to pack our luggages on our own for safety reason and to observe unusual behaviors of passengers e.g. taking drugs or drinking too much alcohol. In short, flight attendants need to be observant to protect the safety of all passengers on board.

Reporter: What are the best and the worst part of being a flight attendant?

Edward: I think every job has its pros and cons. The best part of being a flight attendant is that we can travel around and see the world. We also get a lot of quality free time as we just need to work about 90 – 100 hours in a month. The worst part is that we have to get a lot of sleep because we may not be able to sleep when we work on the plane. Dry skin is another problem that we face. Also, we may not be able to meet our families in festivals. But I am lucky that I have been able to have reunion dinner with my family before Chinese Lunar New Year in the past 10 years.

Reporter: Could you share with us one of your most unforgettable experiences?

Edward: I once slammed onto a compartment on the plane and hurt my head with blood gushing out. But that was a good lesson to remind me that I have to be extremely careful and detail-minded on the plane all the time because any accidents on the plane will increase the workload of my colleagues. Taking care of ourselves is the first step of before we can take care of others.

Reporter: You have been flying around the world. Which country / city do you like most?

Edward: I love New York the most. When I first flew to New York in 2002, I did not really like it as it was hectic and dirty. New Yorkers also seem to be callous. But as I go there more often, I find that New Yorkers are not that cold. They are just straight-forward. Actually, I think New York is similar to Hong Kong, except that there is relatively less night life. Food in New York is also good. I enjoy eating the tasty steak there. Over time, I learn that when we go to other countries, we should not judge people based on rules and beliefs of our hometown.

Reporter: Being the President of Humanities Alumni Association, can you share with us some of the celebration activities of the 25th anniversary of Humanities Programme of the Department of Humanities and Creative Writing this year?

Edward: We have come up with the theme "Sense of HUM-our, Year of Silver" for the series of celebration of the 25th anniversary. Thanks to the efforts of the Department and Alumni Affairs Office, we have already held the kick-off dinner party at Shiu Pong Hall on 10 February 2015. In the coming months, we will collaborate with the Department to launch a series of seminars. We also launched a photo competition in July. The finale will be held on 10 October 2015 with a celebration lunch. I would encourage alumni, particularly those from Humanities, to stay tuned with us.

Interviewee's Profile:
Alumnus Edward Chow Ho-fai (Humanities) is the President of HKBU Humanities Alumni Association. He has been serving in the world-renowned airline for over 10 years and is now Senior Purser of the airline.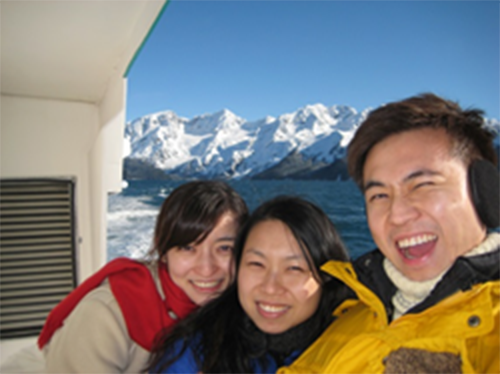 My first visit to Anchorage Glacier with my buddies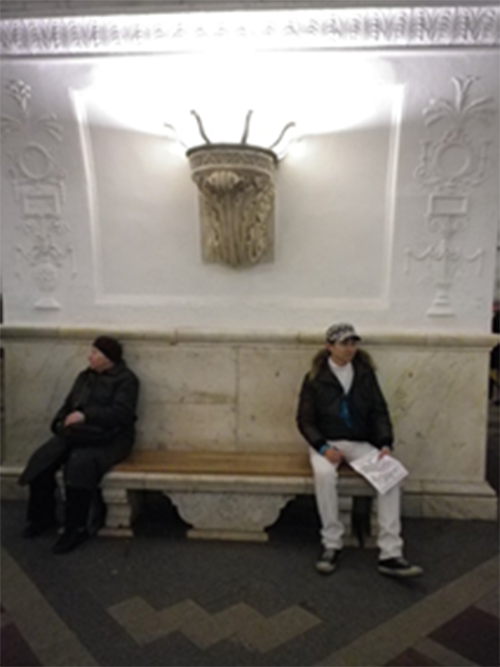 The Moscow Metro is considered as one of the most beautiful stations in the world with the function as an air-raid shelter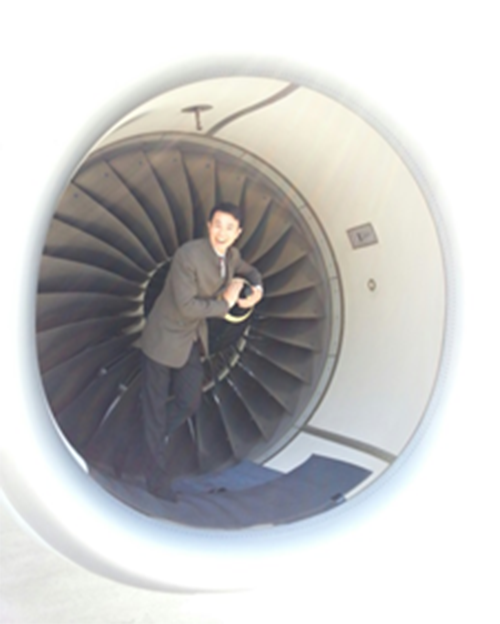 I was lucky enough to have taken a photo with the engine of Airbus Toulouse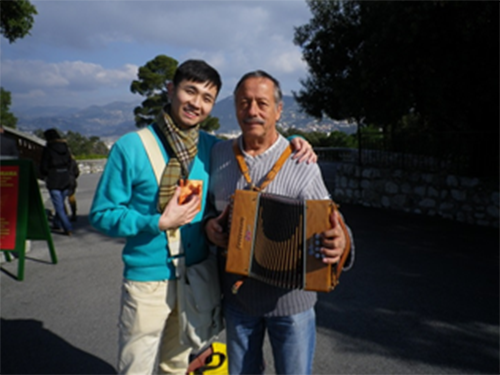 I have met with an accordion player at Parc du Chateau at Nice and the music is heavenly