The BUddy Post has interviewed two enthusiastic young members of the HKBU family, namely alumna Poon Ying-tung (Poon) and Year 2 student Miss Chan Hiu-tung (Chan) from the Academy of Visual Arts (AVA) who recently won the inaugural Young Creative Entrepreneur Award. They will share with us their passion in running their Saturn Wood Workshop.

Reporter: Why do you want to start-up a wood workshop?

Chan: We knew each other when we were studying at AVA and we are both interested in wood crafting. Ying-tung is a drummer and used to play jazz drum. She had a leg injury in 2011 which left her no choice but to quit playing jazz drum. I therefore suggested her playing cajón which requires the use of hands only. Yet, cajón is generally quite expensive. We therefore watched a good number of videos about making cajón and tried it out ourselves. Our cajóns are indeed "home-made" as we really made them at home which created some nuisance to our family including noise and wood scrap. In recent years, with the increased popularity of improvised performances, there is a growing demand for cajóns. Since then, we started selling handmade cajóns to the public. Later, a friend of us learnt about our dreams and provided us with the much-needed fund. We rented a 300 sq. ft flat in a factory in Kowloon Bay and started our workshop. Small as it is, we just have limited space to do our work after placing the equipment there.

Reporter: How is the workshop operated?

Poon: At AVA, we both took a sculpture course which gave us some basic knowledge in the area. But at that time, we had limited opportunity to use the machines. It was only after we set up the workshop that we learnt how to use the machines step-by-step. We will design and customise special cajóns and other wooden toys for our customers, such as cajóns with star-shaped opening at the back, a wooden school bag or even turning a trundle bed into a single bed. We will do whatever we can for our customers because we want them to have unique items, something that they cannot buy elsewhere. In order to sustain our operation, we also organise some small classes to teach people to craft wooden items. Moreover, we will set up sales booths in various locations in Hong Kong such as Causeway Place.

Reporter: Can you share with us your feelings of winning the Young Creative Entrepreneur Award?

Chan: The Young Creative Entrepreneur Award is an annual business start-up programme, funded by Mr. Brandon T.C. Liu, JP and organised by kaitak, Centre for Research and Development, to support students and graduates of the AVA to turn their creativity into feasible ventures. We are honoured to have received this Award and are grateful to Mr. Lau for encouraging the young creative people with this Award. We will use the prizes to get registration for our workshop, buy insurance and expand our business. We will spare no efforts in keeping our workshop.

Reporter: Is it difficult to develop an art career in Hong Kong?

Poon: Admittedly, it is quite difficult. As you know, rent in Hong Kong is exorbitant, but artists usually need a lot of personal space for creation. Some artists therefore need to share a studio. The question is, how can you have personal space if you have to squeeze yourself with nine other people in a studio?

Reporter: What do you need to think about when making wood items?

Chan: Residential flats in Hong Kong are very small and so most of our customers would demand something functional, playful but tiny in size. That's why we make mini cajóns for customers. Also, the choice of wood in Hong Kong is limited. You simply cannot find any quality driftwood in Hong Kong at all.

Reporter: Any other interesting experiences to share with our readers?

Poon: People feel surprised when they learn that we are wood crafters. Stereotypically, they think that this should be done by men, but not women. Also, there were times when the shopkeepers of the hardware stores simply ignored us when we went to buy wooden parts and planks. They did not take our order of goods seriously. We gradually learnt our lessons and prepared ourselves well before we went to the stores. Now, we can articulate clearly what we want, for instance, "I want to buy 2 planks of 6mm…." and we are treated like normal customers.

Interviewees' Profile:
Alumna Poon Ying-tung graduated from Academy of Visual Arts of Hong Kong Baptist University and Miss Chan Hiu-tung is currently a Year 2 student of Academy of Visual Arts. They set up Saturn Wood Workshop in November 2011 and were awarded the inaugural Young Creative Entrepreneur Award.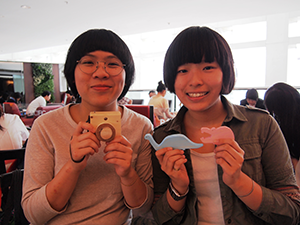 Alumna Poon Ying-tung (right) and Year 2 student Miss Chan Hiu-tung from the Academy of Visual Arts win the inaugural Young Creative Entrepreneur Award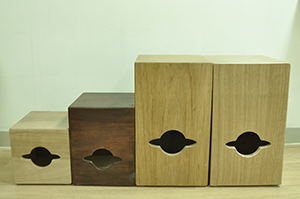 Tailor-made cajóns by Saturn Wood Workshop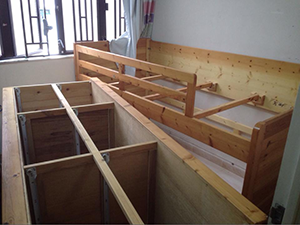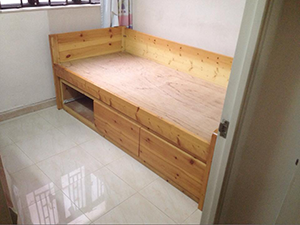 Turning a trundle bed into a single bed for a customer (Pictured 3 and 4)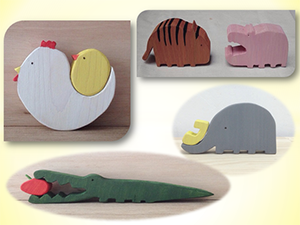 Some wooden toys designed and created by Saturn Wood Workshop