COVID-19's social distancing cannot pull the caring hearts apart. In light of the difficulty students of the graduating class this year would encounter during the COVID-19 pandemic, Project SEED (Students Engagement, Enhancement, and Development) was launched, which is an initiative to help our students to engage, enhance and develop. Around 200 alumni and supporters of the University participated in real-time dialogue sessions with President Chin and other senior management of the University through the online platform "ZOOM" in early April to explore ways to help HKBU students.

During the dialogue sessions, President Chin started with sharing how the University and the alumni community reached out to the community at large during the COVID-19 outbreak to offer help. He then revealed the difficulties the current graduating cohorts of students would face, and how the ideas of Project SEED were evolved in order to render assistance to these students. The participants had a fruitful discussion on the four core areas of the Project, namely SEED Mentorship, SEED Jobs, SEED Internship, and SEED Incubator.

Foreseeing the grave difficulties the graduating cohort will encounter in this special era of economic downturn, the University hopes, through Project SEED, to engage our students more extensively with the community at large, enrich their outlook on life, and develop their professional competency for a rewarding career and, eventually, a fulfilling life. Alumni are invited to contact the University and share with us your ideas and thoughts regarding the four areas which Project SEED will work on, by emailing to seed@hkbu.edu.hk:


| | | | |
| --- | --- | --- | --- |
| 1. | | SEED Mentorship: | share life experiences and mentor our students on their personal and career development |
| 2. | | SEED Job: | advise career planning and enhance job-seeking skills; provide business referral and references; connect students to career opportunities |
| 3. | | SEED Internship: | provide part-time job opportunities, internship experience and job attachment |
| 4. | | SEED Incubator: | support student start-up ventures guided by alumni experts, e.g. services in on-line marketing, corporate video making, web-site design, computer solution, event organizing, and translation |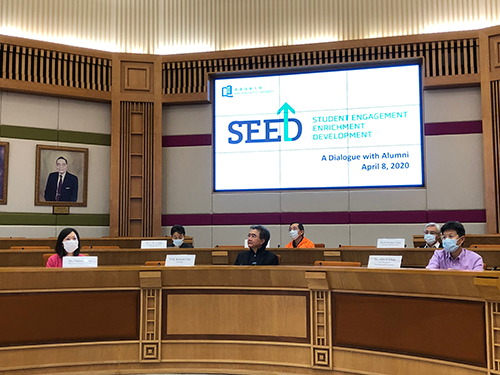 President Roland Chin (front row, middle) together with Vice-President (Teaching and Learning) Dr. Albert Chau (front row, right), Associate Vice-President (Student Experience) Prof. Arthur Mak (back row, middle), Associate Vice-President (Engagement) Mr. CK Yeung (back row, left), Director of Student Affairs Prof. Gordon Tang (back row, right) and Director of Alumni Affairs Dr. Melanie Lee (front row, left) meets with supporting alumni online during the four dialogue sessions.