All Begins with Incense
An Interview with Alumni Max Cheng and Johnny Lo

Creativity originates from life. Two young alumni of Hong Kong Baptist University (HKBU) seek inspiration from daily life. Through "smelling" and "touching", they were enlightened to start an unconventional career. This new initiative of theirs smashed all traditional ideas regarding incense burning as a kind of offering to the Buddha. They unveiled a kind of handmade incense and promoted a unique "incense culture" to both the HKBU community and various strata of society.

A Wonderful Serendipity

Okapi Studio was set up in 2015 by Max (Visual Arts), a post-90s visual artist, and three other fellow graduates of the Academy of Visual Arts at HKBU. Upon obtaining the HKBU Seed Funding for Entrepreneurship, they set up their own business. After several years of ups and downs, only Max stayed on with the road of entrepreneurship. He is grateful to have met Johnny (Communication), his hall tutor, a buddy who shares his dreams. Johnny was moved by Max's perseverance in setting up an enterprise, and decided to work hand in hand with Max. Together they ran workshops for art enthusiasts, and formed partnerships with various social enterprises and business organizations, in various arts promotion endeavours. At the beginning of the venture, they sometimes accumulated debts, but gradually they could achieve breaking even.

Unlike most young entrepreneurs, both Max and Johnny have a gentle disposition. They looked calm and at ease at the interview. "Many people are my role models", said Max, who shared that whenever he found a unique skillset in a person that he lacks, he would treat the person as his idol and starts learning from him/her. This humble attitude has become the driving force of Max and Johnny in their ventures, and has helped them expand the scope of their business.

Max has made use of raw materials in his creative work since secondary school. Inspired by an art teacher, he began to use materials that are related to daily life for his art assignments, some of which using string incense, an inspiration he got from his mother who often used it as offerings when worshipping. In order to get a deeper understanding of the raw materials of string incense and its manufacturing process, he even approached his cousin to learn how to make dragon incense at his factory. His studies at HKBU provided him with boundless space for creativity through the use of raw materials such as incense, bamboo and zinc metal, etc. which also resulted in his winning several prizes in visual arts at the University.

Nostalgia, Creativity

Okapi Studio runs hand-made incense workshops, offers guided tours to farmlands in the New Territories, stages exhibitions and organises activities that are related to incense products. To promote the ideas of "take it from nature, and dispose of it in nature", Max created various types of handmade incense that helps reduce stress or drives away mosquitoes. Max had also visited Mainland China, Japan, Nepal and India to study dragon incense, string incense, Indian incense and Tibetan incense, etc., and collect natural ingredients for making incense from these countries.

When Max and Johnny started their business at the beginning, they had encountered some setbacks. They had once tried organising a community project with a big enterprise, and their studio was responsible for all aspects of the project. In the end, the project was overrun and they had to make ends meet out of their own pockets. "Even though at the end we appeared to have been taken advantage of in some of the joint projects, we learnt a lot. We had the chance of exploring many new ventures in partnership with different organisations. Though there were only five of us in the studio, we have up to now organised over one hundred workshops."

Johnny shared, "We hope the impact of our studio on society will be growing and gradually the studio becomes a long term entity." To this end, Max and Johnny have established two social enterprises: Aroma Office, which mainly serves silver-aged people; and Lin Heung House, which serves the ethnic minority women, with subsidies from some non-government organizations. These two social enterprises provide training to silver-aged people and ethnic minority women in vanilla planting or producing hand-made incense ventures, thereby providing them with a platform to prove their worth and to stand unembarrassed in the community. These two projects also aim to promote and pass on participants' wisdom and life experience, and their culture. Max and Johnny both hope to set up a business model for their studio that could shoulder corporate social responsibility for the greater good of Hong Kong.

Max was physically weak and often succumbed to illnesses when he was young. His mother often prepared herbal tea for him. He thus has accumulated substantial knowledge of various types of medicinal materials, which also helped enhance his olfactory sense. Through self-study, he is now able to identify over four hundred varieties of spices and Chinese medical herbs. Recently he even joined hands with Chinese medicine practitioners to design various workshops related to Chinese medicinal materials, hand massage and finger-pressing massage, which were originated from the Traditional Chinese Medicine (TCM) diagnostic methods: "Look, Listen, Question and Feel the Pulse". Basing upon the concept of "Good health through TCM dietary therapy", Okapi Studio introduced some simple aroma therapies like the burning of incense or Artemisia, to promote the therapeutic value of these substances as a means to soothe both the body and the mind in society.

There isn't the best, only the better

Both Max and Johnny frankly shared that advice is preferred over flattery. It is their firm belief that there isn't "the best", but only "the better". Max also believes in karma. He thinks that one should not be hard on others, and should not be calculating. Acting in such a way allows one to let go more easily, and will not lose temper so readily. Max, however, enjoys working under intense pressure, believing that pressure could drive him forward. When asked who has exerted the greatest influence on him, Max mentioned his late father, who happened to have many bad habits. He views his father as a negative role model, but he learns a lot from his mother. Though already over 50 years old, his mother still chose to set up her own dress making business in recent years. Max enjoys sharing with his mother his personal philosophy, and he is also full of gratitude for his mother's unceasing support and encouragement, which give him great latitude in his career and allow him to pursue his dream of setting up his own business, a desire he has never given up.

Tips for setting up one's business

"There is already no way out once you venture into a business, and you've got nothing to lose in the course. On the other hand, you definitely would lose if you ever harbour the notion of giving up. Success in a task should be pre-determined, instead of just a target, so as to push yourself to do better." Max and Johnny encourage fellow students who intend to start their own business to positively adjust their attitude regarding the venture. One needs to have a strong will to carry on, and should not be afraid of failure. As in the process, failures in various stages are inevitable. One has to try to seek every opportunity to learn throughout the process. In this way, even though you may not succeed, you still end up with having a clear conscience.

Recently they have also returned to their alma mater to organise a Sachets-making Workshop. One of Max's future targets is to get married. In this new chapter of his, he intends to build up his own family, give his family members a better life. As for Johnny, he wishes to continue his studies and to do more education-related work. "We wish that the spectrum of incense culture will be expanded in an innovatively way where we can introduce it to the people of Hong Kong this unique culture." This has always been the target of their quest from the very beginning.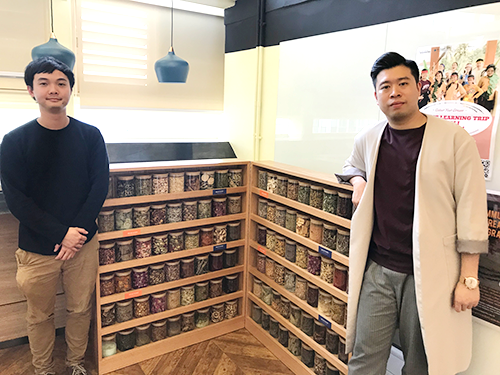 Alumni Max (left) and Johnny (right)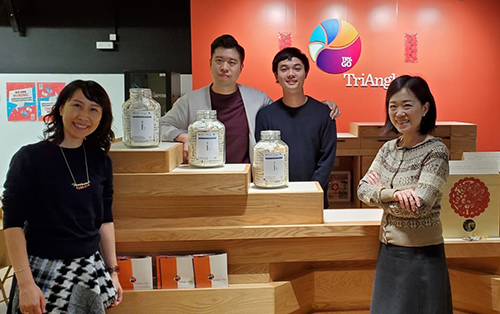 (From left) Ms. Cindy Chan, Director of Centre for Innovative Service-Learning, Johnny, Max and Director of Alumni Affairs Dr. Melanie Lee pose for a photo at TriAngle after the interview.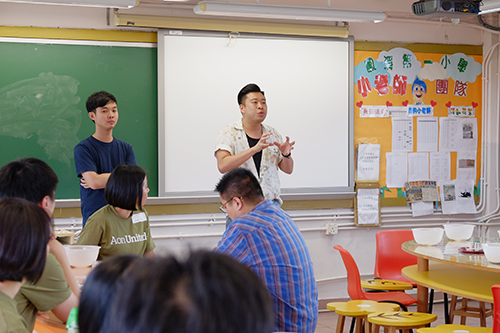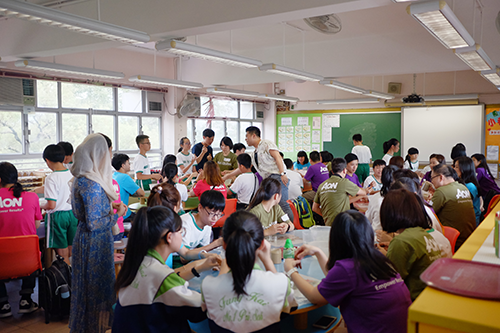 Max and Johnny provide the hand-made incense workshop for teachers and students in Fung Kai Innovative School, introducing the incense culture and raw materials to all participants.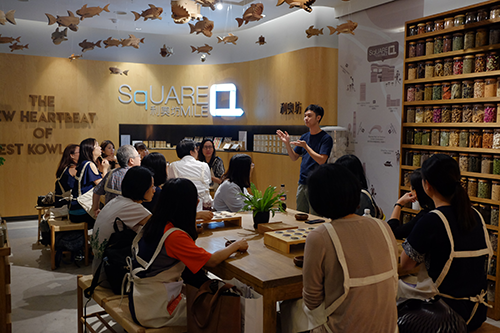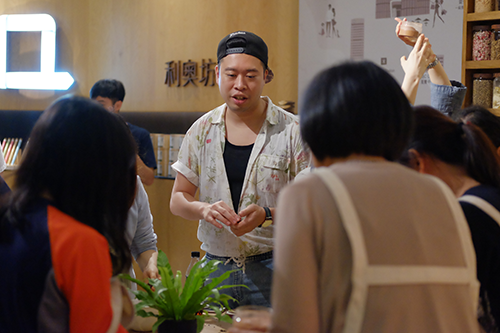 Max and Johnny organize the "Make Scents" Workshop for staff of the Hospital Authority, helping them to produce hand-made sachets as a means to release pressure.