"Service learning is like growing a seed; it takes time to bloom. When our students learn to care about others, progressively they will change the way they think and behave, and show empathy on others," said alumnus Dr. Kevin Yue. Currently Associate Director and Associate Professor of Teaching and Research Division at School of Chinese Medicine, alumnus Dr. Yue has been promoting service learning for years. He always encourages students to learn and gain more experience through serving the community. His dedication to service learning has earned him the HKBU President's Award for Outstanding Performance in Service, and more recently the appointment as Honorary Director of the Centre for Innovative Service Learning.

Serving the Community

To put service learning into practice, Dr. Yue is active in taking students to join community service. For example, last year, 80 students from the School of Chinese Medicine participated in a community healthcare programme, sharing healthcare tips and principles with the elderly one-on-one. Alumnus Dr. Yue said, "Many students did not know how to communicate with the elderly and presumed that old people were generally stubborn. With our guidance, students then realised that their perception might be wrong." The essence of service learning is that it requires self-reflection. Students learn from each other's rights and wrongs through experience sharing, a worthy lesson that they cannot get from classroom.

Is the Community Better Off?

In recent years, led by alumnus Dr. Yue, students also go to Qinghai province on an annual basis, providing acupuncture treatment to patients suffering from cerebral palsy. "Every visit is a real 'shock' to me," expressed alumnus Dr. Kevin Yue. "Qinghai is one of the poorest provinces in China. Since resources are limited, the illness of patients often become worse off and complicated." Dealing with such difficult cases, students could not only enrich their clinical experience, but more importantly develop their "caring" mindset.

Yet, there is limitation in service learning. As every time is a just short stay, patients are not able to receive sustained treatment or after-treatment service. "While our students can benefit from service learning, and we feel good after providing service; are the ones being serviced really better off?" Alumnus Dr. Yue always has this query in mind.

Sustained Support is Important

In light of this, convened by alumnus Dr. Yue, when HKBU Project M.A.I.L. was launched, it aims at servicing the same place for a period of three to five years. "I don't want to 'hit and run'. I'd like to build a solid relationship with the community, imposing a long-lasting impact to them." said alumnus Dr. Yue.

Project M.A.I.L. engages alumni and HKBU international, local and mainland students to provide community service in mainland China. The mix of participants in interacting with the local community enables mutual learning of each other's experience and culture. Alumnus Dr. Yue quoted three examples.

In their last visit to Dayu County, benefitted from the advice given by an alumnus who was an engineer, our students had acquired the skills to paint a wall for the residents. An another example was that, in showing an aerial video by HKBU student team, the Dayu students were thrilled to see the beautiful landscape of Hong Kong, getting to know what was outside of their "world". Last, servicing always triggers our love for the world. For example, our students were deeply touched by the scene when an old man at elderly home burst into tears as two local kids warmly held his hands. With all these happenings, alumnus Dr. Yue firmly believes that service learning would pleasantly impose positive impact on our students, as well as the local community.

Aspires the Young Gen to Learn from Mistakes

Other than the role as a teacher, alumnus Dr. Yue has also been Resident Master of C.N. Yang Hall since 2011. When asked about how to get along well with young people, he said, "Young people may get things wrong from time to time. But we also make mistakes. If we have been given chances, why couldn't we be more forgiving?" Advised by alumnus Dr. Yue, we should be "humble, empathetic and understanding" when talking to the young ones. He continued, "Sometimes they are just under peer pressure to do things. If we try to think from their perspectives and understand their difficulties, they are more willing to talk to us."

Looking ahead, alumnus Dr. Yue will continue to lead Project M.A.I.L. and other service learning programmes. "When you serve, you will learn, and you will make changes for betterment. It's worth my devoting time and energy to service learning, for the benefits of my students," said alumnus Dr. Yue with determination.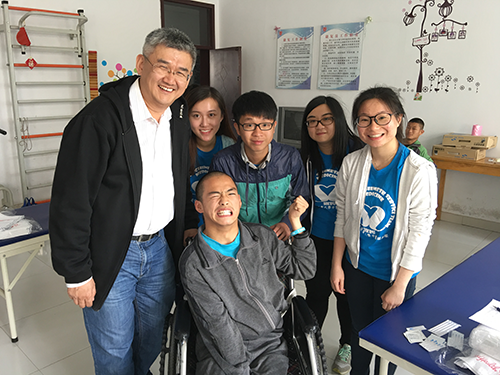 Alumnus Dr. Kevin Yue (left) leads HKBU Chinese Medicine students to visit Qinghai province every year, and provide acupuncture treatment to patients suffering from cerebral palsy.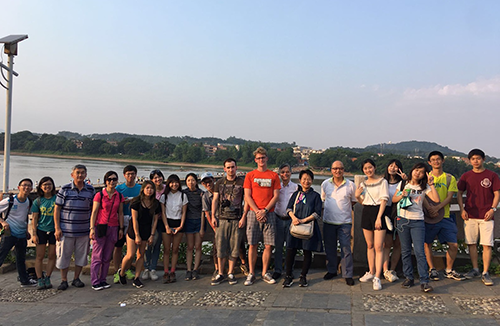 Project M.A.I.L. delegation poses for a group photo during their first visit to Dayu county in last May. The delegation includes alumni Dr. Kevin Yue (third from left), Wong Nga-chung (eighth from right), Agnes Wong (seventh from right) and Tyrone Siu (sixth from right), HKBU staff and students.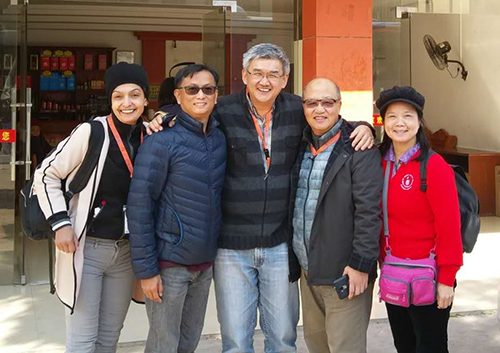 (From left) Project M.A.I.L. participants exchange student Oya Malgir from the U.K., alumni Tommy Mok, Dr. Kevin Yue and Tyrone Siu, and Department of Physical Education Prof. Cheung Siu-yin pose for a photo during their December trip.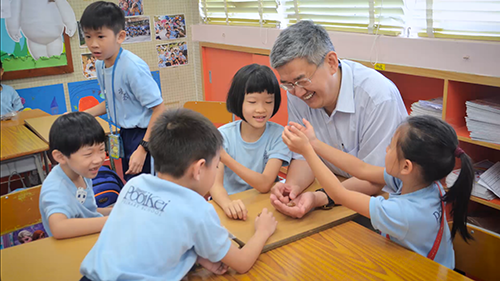 Providing Chinese Medicine class at local schools is also one of the service learning initiatives alumnus Dr. Kevin Yue has involved.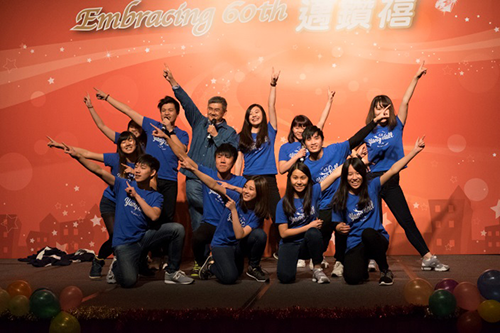 C.N. Yang Hall students team up with their Resident Master Dr. Kevin Yue to compete in "BU Got Talent" event.