The Alumni Affairs Office organised an Alumni Sharing Forum titled "Becoming a Middle Manager Before 35" on 11 April, with Faculty of Arts, School of Business, Department of English Language and Literature and Office of Student Affairs as co-organisers.

Alumnus William Leung Wing-cheung (Honorary University Fellow; English Language & Literature), Chief Executive Officer of Sun Hung Kai Financial Limited, shared with audience his wisdom and experiences for excelling at work and ways to outperform his work fellows. He also revealed his secret of success and management philosophy as a CEO. Three students from School of Business, namely Miss Cherllyn Tse, Year 4 student of Marketing, Mr. Edward Liu, Year 3 student of Economics, Miss Summer Zhong, Year 2 student of Finance, were also invited to participate in a panel discussion with alumnus Leung.

The Forum attracted a full house of students, alumni and staff with the presence of Vice-President (Research & Development) Prof. Rick Wong and other University's senior management. To encourage more viewing by university community, the Forum was live-broadcast through the TV walls on Li Promenade on Shaw Campus.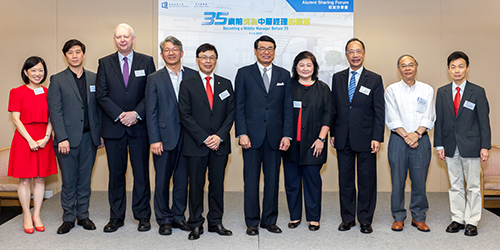 (From left) Director of Alumni Affairs Dr. Melanie Lee; Acting Dean of Faculty of Arts Prof. Johnny Poon; Dean of School of Business Prof. Edward Snape; Associate Vice-President (Traditional Chinese Medicine) Prof. Bian Zhaoxiang; Vice-President (Research and Development) Prof. Rick Wong; Speaker alumnus William Leung, alumna Mrs. Agnes Leung; Vice-President (Administration) and Secretary Mr. Andy Lee; Associate Vice-President (Teaching and Learning) Prof. Ricky Wong; and Associate Vice-President (Engagement) Mr. C.K. Yeung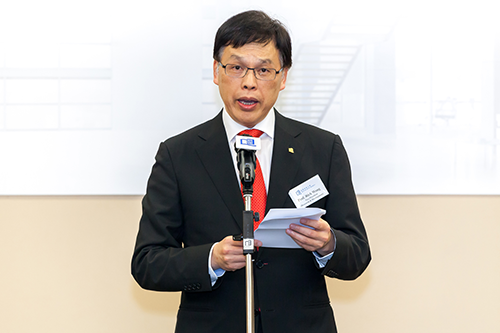 Prof. Rick Wong delivers welcome remarks before the forum starts.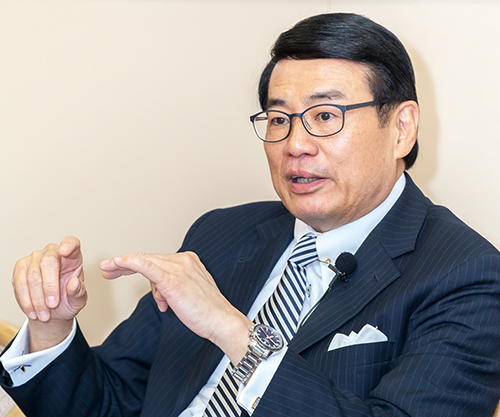 Alumnus Leung shares tips for excelling at work with audience.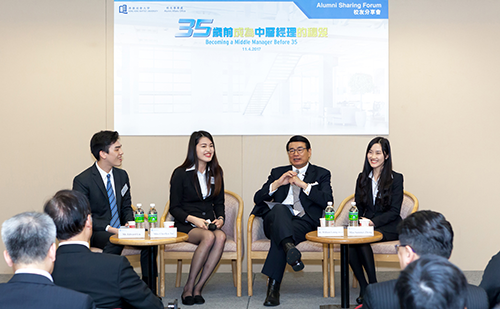 Three students from School of Business join the panel discussion with alumnus Leung as student moderators.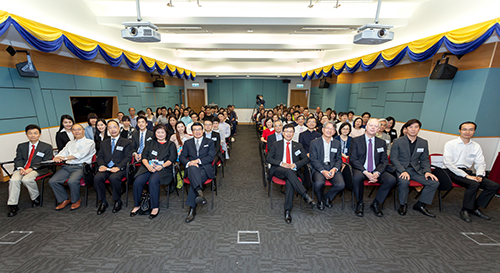 The Forum receives very good response.