HKBU Alumni Association Annual General Meeting cum Spring Dinner 2014
HKBU Alumni Association (HKBUAA) organised its Annual General Meeting (AGM) cum Spring Dinner on 28 March 2014 at The Hong Kong Bankers Club.
Immediate Past President of HKBUAA, alumnus Stephen Tang Wing-on reported to members on the Association's various activities and achievements in the past three years and thanked the Executive Committee for their staunch support. He also gave best wishes to the newly-elected President alumnus Tyrone Siu Tai-lun and his team for exalting the united spirit of HKBUAA.
The post-AGM dinner reception attracted over 100 participants. HKBUAA was honoured to have the presence of HKBU Council and Court Chairman Mr. Cheng Yan-kee, President and Vice-Chancellor Prof Albert S. C. Chan and other senior management of the University. Mr. Cheng and Prof. Chan updated members on the latest news of the University and gave special thanks to the HKBUAA Executive Committee for their continuous support to the University.
Newly-elected President, alumnus Tyrone Siu Tai-lun expressed his gratitude to alumnus Stephen Tang Wing-on for his leadership in the past three years and shared his vision of developing HKBUAA in the forthcoming years.
The list of newly-elected Executive Committee (2014-2015) is as follows:
| | |
| --- | --- |
| President: | Mr. Siu Tai-lun, Tyrone |
| Vice-Presidents: | Ms. Chan Wa-yuk, Yoki |
| | Ms. Wong Lai-shan, Lisa |
| | Mr. Leung Kwai-wah, Alex |
| | Mr. Wu Tak-lung, Bernard |
| | Mr. Chan Kwok-ying, Arnold |
| Honorary Secretary: | Ms. Ng Hang-ching, Jeanny |
| Honorary Treasurer: | Mr. Yuen Chee-shun, Marcus |
| Executive Members: | Mr. Leung Ming-hung, Eric |
| | Mr. Mok Chun-sing, Jason |
| | Mr. Chen Man-lung |
| | Mr. Ho Wai-yeung, Paul |
| | Dr. Ng Ming-tak, Victor |
| | Mr. Ma Chi-wah, Davy |
| | Mr. Wu Kam-man, Kelvin |
| | Mr. Lee Kin-man, Allan |
| | Ms. Chan Fung-lai, Esther |
| | Ms. Wong May-wai, Esther |
| | Mr. Siu Che-kit, Wallace |
| | Mr. Xie Che, Felix |
| | Mr. Wu Hao, Daniel |
| | Ms. Chen Yitian, Chloe |
| | Ms. Tong Oi-ling, Helen |
| Non-Executive Members: | Mr. Lai Kee-hong, Brian |
| | Mr. Lam Siu-wing, Swing |
| | Ms. Tsang Wai-chun, Marianna |
| | Dr. Ng Man-yee, Amen |
| | Mr. Lee Ka-keung, Alvin |
| Ex-Officio Members: | Prof. Lee Wai-ming, Albert (Director of Student Affairs) |
| | Dr. Lee Wai-yi, Melanie (Director of Alumni Affairs) |
| | Mr. Tang Wing-on, Stephen (Immediate Past President) |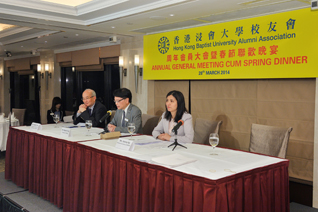 HKBUAA Immediate Past President alumnus Stephen Tang Wing-on (centre), chairs his last AGM with Chairman of HKBUAA Nomination Committee alumnus Stephen Yau How-boa, SBS, MH, JP (left) and Honorary Secretary alumna Jeanny Ng Hang-ching (right)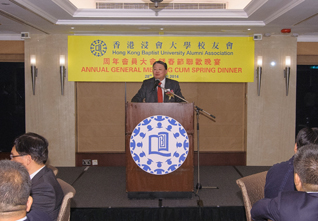 HKBU Council and Court Chairman Mr. Cheng Yan-kee share updated news on the University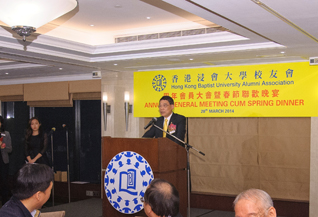 President and Vice-Chancellor Prof. Albert S. C. Chan expresses his gratitude to HKBUAA for its continuous support to the University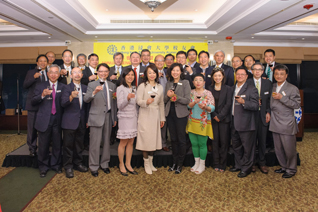 Newly-elected HKBUAA President alumnus Tyrone Siu Tai-lun (back row, centre) leads the Executive Committee to pose for a photo with HKBU Council and Court Chairman Mr. Cheng Yan-kee (back row, 7th from left), President and Vice-Chancellor Prof. Albert S. C. Chan (back row, 5th from left),University management and guests