Treasures & Moments
HKBU Century Club Sponsors the Summer School 2022 @ Imagination Lab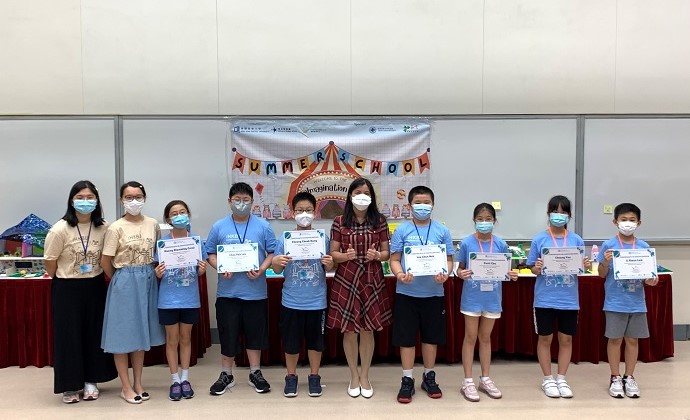 Through the Hong Kong Baptist University Century Club (the Club) Sponsorship Scheme, the Club sponsored the Summer School 2022 @ Imagination Lab organised by Leadership Qualities Centre of HKBU Office of Student Affairs. On 20 August, alumna Jeanny Ng (Translation), Director of the Club, attended the Closing Ceremony of the programme and delivered remarks on the Club's behalf.
Summer School 2022 aims to inculcate aspiration into underprivileged children of Hong Kong and nurture in them a creative mindset, through offering a series of thrilling learning activities, outdoor excursions and visits to corporations designed by a group of dedicated HKBU students. This year, 20 HKBU students took part in the design, and subsequent running, of the programme which spread through five days for nearly 80 primary school students. At the Closing Ceremony, HKBU students shared with the audience the valuable experience they had gained from running the programme.
For the purpose of providing financial support for teaching, research and student development projects that would contribute to the betterment and sustainable growth of the University, HKBU Century Club has established the Century Club Sponsorship Scheme. For more information on the Scheme, please click here.