People・Wisdom
A Dialogue with The Eighth Distinguished Alumni Award Recipients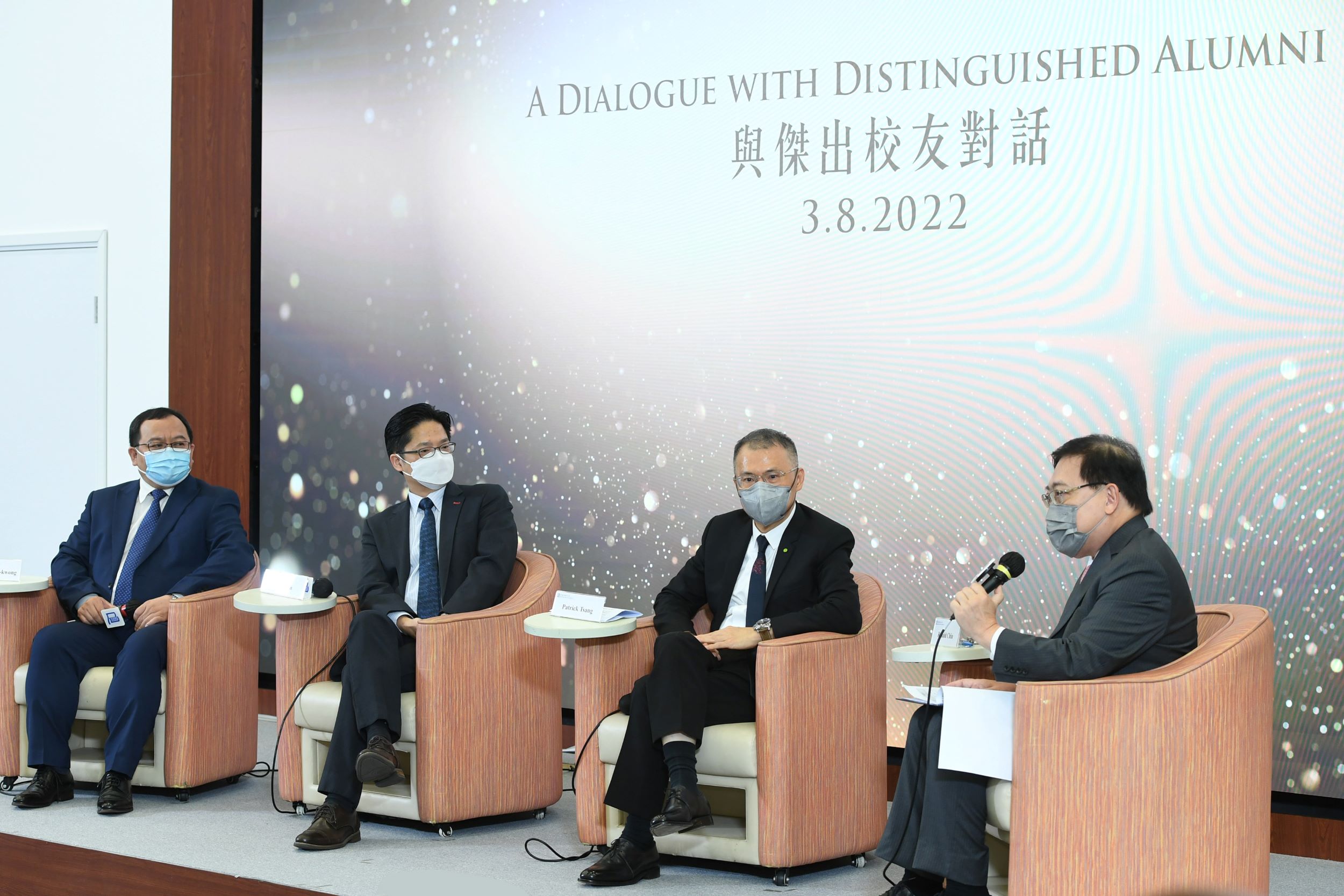 The Eighth Distinguished Alumni Award (DAA) Presentation Ceremony was held on campus on 3 August. The four DAA recipients this year are: Professor Chan Wing-kwong (Chinese Medicine), Mr Cheng Tan-shui (Communication), Professor Leo Poon Lit-man (Applied Biology) and Mr Patrick Tsang Shun-fuk (Accounting). A sharing session, "A Dialogue with Distinguished Alumni", was held right after the Ceremony, during which the distinguished alumni shared with students and young alumni not only their experience and wisdom, but also their inspiring anecdotes in life.
Build Self-discipline, and Strive for Perfection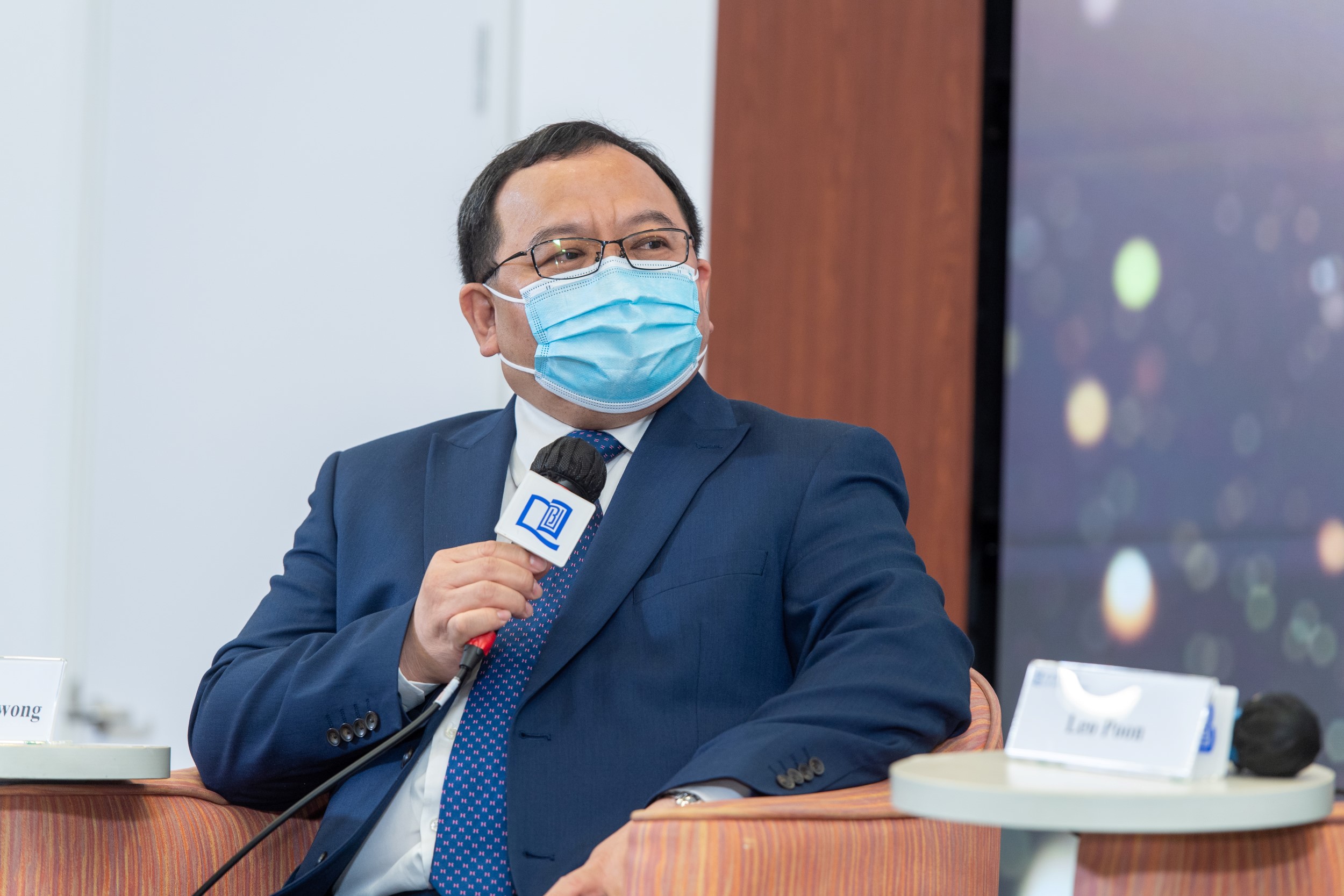 Currently Chairman of the Hong Kong Registered Chinese Medicine Practitioners Association, the Federation of the Hong Kong Chinese Medicine Practitioners and Chinese Medicines Traders Association and the World Federation of Chinese Medicine Societies (Hong Kong) Council Members Association, alumnus Professor Chan Wing-kwong has spared no efforts in advocating the development of the Chinese medicine (CM) in Hong Kong. Prof Chan admits that the industry faces challenges when promoting CM in Hong Kong. They need to inculcate in society its practical value in healthcare, especially at the critical moments of the pandemic, let society recognise that CM is an important element of the Hong Kong medical and health services. During the 5th wave of the pandemic, at the invitation of the Hospital Authority, Prof Chan joined forces with CM practitioners to help combat the epidemic by rendering telemedicine services to COVID-19 patients, their close contacts and caregivers. This timely service enables society to understand that CM is not limited to recommending soup recipes for health, but more importantly, it can help combat the viruses.
Prof Chan also shared with the audience a verse from the Chinese classic I Ching (also named Book of Changes), "As Heaven's movement is ever vigorous, so must a gentleman constantly strive for self-perfection; as earth's condition is ever receptive, so must a gentleman foster virtue and be broad-minded to embrace all things1." Riding on the verse, Prof Chan advised students that if they want to have a bright future, they should exercise strict self-discipline and pursue life-long learning. They should also confront difficulties with perseverance, and always strive to scale new heights.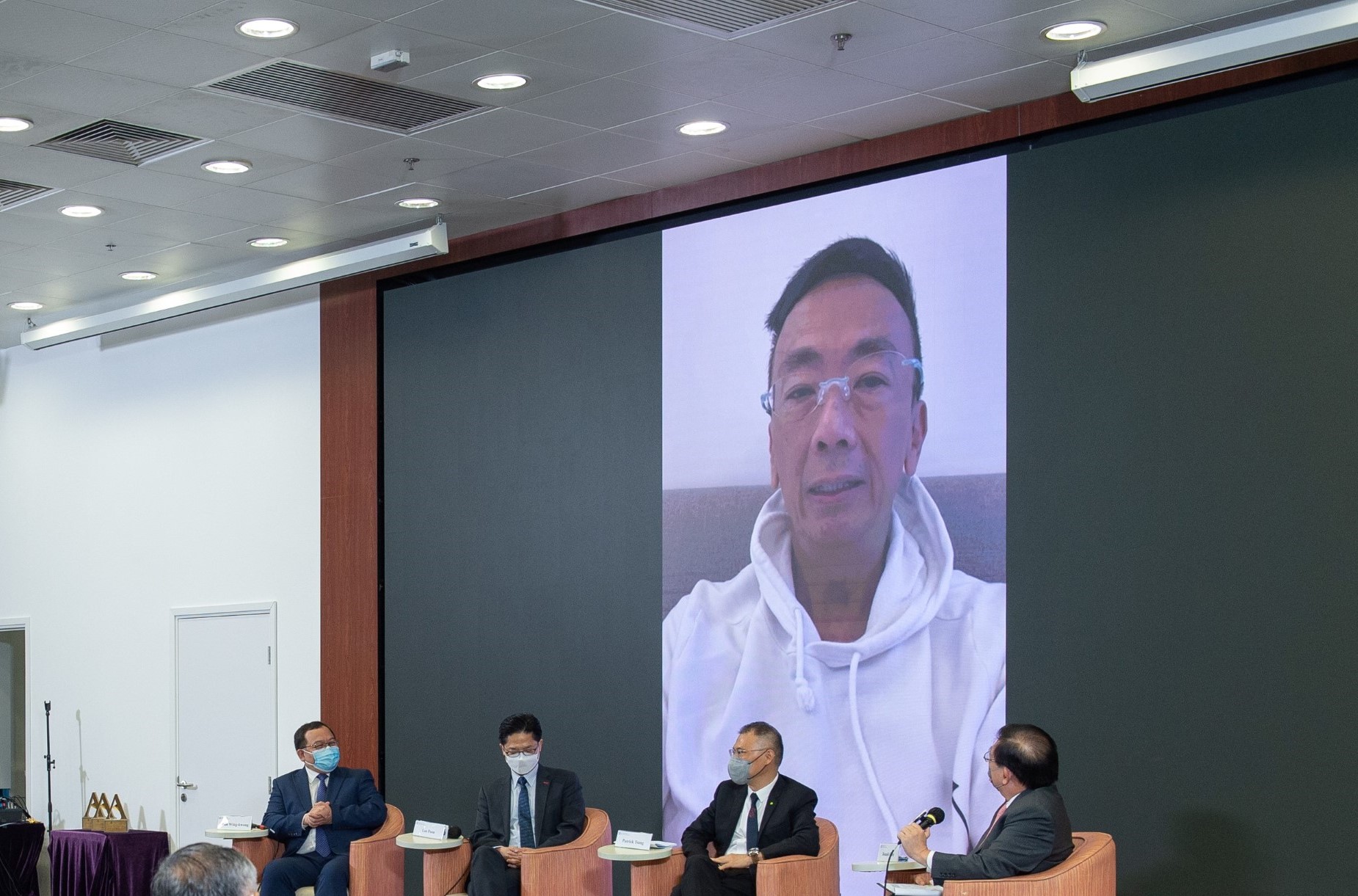 Alumnus Cheng Tan-shui has actively participated in diverse sectors of the arts and entertainment industry including film, television, radio and theatre, etc., during which he has taken up the role of host, actor, screenwriter, film producer, director and columnist, etc. With his versatility, alumnus Cheng has stood tall in the industry for over four decades. When asked about the most valuable insight of his journey, alumnus Cheng said affectionately, "When taking up a job, I always regard it as my first time to handle it, so each job seems novel to me, and I should complete not only with diligence but also with passion." In his reply to a Film and Television Concentration student, alumnus Cheng gave encouragement to students that they should leverage on the power of alumni community to get in touch with veterans in the industry. He also recommended students to make use of the social media platforms to share their works. As long as they have shown their uniqueness, they will, in the end, catch people's attention. With his diversified experiences, alumnus Cheng encouraged students to lead a wonderful life through different attempts, as life is too short not to.
Strive Hard and be Ready to Rise to Challenges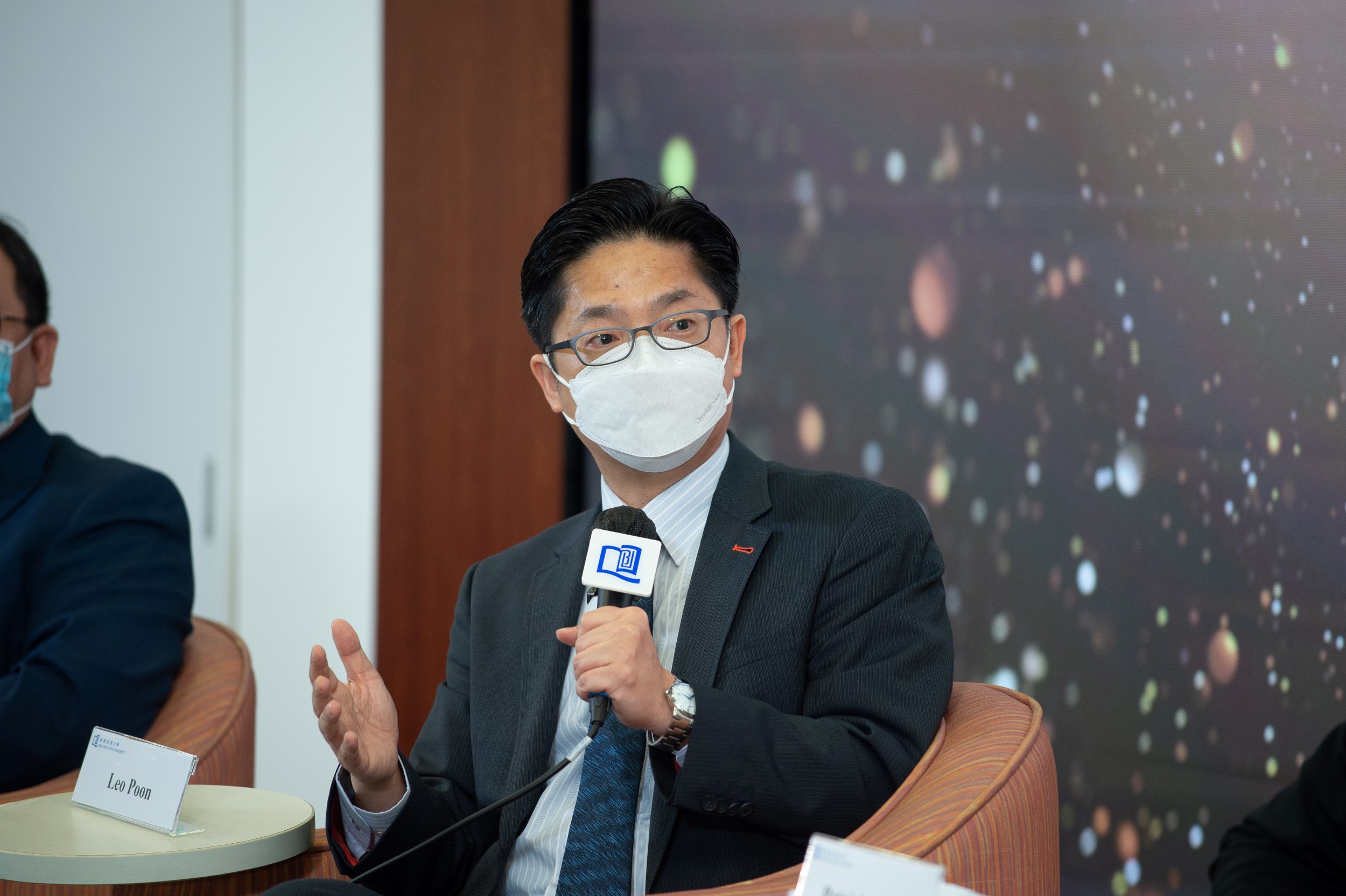 Alumnus Professor Poon Lit-man is currently Professor in the School of Public Health of the University of Hong Kong (HKU), and Head of its Division of Public Health Laboratory Sciences, as well as Co-Director of the HKU-Pasteur Research Pole. He is dedicated to studying emerging viruses and related topics, focusing primarily on influenza viruses and coronaviruses. In the wake of the COVID-19 pandemic, he and his research team have made an important discovery of the virus which helped the relevant authorities set up effective prevention and control measures for the coronavirus disease. To recognise their contributions, the Food and Health Bureau (now reorganised as the Health Bureau) presented to Prof Poon and his research team the Outstanding Project Team on COVID-19 Research Award in 2021. Prof Poon shared that the Avian Influenza in 1997 and the SARS in 2003 both marked a turning point in his career. Because of these newly discovered viruses, he has since set his mind on producing research outputs that would help control the spread of viruses. When sharing with the audience his learnings from research works, he said, "When conducting a research on a virus, we have to race with time, and always be ready for challenge after challenge. Moreover, the concerted effort of a team is always more than just one man's effort. Hence, a joint force research team will inevitably achieve a better output for combating viruses and stifle their spread in society."
In addition, Prof Poon recalled that when he was young, he used to receive only "mediocre" comments on himself. But that did not deter him from pushing for advancement and has indeed driven him to achieve his current accomplishment. Prof Poon advised young people to work hard for their goal, and stressed that as long as they try to strive for excellence, their efforts will ultimately be acknowledged. 
Bring Yourself to the Forefront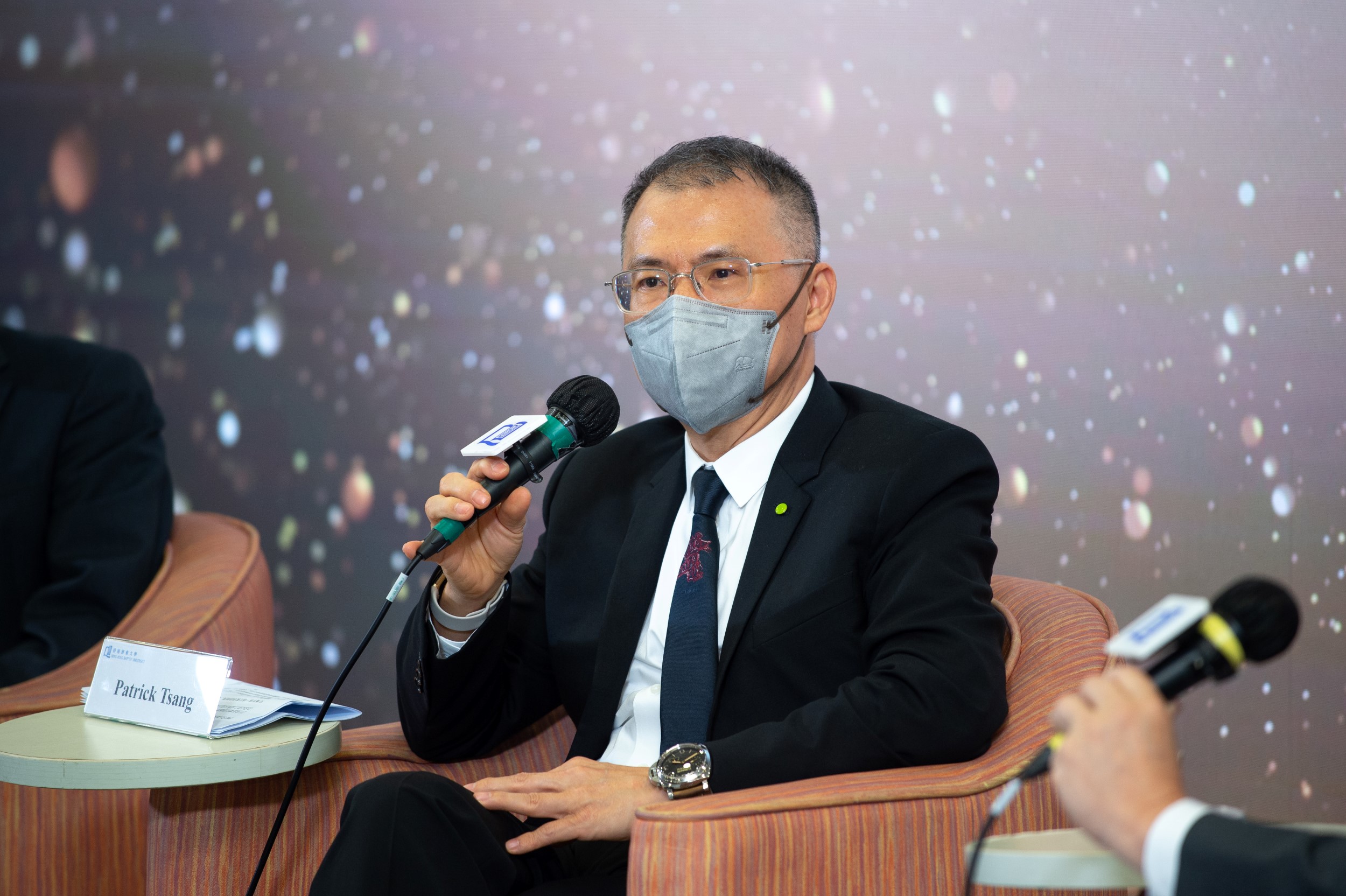 Alumnus Patrick Tsang Shun-fuk is the CEO of Deloitte China, and is responsible for leading its business in Mainland China, Hong Kong and Macau. He joined Deloitte Hong Kong in 1990 and by 1995, he moved to its office in Shanghai, thus becoming the first batch of north-bound Hongkongers working on the Mainland. On what motivated him to make that move, alumnus Tsang said, "At that time, China had become a major growth engine of the world and, compared with Hong Kong, had more types of fast-growing industries, such as the automotive, steel and oil refinery industries. As the above industries were new to me then, I wanted to explore them firsthand on the Mainland, so as to gain a more in-depth understanding of the developments there." As a seasoned executive, alumnus Tsang suggested young people to seize the opportunities arising from the Greater Bay Area (GBA) development. To do so, they have to understand the national policies of China, and gain first-hand knowledge of its development. At the same time, they should learn from the experience of alumni working in the GBA. Individually, they need to embrace the differences between the Mainland and Hong Kong, and do what Hong Kong people is good at, that is, be innovative and always get prepared to advance with the times.
The sharing session by the four distinguished alumni has brought insightful and inspiring experiences and wisdom of life to the audience, and helped them carry the torch of HKBU to make a difference in the world.
1https://english.news.cn/20220516/554146c18aca4a1da8febc00a007a6af/c.html