What's Up
Library Exhibition on HKBU's Founding President Dr Lam Chi-fung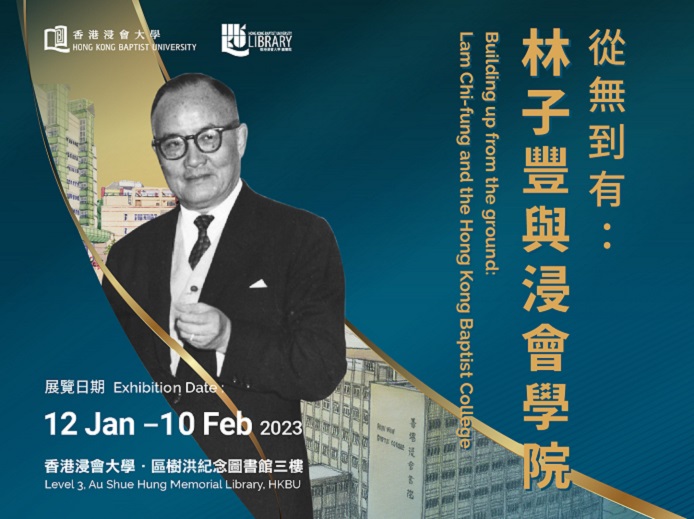 A new exhibition featuring HKBU's founding President Dr Lam Chi-fung and the early days of the Hong Kong Baptist College (HKBC) has been unveiled in the University Library on 12 January. Dr Lam was a successful businessman as well as a remarkable leader in the philanthropic, religious and educational sectors. His strong Christian faith and his vision for post-secondary education in Hong Kong propelled him to spend tireless efforts to establish the HKBC from the ground up. His connections within the Baptist Church both locally and internationally also played a role in this significant endeavour.
The exhibition seeks to trace his steps and present his incredible achievements in making the HKBC a reality and laying the foundation for HKBU today. At the exhibition, you can read selected speeches by Dr Lam as well as newspaper clippings about HKBC. Early photos of college life, film footages about the opening of the Ho Sin Hang Campus, books as well as memorabilia are also on display.
Held on Level 3 of the University Library, the exhibition is now open until 10 February. Alumni are welcome to visit the exhibition to understand the history of your alma mater. You can also visit the exhibition online at https://sway.office.com/qDAOM3APQAMMlMaL?ref=Link.
To make an appointment for a guided tour of the exhibition or other enquiries, please contact Library Special Collections and Archives by phone at (852) 3411 5937 or email to libarc@hkbu.edu.hk.
For further details of the exhibition, please visit https://hkbu.libguides.com/exhibitions/lamchifung.