People・Wisdom
Never Give Up, Dare to Strive Ahead
HKBU Outstanding Athletes Share Their Olympic Journeys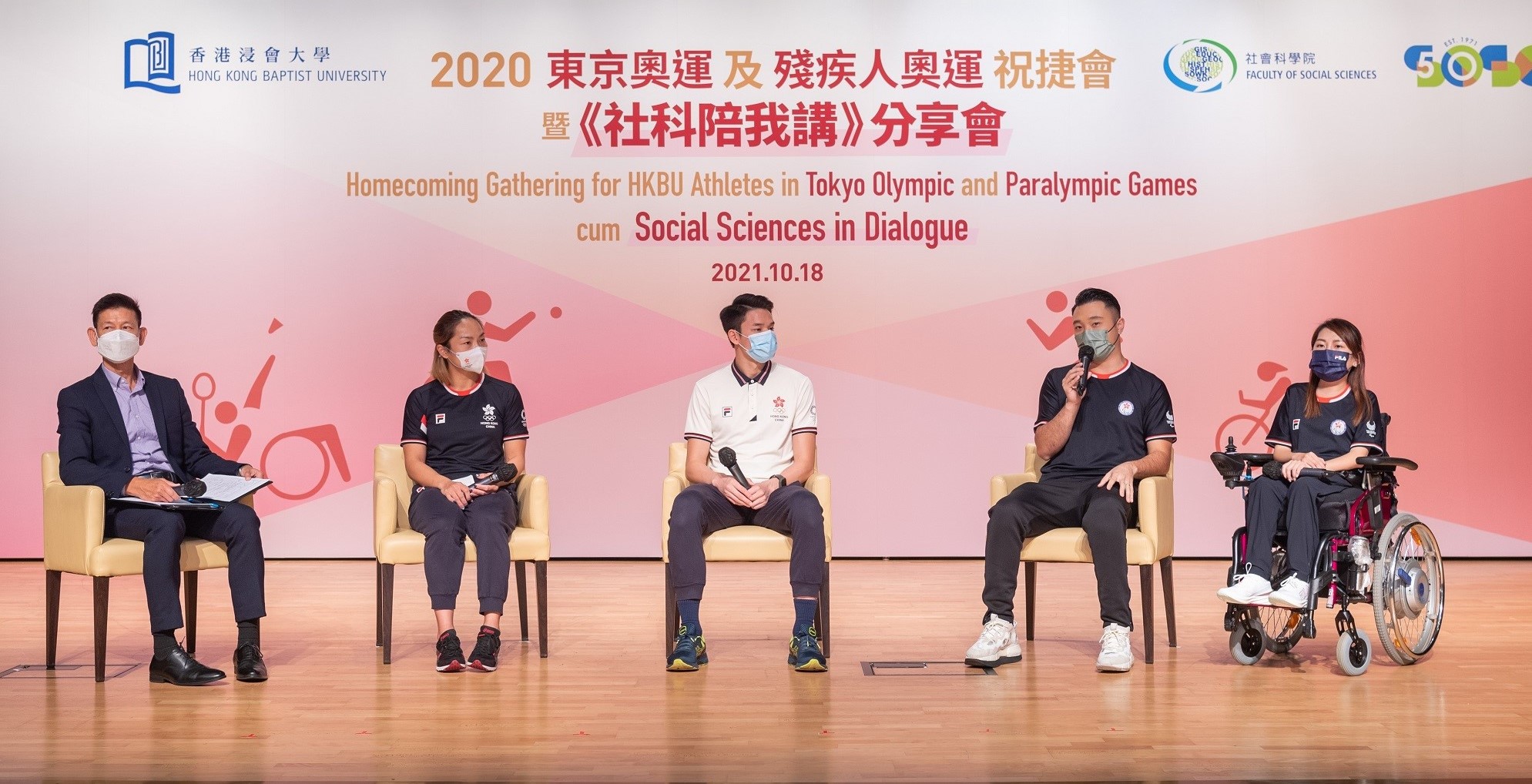 Hong Kong Baptist University (HKBU) held the "Homecoming Gathering for HKBU Athletes in Tokyo Olympic and Paralympic Games cum Social Sciences in Dialogue " on 18 October, to commend students Sarah Lee Wai-sze (Creative and Professional Writing) and Daniel Chan Ho-yuen (Physical Education and Recreating Management); and alumni Chan Chung-wang (Physical Education and Recreation Management) and Ho Yuen-kei (China Studies), for their exemplary performances at the 2020 Olympic and Paralympic Games in Tokyo. Sarah Lee is a bronze medalist in the Women's Sprint at the Olympic Games and Daniel Chan won a bronze medal in the Badminton Men's Singles WH2 event at the Paralympic Games, while alumnus Chan Chung-wang competed in the Men's 110m Hurdles at the Olympic Games, and alumna Ho Yuen-kei finished fourth in the boccia competitions at the Paralympic Games. The four outstanding athletes shared with the audience their memorable experiences in the Games, and took the opportunity to encourage students to dare chase their dreams for a brighter future.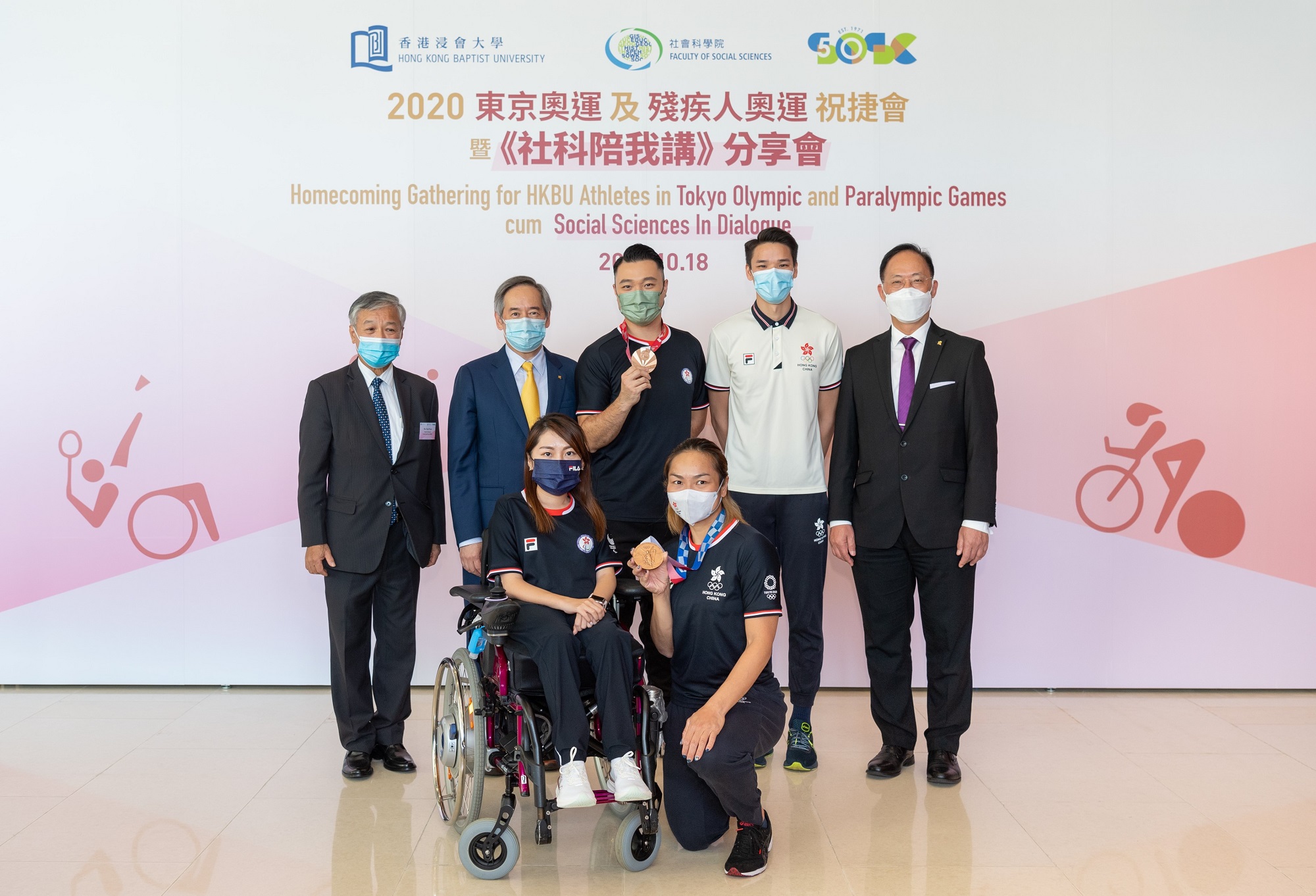 Never Give Up, Face Challenges Squarely
Student Sarah Lee has consecutively participated in the last three Olympic Games since 2012. The audience was most impressed by Sarah's "never give up" spirit in sports. During the past challenging Olympic Games, Sarah experienced missing out a medal when she accidentally collided on track with her rival and persisted in the competition despite her injury. Despite all these, she still managed to come back to the events, and became the first Hong Kong athlete to have won two Olympic medals. Regarding how she could overcome the hard times, she said, "I would like to ask if you have ever thrown yourself into one thing. If you have, you would definitely pursue the goal persistently regardless of the difficulties ahead, just like what I do. When I was preparing for the Games, I had to exert strict self-discipline and stay away from distractions, like soft drinks and ice cream. I don't take this as a sacrifice, but rather a driving force to help me move forward." Sarah loves cycling sports as if it was her life. About 10 years ago she got her wrist bone fractured during a practice, nonetheless, she chose to receive treatments in a positive manner and stayed on with her beloved sports. With her perseverance until now, she has earned the nickname of "the Cyclist Goddess of Lower Ngau Tau Kok Estates", a household name in Hong Kong. During her talk, Sarah also suggested that as a student, one should stay away from all attractions in order to focus on studies, just like the way she prepared for the Olympic Games.
From Zero to Hero
Even having gone through a traumatic traffic accident over 10 years ago, student Daniel Chan has never faltered and lost hope. On the contrary, he strived hard to become the first Hong Kong wheelchair badminton player and participated in international games. Eventually, he was able to step on the biggest sports arena – the Paralympic Games, shining in his second life. While in the spotlight after having won an Olympic medal, Daniel related his success to those who gave him warm and caring support before he made the achievement. He recommended to the audience the film Zero to Hero, the theme of which is about Hong Kong Paralympic gold medalist William So Wa-wai who navigated personal and physical struggles with the help of his mother. The film portrays how William So has turned, through blood, sweat and tears, from a nobody to a world-class athlete, with the unconditional care and support of his mother. Daniel wanted students to learn not only William So's strenuous efforts in achieving his goal, but also his tremendous sense of gratitude to those who love and care about us, and those who have helped us overcome hurdles when we were a nobody. Last but not least, Daniel encouraged students to pursue their dreams, "You may think that you are just a humble individual. However, who would have imagined that I could be standing on the Olympic stage today when I was an ordinary worker. You should take a bold step to pursue your dream; otherwise, you would never know how far you could go."
Believe in Yourself and Never be Beaten by Setbacks
Alumnus Chan Chun-wang is the first athlete from Hong Kong to participate in the Men's 110m Hurdles at the Olympic Games. Speaking of his experience of competing with top-notch athletes at the Games, alumnus Chan frankly said that his personal best is not quite on a par with those world-class athletes. Nevertheless, Chan thinks that if he believes in himself, he could still do his best at the Games to prove his worth. Recalling his road to the Olympics, Chan said that all sports grounds were closed during the pandemic. Subsequently, he could only train at the Hong Kong Sports Institute alone and videotaped his training and shared it with his coach so as to receive guidance and advice. He candidly said, "In training, one is bound to have setbacks, but I reminded myself to face these setbacks squarely, and should never feel defeated. I have also built the habit of writing a diary, and in so doing, I have also recorded the problems I encountered and the mistakes I made during the training sessions. This could remind me to avoid making the same mistakes in future. This also gives me the impetus to improve and uplift myself." Alumnus Chan was admitted to HKBU in 2017 through the "Elite Athletes Admission Scheme". While undergoing very tough training in sports, he has never neglected his studies. Many would think that student athletes would give more time to training, at the expense of regular studies, thus he would like to change this impression by actively participating in group projects. During his undergraduate years at HKBU, Chan was not only able to widen his scope of knowledge but could also brush up his analytical skills, which has benefited him for life. He advised students to treasure their time at the university, always study hard and respect their teachers, also develop their interests and potentials proactively.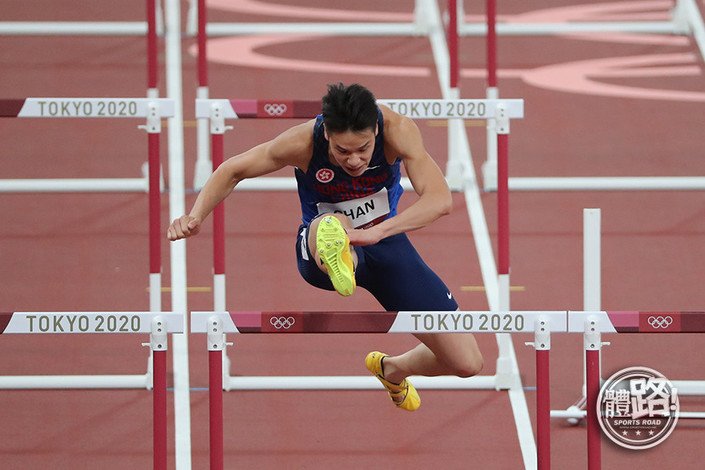 When You Still Can, Just Do Your Best
Alumna Ho Yuen-kei and her teammate participated in the boccia competitions at the Paralympic Games this year, finishing in the fourth place. Narrowly missing an Olympic medal, alumna Ho still feels grateful for such an accomplishment. Since the competitors are all world-class athletes, Ho and her partner had never thought of how far they could go before the Games, instead they just tried their best. In the last game of the pool preliminary games, alumna Ho and her partner were engaged in a fierce competition with the Australian team. At that time, they stayed focused to snatch points one by one until they managed to win the game in an overtime session, earning a place in the final four. The result to them is already a breakthrough because this is their first time to join the boccia mixed pairs BC3 event. Alumna Ho was diagnosed as having spinal muscular atrophy at the age of two, and needed the wheelchair thereafter. Fortunately, this physical hindrance did not extinguish her passion for life, nor her desire to pursue the boccia games, which is well reflected in her motto, "When you still can, just do your best." She shared with students her thoughts, "Life is short and so don't hesitate to do what you love to do. Just pursue your dreams relentlessly and live your life to the fullest, so that you will have no regrets."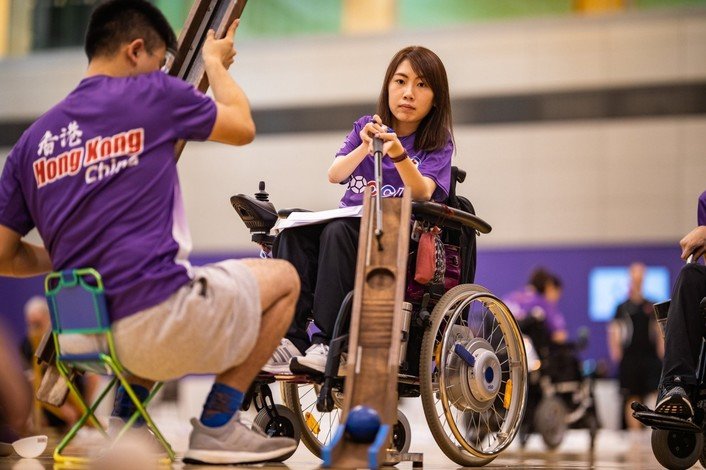 Sharing of the four HKBU outstanding athletes benefited students attending the sharing session. It is anticipated that students would be motivated by the athletes' inspirational stories to pursue their dreams and ignite their passion for learning.