Treasures & Moments
Alumnus Professor Royce Yuen Shares His Career Experiences and Insights at Chill Chat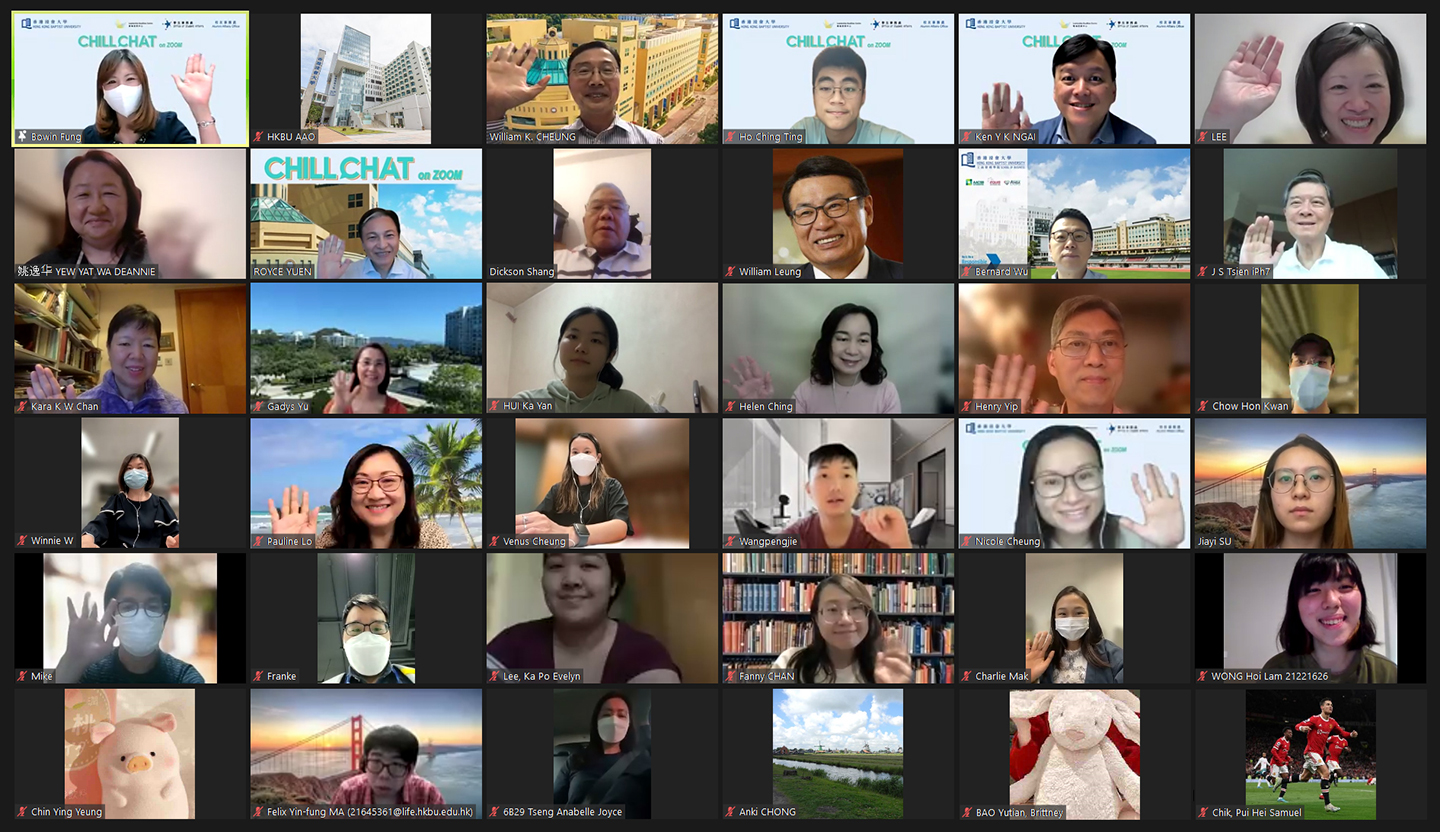 Organised jointly by the Alumni Affairs Office and the Office of Student Affairs, Chill Chat was successfully held on 31 March. Alumnus Professor Royce Yuen (Communication), a veteran in advertising and branding, Co-Founder and Co-CEO of MaLogic, delivered a talk themed "My Path from a Summer Intern to the Chairman of Ogilvy". The talk was joined by alumna Deannie Yew (Communication), Partner of Deannie Yew and Associates as the guest speaker. Over 150 participants, including students, alumni and guests joined the event via Zoom. The event was graced by the presence of Professor William Cheung, Associate Vice-President (Undergraduate Programmes), who gave the opening remarks, Dr Melanie Lee, Director of Alumni Affairs and Mr Ken Ngai, Assistant Director of Student Affairs.
In his talk, Professor Yuen shared his journey in branding and advertising starting from his days at HKBU when he had a chance to join Ogilvy as a summer intern, and finally becoming the Chairman of Ogilvy Southern China and Hong Kong.  He encouraged students to have confidence in themselves, try harder in their work, stay humble, and be passionate about pursuing their goals. He also reminded students to learn to give, and choose a motto to live by. In addition, he gave students some tips for staying competitive in the advertising field, which could be summarised in three letters – "CLP".  "C" represents curiosity, meaning that students should stay curious and keep up with the times by embracing technology. "L" stands for good language skills, implying that students should be proficient in both written and spoken languages in order to convey ideas with clarity and precision in communication. "P" refers to a point of view, meaning that students should have a standpoint and dare to share it with others. Alumna Deannie Yew also shared her successful career change from a film producer to a solicitor at the talk.
Chill Chat is an innovative student-alumni engagement platform where students and alumni can closely interact with each other in a relaxing ambience and over a delightful dinner. Chill Chat aims to widen students' horizons in the areas of personal growth, career development and network building through close encounters with our remarkable alumni. In view of the pandemic, this Chill Chat event has been switched to the format of a virtual meeting on Zoom.